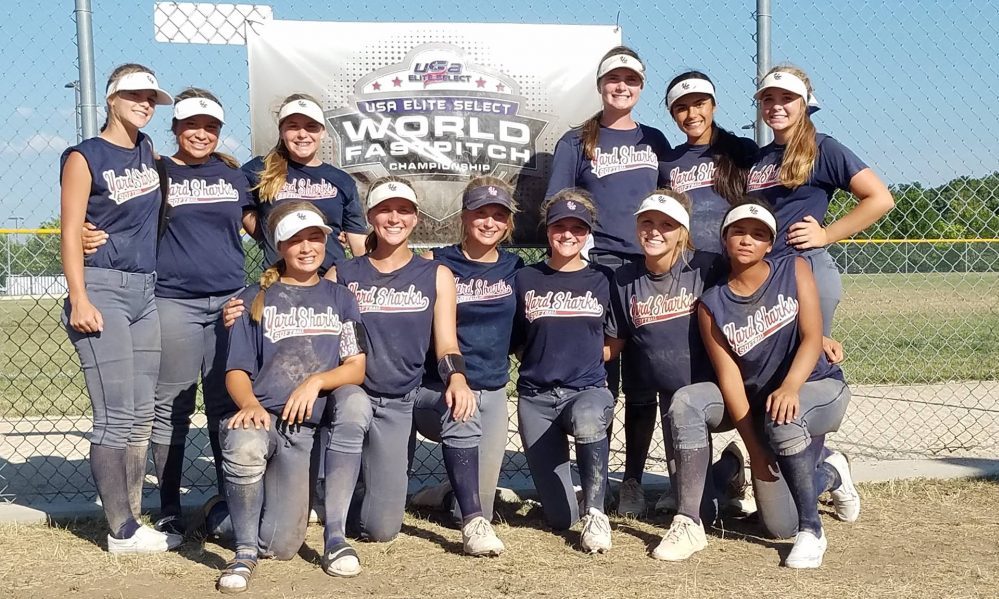 For any changes of information, please let us know at support@fastpitchnews.com

NO. 31 / CA YARD SHARKS LOPEZ/CEO
The CA Yard Sharks completed an impressive summer of play with big finishes at national events including 7th place at PGF Platinum Nationals, 9th place at Colorado Sparkler Jr Gold division, and 9th at USA Elite Select. A smaller market team, the Yard Sharks pride itself on  the ability to train and develop its student-athletes into highly competitive, top players. This young team is posed for another successful summer with another year of experience under its belt.
"We jokingly have coined ourselves as the best kept secret in the country," said Head Coach, Andy Lopez. "What we take most pride in is knowing we have one of the best defenses, 1-9, in the country. The infield is as smooth as they come making hard plays look easy. Our outfield has a lot of speed with incredible arms at each position. All around we are one of the most fundamentally sound teams out there."
Lopez's team is already off and running this fall finishing 2nd at the USA Elite Select 16U qualifier. The Sharks have also added Taylor Rodriguez to the roster. "Taylor joined our team this fall and has filled a void in the middle of our line up as she is batting .400. She is a great teammate and has stepped in to fill in at 3B and Pitcher when needed and has done a solid job."
Key Players:
Hazyl Gray (2020 P/OF/1B) Uncommitted – "IF you are looking for a pure athlete look no further. Hazyl is a true 5 tool athlete. Every college coach that has seen her play just loves her hustle, her attitude, her competitiveness, and her overall game. She is always one of the most athletic kids on the field. With great speed and instincts she is a true gem. As a left handed pitcher Hazyl has currently been clocked between 58-60 Mph. In the outfield she covers so much ground and has an absolute cannon for an arm. She also has some thunder in her bat. She currently has 6 HRs this fall and that number will climb. She has one of the best swings from the left side. It is not uncommon to see her hit 300′ line drives over the fence. She is currently batting over .500 this fall."
–
Lily Peterson (2022 1B/C) Uncommitted  – "We have traveled across the country to compete with the best teams in the country and you will be hard pressed to find someone play 1st base the Lily does. She has quick smooth hands and can pick it like no other. She will also scale a fence to pull back foul balls and is not afraid to go through a wall to get a ball. Her sweep tags at 1st are second to none. Our catchers truly benefit by having Lily at 1st for their pick offs. Lily is also an outstanding catcher. She has such incredible instincts for the game. Her transitions a quick and she has a strong arm. Since October she is batting .374. Lily also has pop in her bat. She currently has 3 HRs this fall with 10 extra base hits and is currently 2nd on the team in RBI's. Lily made the USA All American Team and competed in the USA All American games in Oklahoma this Summer."
–
Kayleigh (KK) Coberly (2022 C/3B) Uncommitted – "KK has been a great addition to our team. She is steady and solid behind the plate. With such a strong arm KK keeps offenses at bay. KK is also an incredible fielder at the hot corner. She sucks up balls as smooth as the best of them and good range for a girl her size. She has definitely filled a need. Offensively She is batting .443 and has 12 extra base hits. KK was invited to attend and competed in the On Deck Jamboree in Huntington Beach this summer."
–
Alison Lopez (2022 CF/2B) Uncommitted – "Ali is one of our most athletic players and is the glue to our outfield. She covers so much ground because she gets such great jumps on balls. She also has one of the stronger arms on the team. She just started playing 2B this year but you wouldn't know it by watching her play the infield. She has one of the smoothest softest hands you will see on any infield in the division. She has amazing range and instincts. Her lightening fast transitions and arm angles have impressed colleges. Since October her bat has come alive batting over .400. For her size she does have pop in her bat. As several college coaches have said, "there is just a different sound off the bat when she makes contact.""
–
Sydney Polli (2022 SS/UTL) Uncommitted – "Sydney is our team utility player. She is the ultimate team player willing to play any position she is asked to play and does them all well. But the beauty of Sydney is that she has one of the prettiest swings from the right side that you will see. Sydney is simply calm cool and collected. batting just shy of .400 this fall you just know she is going to put a good swing on the ball no matter what the situation and good things generally happen."
–
Shelby Johnson (2022 2B/UTL) Uncommitted –  "Shelby is a grinder. She is one of the hardest working kids you will find. She plays an exciting 2B. She is our human highlight reel as she makes so many diving plays its just crazy how she never gives up. She has quick hands which allows her to turn two with the best of them. She has a really good feel for the game its like having another coach on the field. She is really swinging the bat well as she is currently batting .426 this fall. Shelby has been invited to attend and compete in the On Deck Jamboree in Arizona this fall."
–
Bree Romero (2022 P) Uncommitted – "Bree is a gamer. She gets the ball in the biggest games because she is fearless. She has a multitude of pitches ranging from change up, curve ball, screw ball, drop ball, and Rise ball all of which she can throw for strikes. She has great accuracy and has a knack for keeping batters off balance."
"I, as the head coach, am most excited about seeing what this group of hard working girls can do in their second year of the 14U division. We competed well as a first year 14U team at the national level against the older second year 14U teams, however, with the added experience and athleticism I am looking forward for these girls to break out onto the big stage … This up coming summer we will have our best team ever assembled and our girls are anxious to go out to prove they belong with the big named organizations and to prove that big things come in small packages. Great things are in store for The CA Yard Sharks 2022 – Lopez/Ceo team. We are ready to compete."
NO. 32 / CAROLINA ELITE – PAGE
Carolina Elite's successful summer came to a close with a 9th place finish at the JO Cup. Page's team carried a good mix of athletes in the 2021 and 2022 classes with one 2023 athlete, meaning Carolina Elite will be able to consistently return a strong core of experienced athletes from season to season. Elite played in many tournaments across the southeastern part of the country and did well at events like the Birmingham Thunderboltz 5-Star exposure event. Many of its student-athletes also are making the collegiate camp rounds to a number of southern and eastern programs.
Key Players
Morgan Plemmons (2022 P/1B) Uncommitted
Mattie Reid (2022 P/INF/OF) Uncommitted
Olivia de Hesselle (2021, 1B/3B/OF) Uncommitted
Gabby Polsky (2021, C/3B) Uncommitted
Zoe Paulmeier (2021, P/3B/INF) Uncommitted
NO. 33 / DEMARINI ACES 14
The Demarini Aces organization is a long time staple in club ball scene racking up big finishes across all age divisions and placing top recruits at schools across the country. This 14U team has been no different! Notable finishes this summer include 5th place at IDT in Colorado and 13th place at PGF Premier. At IDT, the Aces picked up impressive wins over teams such as Corona Angels-Tyson, Ohio Outlaws, SoCal Choppers Faucett, All American Sports Academy and Texas Blaze Gold. With athletes aging or moving up to the 16U level, the 14U Aces will have a new look in 2018-2019, however, don't expect this to slow this program down anytime soon.
Key Players
Hannah Camenzind (2022 P/1B/OF) Uncommitted
Lauren Camenzind (2022 SS/2B/C) Uncommitted
Tatum Clopton (2021 P/OF) Oklahoma State
Katie Brooks (2021 P, INF) Florida State

NO. 34 / EC BULLETS – SCOTT/ANDREWS
Another potent, big name club program the EC Bullets performed well with notable finishes including 5th at USA A Nationals and 9th at Triple Crown Nationals. With a roster comprised of highly recruited talent who have been making appearances at big collegiate camps,  Scott-Andrews' team has aged up to 16U this fall and beyond. It will be exciting to see how the Bullets perform at this new level.
Key Players
Gracelyn Flowers (2021) Uncommitted
Morgan Edwards (2021) Uncommitted
Madie Andrews (2021) Uncommitted
Lauralee Scott (2021) – Uncommitted
Sarah Gordon (2022) Uncommitted
Nikki Tanguay (2021) Uncommitted
NO. 35 / GEORGIA IMPACT PREMIER 04 – FISHER
Rounding out this portion of this Super 60 team ranking is Georgia Impact Premier Fisher! Compiling a 58-15-4 record, Fisher's team racked up impressive finishes all summer including 5th place at Sparkler JR. and Top 10 at PGF Premier. Impact Premier 04 was a first year 14U team which opponents should take note of; with another year under its belt, Georgia Impact Premier 04 will be a tough and formidable opponent for years to come. Expect them to continue to make a lot of noise for the foreseeable future.
"Words can't describe the experience that I've had over the last year with these kids," said Coach Fisher via a Facebook post. "Being able to watch them grow individually, both physically and mentally as a player has been remarkable. One thing I commend our young ladies the most for is staying the course and bringing it each day. Also, as with every team (or at least the ones I know), there have been some bumps along the way. What never changed in that however, or never was broke was our team's success and our girls' carrying themselves with the upmost respect both on and off the field."
Key Players
Brionna Condon (2022) South Carolina
Kirsten Fleet (2023) Georgia
Mia Williams (2023) Florida
Jaydyn Goodwin (2022) Georgia
Taylor Malvin (2022) Syracuse
Angelee Bueno (2023) Florida State