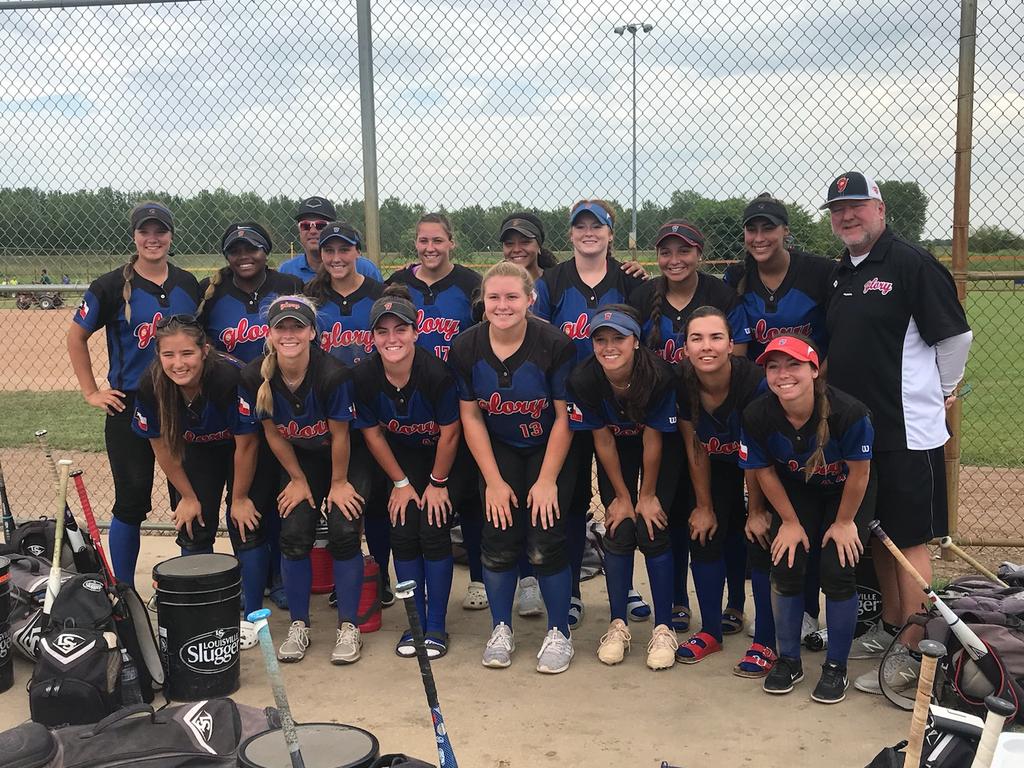 NO. 11 / TEXAS BLAZE BONOLA
Yet another powerful program out of Texas, Blaze Bonola played an extremely difficult schedule. Bonola posted an impressive 44-12-1 record highlighted by a T-9th place finish at USA Elite Select. Unfortunately for Bonola, it draw one of the toughest schedules at PGF Premiere Nationals squaring off with eventual champions, GA Impact, in its first game. The Blaze led through five innings of play but dropped the contest, 4-8.
On the horizon for the Blaze, a new direction with the creation of Blaze United National Teams at the 14U, 16U, and 18U levels. It will be exciting to see how these teams continue to perform at the top tournaments. Six players will move from Blaze Bonola to the new 18U Blaze United team: Brooke Diaz, Erykah Guerrero, Carissa Vasquez, Maxine Valadez, Sydney Belvin, and Ally Oyanguren.
Key Players:
Kiersten Licea (2018) North Carolina
Denay Griffin (2018) Liberty University
Bari Christain (2018) Saint Mary's University
Sydney Belvin (MI/OF) McNeese State
Brooke Diaz (C/1B) LA Tech
Ally Oyanguren (OF) BYU
Kailey Brown – Belmont University
NO. 12 / TEXAS GLORY ADKINS
Another consistent and top performing Adkins team, Texas Glory Adkins record two top ten finishes at Triple Crown Fireworks and TCS National tournaments. Texas Glory Adkins also finished 3rd at the JO Cup. With a roster made up of a diversified group of student-athletes across a number of graduation years, Adkins appears to be set up for a continued pattern of success.
Key Players:
Kaitlyn Gee (2020, UTL) Uncommitted
Tessa Galipeau (2021, 1B/P/RF) Uncommitted
Kaylin Jackson (2021, SS/2B/UTL) La Tech
Gabriella Garcia (2019, 3B/C/OF) Stephen F. Austin

Reagan Chism (2019, P) Stephen F. Austin

NO. 13 / OKLAHOMA ATHLETICS PREMIER MADDEN
One of the most "stacked" teams on the circuit this past summer, Oklahoma Athletics Premier Madden was dominate. Fueled by high powered athletes, they accomplished something not done by an Oklahoma team before. By their account, Oklahoma Athletics Premier Madden recorded the highest finish at a 18U PGF National event of any Oklahoma team.  Big tournament finishes include 9th at both PGF and USA Elite Select. Madden also placed an athlete on the PGF All-American East Team (Chyenne Factor). There is no sign of Madden slowing down anytime soon!
Key Players
Chyenne Factor (2018) Oklahoma State
Raylee Pogue (2019, UT) Oklahoma
Grace Jarvis (2019) Tulsa
Paige Knight (2020) Oklahoma
Macy McAdoo (2019, P) Oklahoma
Madison Neighbors (2019, C) Oklahoma State
Emily Hott (2019, OF/2B) Baylor

Kinsey Koeltzow (2019, C/3B) Oklahoma
NO. 14 / GEORGIA POWER DEMARINI GOLD Tuñón
A hot bed for talent, Georgia produces some of the best programs and teams on the national circuit. Georgia Power had a successful summer highlighted by an awesome run at Colorado Fireworks finishing 9th as well as a 9th place finish at TC/USA Nationals and 7th place at the JO Cup. Tuñón's team featured an incredibly balanced roster that posted an impressive 60-10-2 record and blasted 70 home runs.
Despite losing athletes to college this fall, Georgia Power will welcome in powerful new talent. The 2018-2019 roster will tout 11 new student-athletes including Alex Brown and Emma Worley who are both uncommitted 2021 players and will make an immediate impact. Brown is a 5 tool player with a strong work ethic is a true utility and Worley, a 5'10 pitcher with a nasty curve ball.
Other players joining the team this coming year include Kelly Paulson (2019, Lipsomb), Emily Yakubowski (2019, Lipscomb), Maddie Campbell (2020, Georgia Southern), Bailee Wilson (2019, Georgia Southern), Cheyenne Miler (2019, Georgia State University), Madison Henry (2019, North Georgia), Hannah Forehand (2019, North Georgia). Faith Richards (2019, uncommitted) will also join the team after guest playing for Tuñón in the USA Softball Jr. Olympic Cup and Atlanta Legacy Showcase. In 13 games Richards hit .417 and held an on-base percentage of .500.
Key Players
Hannah George (2018, P/OF) North Carolina
Laura Bishop (2019, P/1B) Kennesaw State
Chandler Caldwell (2018, OF) Tennessee Tech
Kalynn Hicks (2018, C/3B/OF) Georgia State
Sofia Tuñón (2019, C/OF) Georgia State – will return for 2018-2019 season.
Brianna Stubbs (2019 OF) North Carolina – will return for 2018-2019 season.
Hannah Clay (2019) Georgia State University
Daisy Hess (2019) Georgia State University – will return for 2018-2019 season.
"This team was very special, the team chemistry and the desire to win was evident as we didn't finish out of the top 10 in the national tournaments we entered last year," José Tuñón, Head Coach.
NO. 15 / OHIO OUTLAWS DEMARINI 
The 2018 Ohio Outlaws were a veteran led team and it showed through a pattern of consistent play throughout the summer. Big national tournament finishes include: 5th at USA Elite Select, 8th at IDT, and 9th at JO Cup.
Kaitlyn Morrison will be the only returner on the roster this coming year so the "new look" Outlaws will be fun to follow as it looks to reload. Big roster changes include organizational newcomers Lauren Ringhiser, Molly Troutman, and Macey Moore who should make an instant impact.
Equipped with a diversified "three-headed monster" in the circle (Holly Brehm, Grace Vesco, Ashley Hitchcock), the outlook is bright for the Outlaws to continue performing at a very high national level.
"We are excited to see how this group gels together. Pitching and defense will be strong, the key to our success will be how well our offense clicks." – Kevin Yun, Ohio Outlaws Coach
Key Players: 
Kaitlyn Morrison (2019, MI) Penn State – great arm, big bat
Molly Troutman (2019, OF) Ohio – gap power, high softball IQ
Holly Brehm (2019, P) Ohio
Kenedy Vrable (2019, UTL) Youngstown
Grace Vesco (2019, P) Saint Francis University
Ashley Hitchcock (2019, P/INF) Rutgers – strong bat, infield staple when not pitching