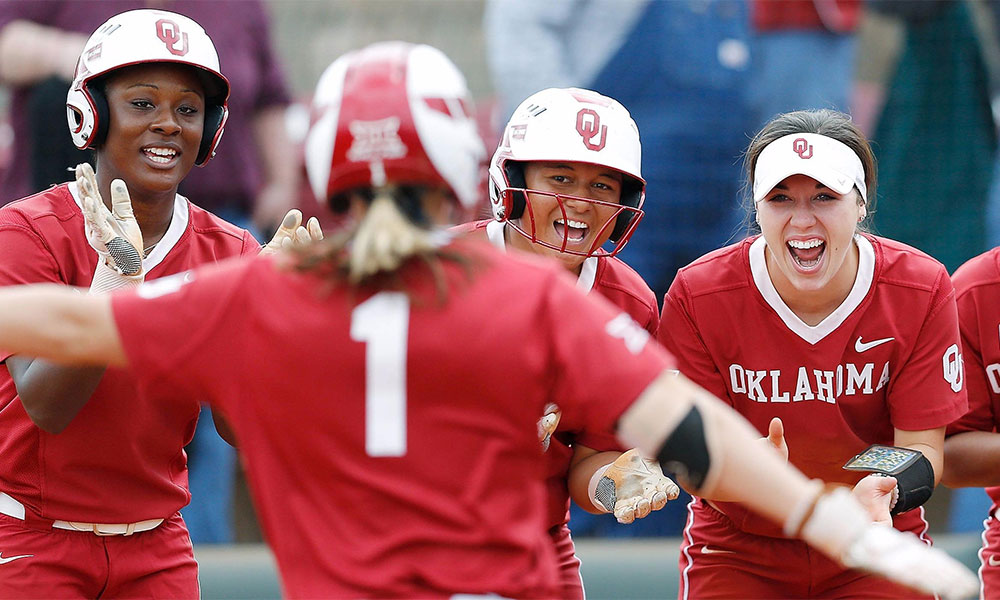 This week's installment of 10 Things is a bit different. Now, we know we picked our Series of the Week and we will feature the Pac-12 Game of the Week but here are 10 more series that we want you to know about.
The Division I Softball Committee will reveal the first of two top ten rankings on Saturday at 5 p.m. ET during the Oregon vs. Arizona game on ESPN2
Oregon vs. Arizona
This series will also feature sisters Mo and Danica Mercado. Mo plays for Arizona while her sister plays for Oregon. Katiyana Mauga is also heating up for the Wildcats. She has nine homers in her last 36 at-bats. She is one shy of the Arizona record and nine shy of the NCAA record. Last time out in Pac-12 play, both teams suffered losses. Arizona lost its first series of the season to Utah while Oregon lost its second series in a row (UCLA, Washington).
Auburn at South Carolina
Auburn has had quite the week. Kasey Cooper was hit in the face with a ground ball during pre-game and didn't make the start. Then, on Thursday Haley Fagan, Makayla Martin and Brittany Maresette were arrested on marijuana charges and suspended indefinitely. South Carolina is coming off its biggest win in program history when they defeated No. 2 Florida State last Friday. Auburn holds a 32-25 advantage all-time.
Baylor and Oklahoma
The Sooners have won 16 straight and first place is at stake for the Big 12 Conference. Oklahoma has a 53-12 all-time record against Baylor, including a 21-6 home record. Baylor took Easter weekend off and had its midweek games canceled due to weather while Oklahoma swept Kansas and its nonconference tilt with North Texas. Saturday and Sunday's games will be televised on ESPN2.
Washington at Alabama
The Huskies are visiting the Crimson Tide for a two-game set in Tuscaloosa. The two teams have faced each other four times in the past two years, nine all-time and six of the nine have come in the NCAA Tournament. Alabama is coming off back-to-back losses to Tennessee and a midweek win over Southern Mississippi. Washington won its series against Oregon and then shutout Alabama-Birmingham to begin the road trip.
Michigan and Wisconsin
The Wisconsin Badgers are looking to break the Goodman Diamond attendance record this week when they host the Michigan Wolverines. The Badgers have never defeated the Wolverines in Madison. Michigan enters the weekend with second-best defense (.984 fielding percentage) and Megan Betsa. Betsa averages 12.8 strikeouts per game and leads the country with 306 on the year.
SIUE and Jacksonville State
The top two teams in the Ohio Valley Conference face off in a doubleheader featuring two of the best pitchers, Haley Chambers-Book and Whitney Gillespie. Gillespie has a 1.08 ERA in 26 appearances and 143 innings pitched. Chambers-Book has a 1.20 ERA through 168.2 innings and 29 appearances. The Gamecocks has a team ERA of 1.77 and the Cougars have a 1.82. This series has pitcher's duel written all over it.
Florida State at Louisville
Florida State leads the all-time series 6-4 but last time out, Louisville upset the-No. 5 FSU in game one of a doubleheader. The Seminoles enter the weekend 41-3-1 and are 18-0 in ACC play. The Cardinals will try to combat the stellar pitching with offense as four players are hitting above .300. FPN will be covering this series live, be sure to watch the website, social media for extra coverage on Saturday and Sunday.
Louisiana and Georgia State
The Ragin' Cajuns look to extend their school and Sun Belt Conference record streak of 34 consecutive league series won this weekend against Georgia State. The Cajuns and Panthers are the top two teams in the Sun Belt and lead nearly every offensive category. ULL's DJ Sanders is on fire. Her last seven hits have all been home runs. Louisiana leads the all-time series 19-2 and has won the last 15 matchups with GSU.
Cal Poly at CSUN
Cal Poly has been struggling to produce runs as of late. The Mustangs were swept by Long Beach State last weekend, which brought them down to fifth place in the Big West. Sierra Hyland is searching for her 34th career shutout to overtake the Mustang career record. With four more strikeouts, she will also become the first player in Big West softball to reach 900 career strikeouts.
Drake and Bradley
The Bradley Braves will be wearing gold laces on Saturday to help raise awareness of pediatric cancer. Kelly Kapp is ranked seventh overall with a .469 batting average. She is 12th all-time in the Missouri Valley for career hits and needs eight more for 11th. Drake has struggled without the help of ace Nicole Newman in the circle. She hasn't seen any pitching action since Feb. 24.