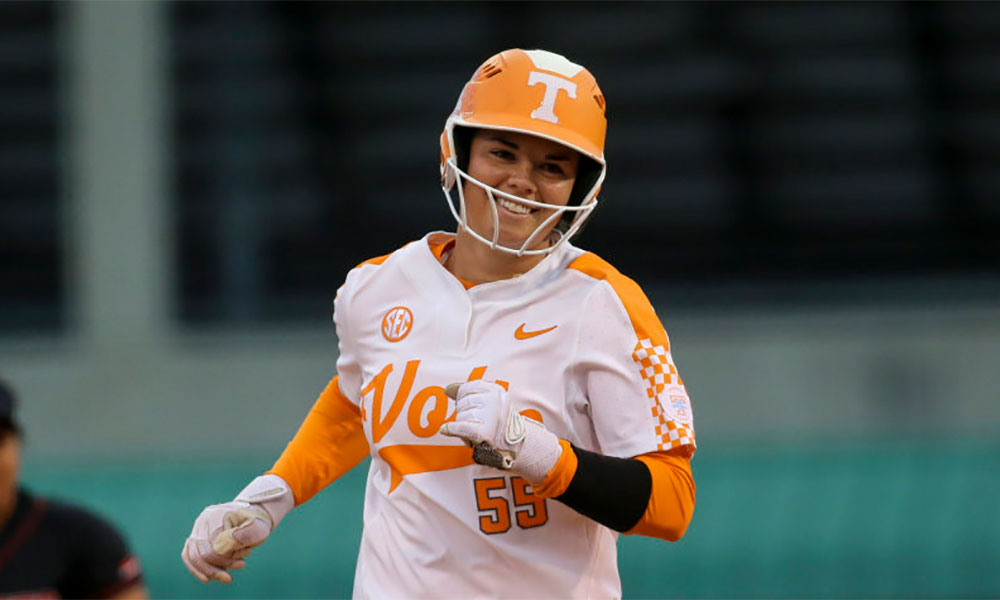 Can you believe it? It's the final regular season weekend for some conferences and conference tournament start up as soon as Wednesday of next week! It has been one wild season with many surprises. There could be a few more this weekend. Here are 10 things to watch for this weekend.
Georgia and Arkansas
We have to put this first simply because Dottie Hinson aka Geena Davis is throwing out the first pitch at Bogle Park in conjunction with the Bentonville Film Festival on Friday night. Georgia has to win the series in order to make the SEC tournament. Arkansas is currently the No. 12 seed at 6-15 while Georgia is on the outside looking in at 4-17. The Bulldogs have a 32-17 advantage dating back to 2010 but the Razorbacks have won seven of the last 13 in the series.
Oklahoma and Oklahoma State
The Sooners took the first game of Bedlam on Wednesday evening. The two programs took Thursday off and will rekindle the rivalry Friday evening in Norman followed by Saturday in Stillwater. The victory gave OU its sixth straight Big 12 title. Even though the regular season championship has been decided, seeding for the Big 12 Tournament is still on the line and OSU could fall to No. 3 if they don't win out,
Arizona and UCLA
The Bruins lead the all-time series against Arizona 83-56 and have won 10 of the last 11. They have also swept the Wildcats in each of the previous two series at Easton Stadium where they hold a 44-21 advantage. Can Katiyana Mauga take advantage of the short fence down the lines in Westwood? She only needs six more homers to tie Lauren Chamberlain's NCAA record. The first game is set for 4 p.m. PT on Friday.
Tennessee and Texas A&M
The Aggies are playing their highest ranked opponent since then No. 1-ranked Florida State on February 23. Last weekend, the Aggies lost their first series of the season at Kentucky while Tennessee lost its series to Florida. Both teams did take one game in each respective series. Texas A&M is half a game above Auburn in the SEC standings and a full game ahead of the Volunteers. Friday's game is scheduled for 6 p.m.
Princeton and Harvard
The Ivy League Championship Series began in 2007 and this year's match up ties it as the most common pairing in the 12 ILCS all-time. Harvard has won three Ivy League Championships while Princeton has won two. Prior to 2007, the regular season winner was the champion. With a series win, Princeton would claim its 19th Ivy League Title. No other school has more than Harvard at six. The Tigers lead the all-time series 45-29 but since 1997, Harvard leads 29-18. There's a doubleheader scheduled to start at 1 p.m. Saturday and the if necessary game would be played Sunday at 1 p.m.
CSUN and Cal State Fullerton
The Titans have a chance to clinch the Big West title this weekend with a series win against the Matadors. CSF has won six in a row and nine of its last 10. CSUN leads the Big West in runs, batting average, triples, home runs, RBI, stolen bases, extra-base hits and total bases. A series sweep would put them back in the title race. First pitch of Saturday's doubleheader is set for 2 p.m. PT.
FSU and Oregon
Fresh off a 3-1 extra-innings win against Florida, Florida State visits the Oregon Ducks in a potential Women's College World Series match up. Oregon leads the all-time series 5-4 and the last time these two met was in Oklahoma City in 2014. The Seminoles will be the 23rd ranked opponent for the Ducks this season while FSU has only faced six ranked teams. Saturday's doubleheader will start at 4:30 p.m. PT and Sunday's game is set for 5 p.m.
Sydney O'Hara
Syracuse's Sydney O'Hara enters this weekend leading the nation in batting average (.480) and on-base percentage (.629).   Not too bad considering she also is ranked second for strikeouts per seven innings (12.6). The Orange doesn't play this weekend so it will be interesting to see if anyone can pass her. O'Hara will return to action at the Atlantic Coast Conference Tournament on May 11.
Minnesota
The Gophers have the opportunity to finish the regular season with the best record in Division I softball. With a 48-3 record, Minnesota has a nation-high winning percentage of .941, just slightly ahead of the 48-3-1 FSU Seminoles. The Gophers play Penn State this weekend in a three-game series.
Kelly Barnhill
Florida Gator pitcher Kelly Barnhill is looking to lower her 0.30 earned run average this weekend against North Texas. After allowing three earned runs against Florida State on Wednesday, her ERA is at a season high. In 140 innings this season, Barnhill has allowed 11 runs, six earned. No, that's not a typo. She has only given up six earned runs in 26 games.