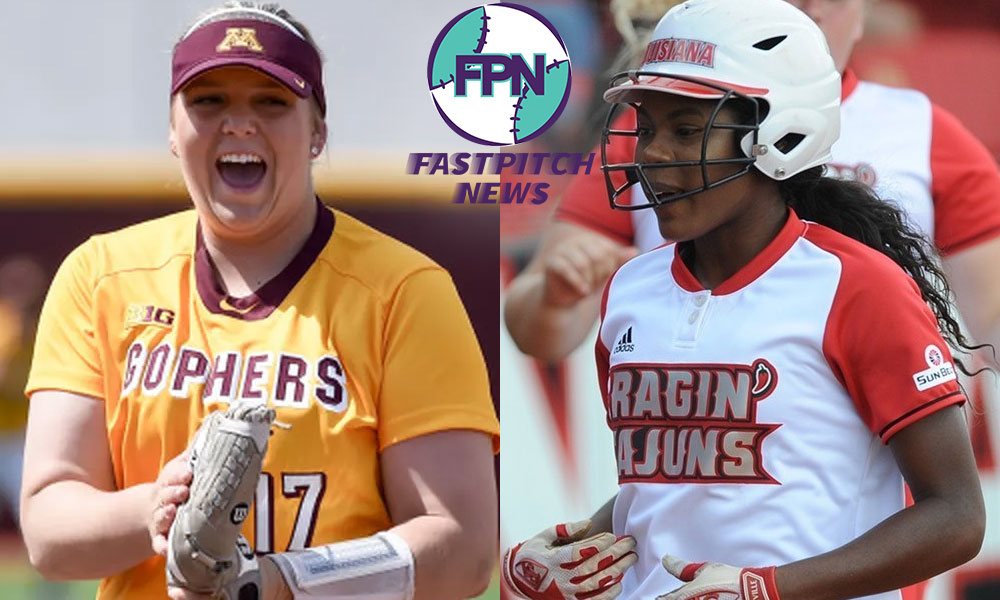 Fastpitch News has released its 2017 FPN NCAA DI Pitching and Offensive All-American Selections. Below you will find our Pitcher of the Year, Player of the year and our full list of All-Americans.
FASTPITCH NEWS NCAA DI 2017 PITCHER OF THE YEAR

Sara Groenewegen (31-4)
University of Minnesota
Senior
Groenewegen is coming off her most dominant season in the circle yet. She went 31-4 with a 0.63 ERA and 307 strikeouts. She now holds Minnesota's All-time strikeout record with 1,214 strikeouts (surpassing FPN's Sara Moulton)and averaged the most strikeouts per game with 10.66 a game.
FASTPITCH NEWS NCAA DI 2017 OFFENSIVE PLAYER OF THE YEAR

DJ Sanders
The University of Louisiana at Lafayette
Junior
Sanders led the nation in runs per game, home runs, home runs per game, RBI, RBI per game, total bases and slugging percentage at the completion of regular season play. She finished the season batting .388 with career-high totals in home runs (29) and RBI (82). Nearly half of her 62 hits produced were home runs, she recorded seven games of multiple home runs and tied the NCAA single-season record for grand slams with six.
First Team All-American Pitchers
Sara Groenewegen, Minnesota
Jessica Burroughs, Florida St.
Kelly Barnhill, Florida
Delanie Gourley, Florida
Alexis Osorio, Alabama
Megan Good, James Madison
Danielle O'Toole, Arizona
Emily Watson, Tulsa
Paige Parker, Oklahoma
Megan Betsa, Michigan
Second Team All-American Pitchers
Randi Rupp, Texas St.
Maggie Balint, Oregon
Kaylee Carlson, Auburn
Savannah Jo Dorsey, Ohio
Kaitlin Lee, Ole Miss
Sierra Hyland, Cal Poly
Mandy Jordan, Lipscomb
Haley Chambers-Book, SIUE
Meghan King, Florida St.
Carley Hoover, LSU
Honorable Mention Pitchers
Holly McKinnon, USC Upstate
Miranda Viramontes, Utah
Katelyn Linford, San Jose St.
Allie Walljasper, LSU
Mckenna Bull, BYU
Taran Alvelo, Washington
Sydney Littlejohn, Alabama
Matty Moss, Tennessee
Taylor McQuillin, Arizona
Megan Kleist, Oregon
Jordan Dixon, Marshall
Lexi Smith, Texas A&M
Rachel Knapp, Central Mich.
Alex Stewart, Louisiana
Kamalani Dung, Fresno St.
First Team All-American Offense
DJ Sanders, Louisiana
Kendyl Lindaman, Minnesota
Meghan Gregg. Tennessee
Jessica Warren, Florida St.
Katiyana Mauga, Arizona
Sydney O'Hara, Syracuse
Chloe Miller, Wisconsin
Kendra Lynch, North Carolina
Madeline Jelenicki, UCLA
Nicole Pendley, Oklahoma
Second Team All-American Offense
Jenavee Peres, San Diego St.
Nicole Evans, Illinois
Lilli Piper, Ohio St.
Emily Lochten, Fla. Atlantic
Aleah Craighton, Louisiana
Amber Schisler, Campbell
Sahvanna Jaquish, LSU
Hannah Flippen, Utah
Shay Knighten, Oklahoma
Nicole Schroeder, Arkansas
Honorable Mention
Megan Litumbe, Georgia St.
Jordan de los Reyes, Illinois St.
Haley Pace, Charlotte
Lea Foerster, Michigan St.
Morgan Zerkle, Marshall
Sydney Dwyer, Minnesota
Jessie Harper, Arizona
Lindsay Crowdus, Memphis
Kayli Kvistad, Florida
Jenna Cone, George Washington
Emily Snider, Ga. Southern
Maddy Grimm, Kent St.
Sydni Emanuel, Georgia
Alyssa DiCarlo, Georgia
Jackie Schoff, FIU