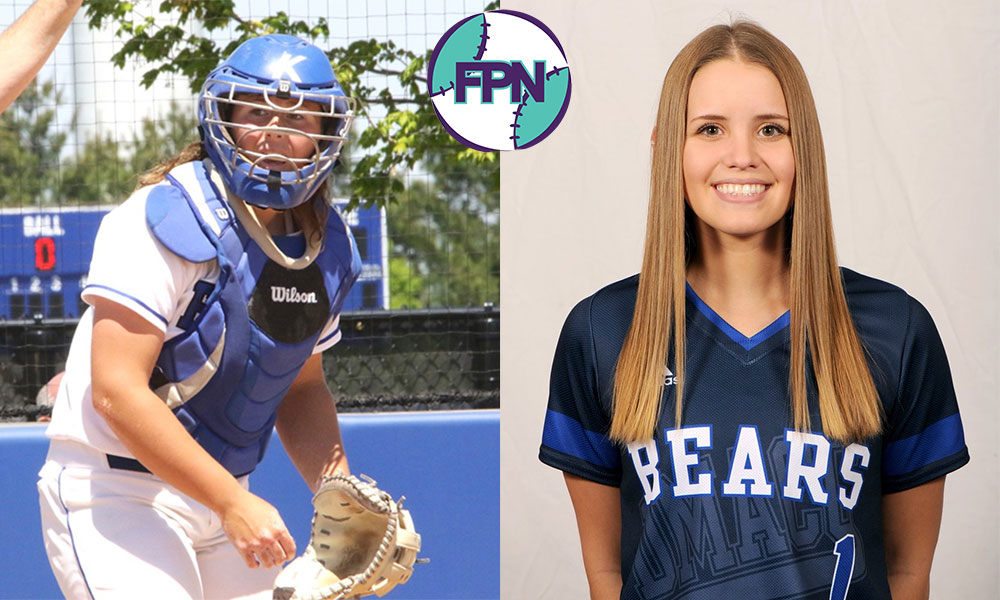 Fastpitch News has released its 2017 FPN NJCAA DII Pitching and Offensive All-American Selections. Below you will find our Pitcher of the Year, Player of the year and our full list of All-Americans.
FASTPITCH NEWS NJCAA DII 2017 PITCHER OF THE YEAR

Molly Jacobsen (25-4)
Des Moines Area Community College
Freshman
Jacobsen a freshman from Adel, IA went 25-4 record with a 1.08 earned run average. She finished third nationally in wins, second in earned run average and second in strikeouts with 273. Jacobsen, who averaged 11.22 strikeouts a game, pitched 170.1 innings while allowing just 28 earned runs.
FASTPITCH NEWS NJCAA DII 2017 OFFENSIVE PLAYER OF THE YEAR

Maddie Hansen
Kirkwood Community College
Sophomore
Hansen, a sophomore catcher from nearby Ely, Iowa, was a force offensively for the Eagles. She hit 19 home runs on the year and drove in 92 runs, ranking her fourth and second in the nation, respectively. Hansen led the team with a .534 batting average, ranking her fourth nationally, and was second on the team in total hits (109).
First Team All-American Pitchers
Molly Jacobsen, Des Moines Area
Lexi Kinnaird, Kirkwood
Megan Deiter, Johnson County
Karli Perque, Jones County
Hunter Conzelmann, Mott
Second Team All-American Pitchers
Raquel Ward, Cuyahoga
Leighlyn Guthrie, Mercyhurst North East
Angie McBeain, Kirkwood
Kyla Blankenship, St. Louis
DJ Cannon, Hutchinson
Honorable Mention
Miranda Hebert, Macomb
Morgan Laws, Danville Area
Chloe Day, Southern Maryland
Aidan Nichols, Mississippi Gulf Coast
Breanna Riggenbach, Lake Michigan
Nora Keehn, Mississippi Gulf Coast
Baylie Ullmark, Kankakee
Connor Proctor, Lansing
Courtney Sheridan, Rhode Island
Jessica Boyd, Northeast Mississippi
First Team All-American Offense
Maddie Hansen, Kirkwood
Taylor Nearad, Kirkwood
Alyssa Fernandez, Phoenix
Kelly Byrd, Jones County
Alexis Cerven, Kellogg
Beth Mersinger, Kankakee
Kaley Southard, Spoon River
Cat Ramagnano, Chesapeake
Morgan Frost, Kirkwood
Kelsha Loftin, Jones County
Second Team All-American Offense
Emma Gary, Lake Region State
Lexi Ferrari, Kirkwood
Chantal Gruber, Northern Virginia
Rebecca Skains, LSU Eunice
Deanna Gerrard, Iowa Lakes
DoniRae Mayhew, Kirkwood
Leilani San Pedro, Iowa Lakes
Shayla Kaeo, Iowa Central
Courtni Neubauer, Waubonsee
Briana Mairose, Muskegon
Honorable Mention
Morgan Heckman, Lincoln Land
Allison Kasick, Kansas City Kansas
Alexis Egan, Iowa Central
Brittany Baty, Jones County
Amanda Preach, Phoenix
Kalyn Learnard, Kankakee
Kiya Harper, Lincoln
Autumn Frost, Jones County
Katie McLean, Lincoln Land
Miranda Aguilar, Spoon River
Emma Gary, Lake Region State
Madisyn McCoy, Illinois Central
Claire Dudek, Des Moines Area
Emily Henderson, LSU Eunice
Madison Sundling, St. Louis