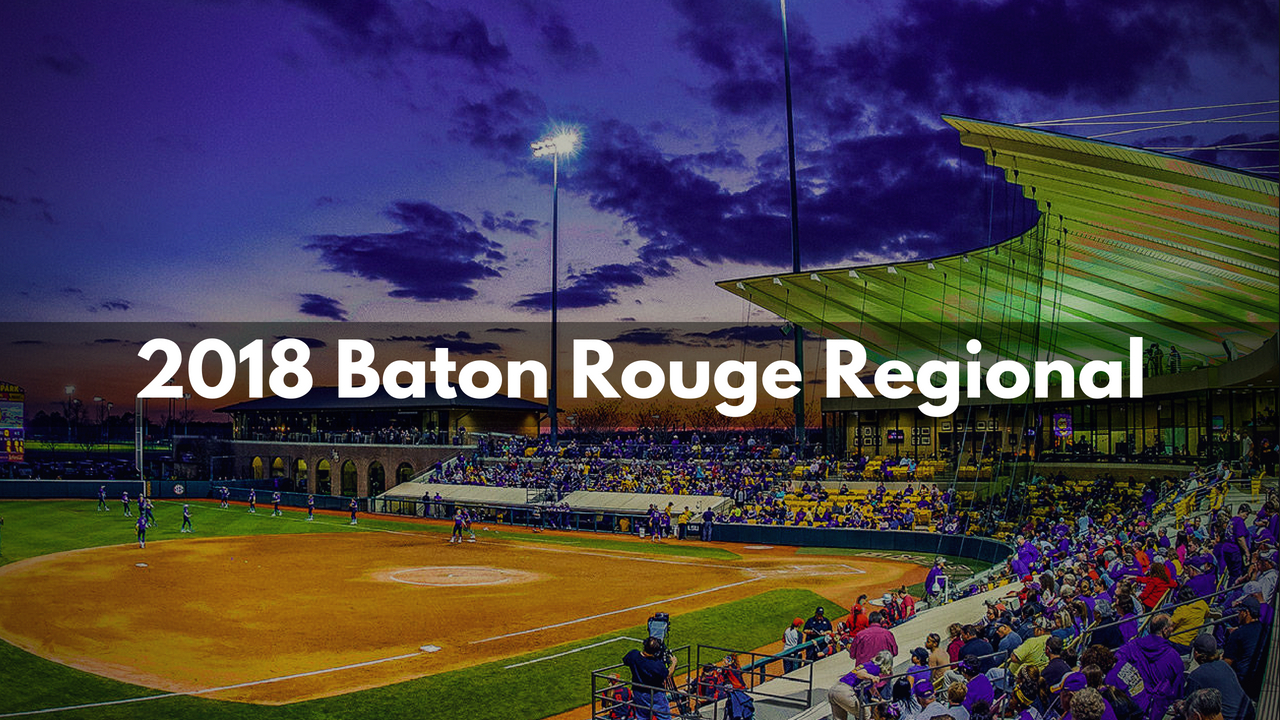 The LSU Tigers (41-14) come in as the No. 11 overall seed and will host Lousiana-Lafayette (38-14), Houston (36-20) and  Fordham (33-21). Information on this region can be found here. 
Top seed
LSU is hosting their fourth consecutive regional and is coming off of a loss to Tennessee in SEC quarterfinals. The Tigers finished fifth in the SEC regular season. The strength of this squad is with their pitching staff led by the senior duo of Allie Walljasper (16-5) with a 1.00 ERA and Carley Hoover (16-6) with a 1.26 ERA. The two are hoping to lead LSU back to the Women's College World Series. Coming into the season with the pitching staff they had, it appeared on paper that this team could have been more threating.  They did win 41 games which is great, but what hurt them is an underwhelming offense.  As a team, they batted just .263 which is the lowest in this regional. Only two LSU batters are hitting above .300 in Amanda Doyle (.335) and Aliyah Andrews (.333). Good news is they have a great pitching staff.
Team to Pull Upset
Houston comes in as the No. 3 seed in the region with American Conference co-pitcher of the year winner Savanah Heebner. Heebner ranks among the nation's leaders in ERA (1.17) and shutouts (12). Houston finished second in the American conference which was the fourth strongest league in College Softball this season based on RPI. The Cougars have wins over Ole Miss, Baylor, and Texas in non-conference action. If it becomes a pitcher's dual, things could get real interesting in this region.
Players to Watch
Louisiana has a solid pitcher in Summer Ellyson (21-8) who carries a 1.43 ERA with 199 strikeouts over 211 innings of work. Paige Rauch of Fordham has hit for power this year with 16 home runs, and 44 RBI's on the year. She also holds a 14-2 record with a 1.55 ERA. Sarah Queen has swung it well for Houston and led the Cougars with a .336 average. She also leads them in home runs (10) and RBI's (37).
Prediction
It would not be a Baton Rouge regional without some drama.  This regional has four teams ranked in the top 85 (RPI) with No. 11 LSU, No. 22 Lousiana, No. 39 Houston and No. 85 Fordham. Do not be surprised if LSU struggles against Fordham in the opening game and even has to come out of the losers bracket to win this regional. Fordham has some bats and can go deep, which could make things interesting. LSU wins the region but has to come back out of the loser's bracket to advance beating Houston to advance.