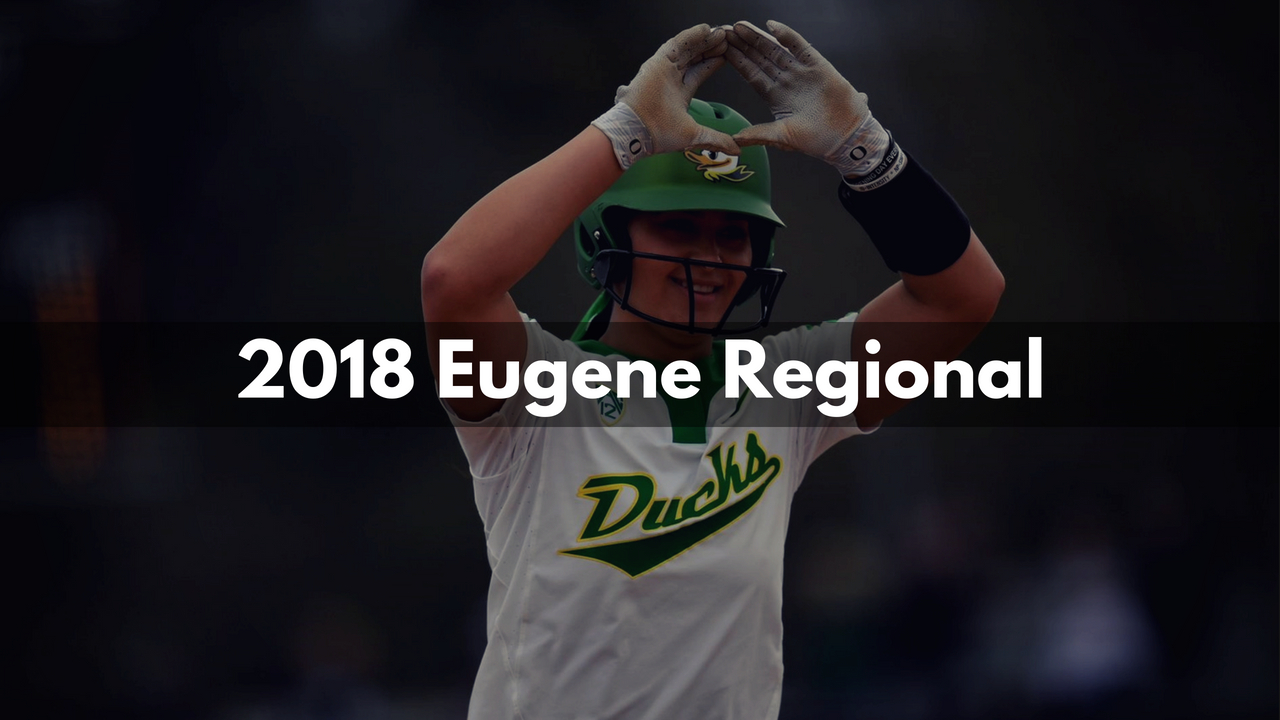 The No.1 seed in this years NCAA tournament goes to Oregon (47-7). The Ducks have been impressive this season and enter the tournament on a 13-game winning streak. Games will begin a day earlier than the others starting on May 17 and ending on the 19th at Jane Sanders Stadium. Joining Oregon in the region is Drake (43-10), BYU (35-20) and Albany (32-14). Thursday's games can be seen on ESPN 3. Find more info here.
Top Seed
Oregon had been sharp in the last half of the season. Going back to their 5-0 win over defending champion Oklahoma on April 19 the Ducks have outscored their opponents 81-19. One thing that has helped the offense is that DJ Sanders appears to be finding her groove. Over the last 17 games, Sanders is batting .344 with seven home runs and 23 RBI's. She now ranks second on the team in home runs (15) and RBI's (45). Leading the Ducks in home runs (16) and RBI's (53) is Gwen Svekis.  The Ducks are batting .322 as a team. They have been equally impressive in the circle as well. Coach White has relied on three pitchers most of the season in Megan Kleist (20-5), Miranda Elish (20-1) and Maggie Balint (7-1).  In the second half of the season, most of the innings have gone to Kleist and Elish. Kleist holds a 0.96 ERA with 200 strikeouts over 160.2 innings of work. Elish comes in with a 1.01 ERA and 196 strikeouts over 138.1 innings. Expect to see all three at some point over the weekend.
Best Shot at the Upset
In our opinion, the team with the best shot of an upset would be Drake. That may come as a surprise to some, but with pitcher Nicole Newman (21-3) in the circle who knows. Newman has been excellent this season posting a 0.62 ERA with 238 strikeouts over 146 innings of work. If she is on, she could keep Drake in the game, and in close games, anything can happen. She owns some wins this year over top 25 teams already, and this is why we think Drake would have the best shot at the upset.
Players to Watch
First up is Haley Cruse, who currently leads the powerful Ducks in batting average (.379). She is a tough out at the bottom of the Ducks order. Macy Johnson leads Drake in average batting (.356) with 21 stolen bases on the year. For Albany, you may want to keep an eye on junior Chelsea Henige. Henige plays a significant roll in the Danes offense. On the season she is hitting .366 with 12 doubles and four home runs. Offensively for BYU, you want to watch junior Libby Sugg. Sugg leads BYU in average (.423), home runs (11), and RBI's (64).
Prediction
You can probably guess who we will pick for this one, yes Oregon.
We do not feel that we are going out on a limb here. Oregon is the top seed in the tournament for a reason. Of course, anything can happen in sports, but one would be hard-pressed to pick against the Ducks this weekend. Not only do they trot out an explosive line-up at the plate, but they have also shut down pitchers as well. Barring any major surprises, Oregon will move on to the super regionals.