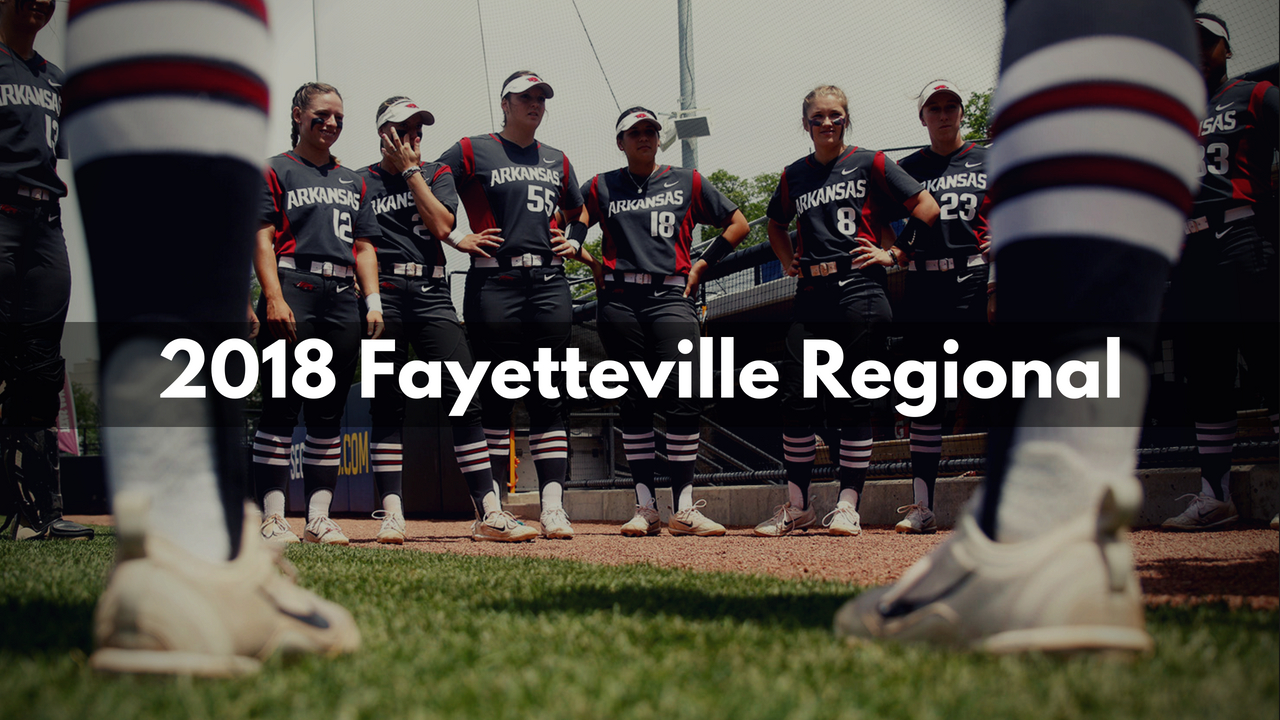 Fayetteville Regional
For the first time in program history, the University of Arkansas softball team has been selected as a top-16 national seed and will play host to the NCAA Fayetteville Regional beginning Friday at Bogle Park. The Razorbacks carry the national No. 13 seed and will be joined in Fayetteville by Oklahoma State (38-20), Wichita State (30-21) and DePaul (35-15). Oklahoma State and Wichita State get things going at 1:30 p.m. CT on Friday followed by Arkansas against DePaul at 4 p.m. (CT) at Bogle Park. More info here.
Top Seed
Arkansas enters the national tournament with a 39-15 overall record which represents the most wins by the program since the 2002 season. In their best SEC Tournament showing since 2001, the Razorbacks had wins over No. 19 Kentucky and eighth-ranked and No. 2 seed Georgia. This year marks the program's eighth appearance in the NCAA Tournament, and second consecutive under head coach Courtney Deifel. The Razorbacks hold a .283 team batting average and a 2.27 team ERA heading into the Regional. Mary Haff is 26-6 and holds a 1.48 ERA of her own. The freshman has struck out 226 batters and has held opponents to a .158 batting average against in 189 innings pitched.
Best Shot at the Upset
Wichita State comes into the Fayetteville Regional with a 30-21 mark, having fallen to sixth-seeded Tulsa in the quarterfinals of the American Athletic Conference championship tournament.  WSU carries the No. 32 RPI rating and has picked up three wins against Top 25 opponents in 2018.  The Shockers own the only other meeting with the Blue Demons, defeating DePaul in a close 6-5 result in 1993. Wichita State is the only team to have faced multiple opponents from the Fayetteville Regional during the regular season.  The Shockers are 3-0 against regional foes, downing Arkansas 1-0 while taking two victories against Oklahoma State with 5-3 and 9-6 wins.
Players to Watch
Vanessa Shippy holds a .460 season batting average heading into postseason play. The senior has recorded 74 hits on the year with 14 doubles, two triples, and four home runs. Shippy has scored 69 runs for the Cowgirls and boasts a .646 slugging percentage.
Kate Polucha is leading the DePaul offense with a .375 batting average. Polucha has recorded 63 hits on the season with 11 of them being doubles. She also has a .506 slugging percentage.
Hannah McEwen leads the Arkansas offense with a .345 batting average. McEwen has produced 59 hits, 11 home runs, 42 runs scored, and has collected 53 RBI in 2018.
Prediction
It's anyone's game at the Fayetteville Regional. Game one between Wichita State and Oklahoma State will be telling and a momentum setter. The Shockers have defeated the Cowgirls twice already this season, can they make it a third? It's difficult to beat a team three times, but it can certainly be done. If Wichita can keep Cowgirl leadoff hitter Vanessa Shippy at bay, we give the Shockers the advantage. We also give an edge to host Arkansas for a few reasons. One, home field is a huge advantage in postseason play. Second, they have something to prove and that often unites and sparks something deep within teams. Get ready for a high intensity and great Regional round of softball from this one.