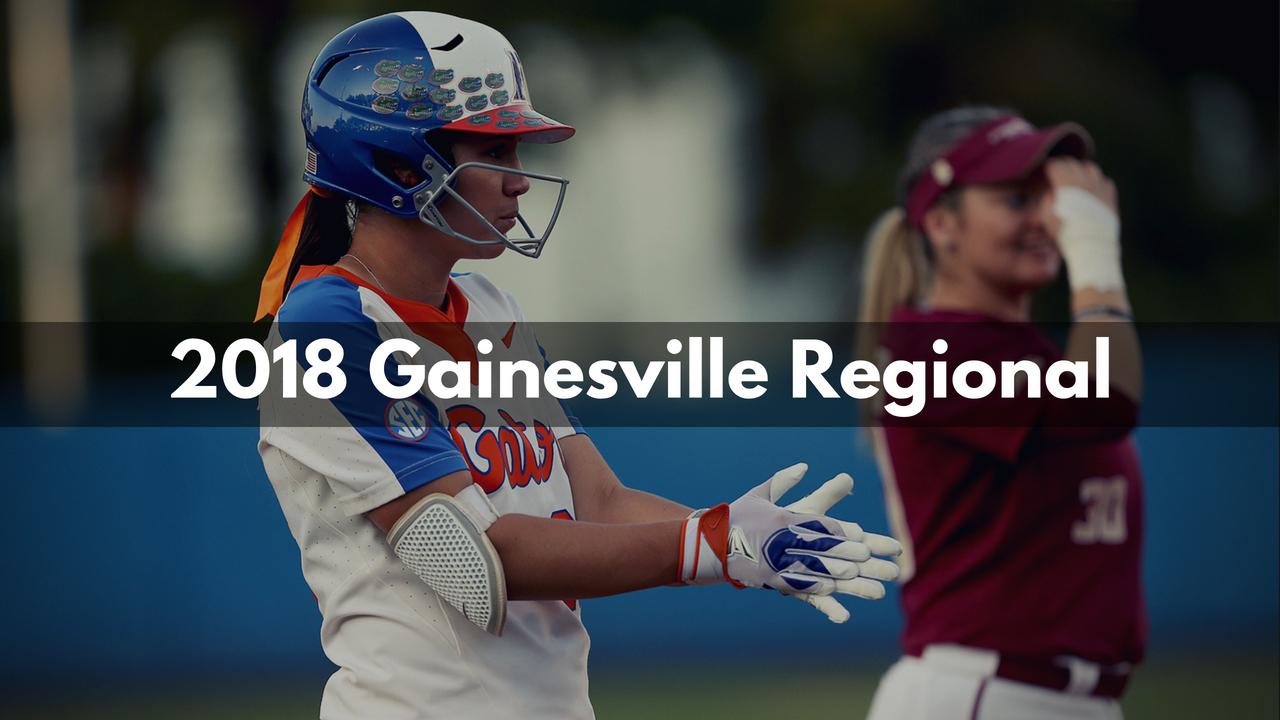 The Gainesville Regional
No. 2 Florida (50-8, 20-4 SEC) comes in hosting the NCAA Regional for the 14th time in a row at Kate Seashole Pressly Stadium in Gainesville, Florida. Also attending the Regional Tournament from Friday to Sunday this weekend is Ohio State (34-14, 14-8 B1G), South Florida (38-21, 14-7 AAC), and MEAC Champions Bethune-Cookman (31-24, 12-3 MEAC). Game one of the tournament will be Ohio State vs. South Florida at 5:00 pm ET on Friday, May 18. Florida and Bethune-Cookman will play at 7:30 pm ET that same day. Both of these games can be watched on ESPNU.
Top Seed
Coming into the Gainesville Regional regular season champions, SEC champions, and hosting the NCAA regional tournament ranked No. 2, Florida is just getting started. The Gators hold a 38-19 overall record in the NCAA Regionals, 13 of those wins by shutout. This is the 11th consecutive season Florida has been ranked in the Top 5 of the tournament and the second time they've been selected to be number two nationally. As a team, the Gators have a .290 batting average, eight hitters in the lineup with over 30 hits each to add to the total 403, 51 home runs, 347 RBI, and a .424 on-base percentage. Their pitching staff (50-8) also dominates with a collective ERA of 1.33 and 489 strikeouts in their 369.2 innings played.
Most Likely to Upset
Though Ohio State was beat in the first round of the Big Ten Tournament on Thursday against Iowa, the Buckeyes get a second chance to make a run for the Super Regionals. Ohio will be making its 10th NCAA Tournament appearance, third consecutive under head coach Kelly Kovach Schoenly. Playing teams for a little more strength in schedule for the regular season compared to the other options for upset, Ohio State has the potential to make things tough for the three other teams in the Gainesville Regional Tournament. With a team batting average of .272, the Buckeyes have acquired 353 hits, 263 runs, and 234 RBI. Ohio State also has a .492 slugging percentage and 63 home runs total this season.
Players to Watch
Amanda Lorenz of Florida, the 2018 SEC Tournament MVP, is the third player in SEC history to win Player of the Year and Tournament MVP in the same season. Lorenz leads the Gators at the plate this season batting .418, producing 66 runs from her 66 hits, hit 17 doubles, 4 triples, has 55 RBI, an on-base percentage of .565, and a .766 slugging percentage. She also is only three home runs from leading the team in that category as well, with 10 so far. Getting up to bat 158 times has helped Lorenz gain that confidence and comfortably at the plate.
Kelly Barnhill (26-1, 13-1 SEC), maintains an immaculate 0.55 overall ERA all while leading the SEC in strikeouts (281), wins (26), and strikeouts looking (79). She has also broken career records for UF coming in sixth with 67 wins, fourth in shutouts with 30, and third in strikeouts with 807. She has been named SEC Pitcher of the Year, All-SEC First Team. SEC Pitcher of the Week a total of four times this season, is part of the Team USA Selection, received USA Softball Player of the Week, and is a USA Softball Player of the Year Top 10 finalist along with other accolades in her 2018 season.
Lilli Piper of Ohio State leads the team with a .417 batting average from her 151 at bats. The junior infielder for the Buckeyes has been a reliable person with a bat in her hand with team highs of .921 slugging percentage, 63 hits, 57 RBI, 49 runs, 20 home runs, and 14 doubles all this season. Piper's base running is also outstanding successfully reaching eight out of her ten attempts at stealing, helping her .497 on base percentage.
Ryan Jackson of Bethune-Cookman University, leads the team with a .351 batting average, 168 at bats, an outrageous slugging percentage of .750, hit 17 homers, and has scored 54 runs out of her 59 hits. Not only can she hit the ball but Jaskson is also fast on the bases, taking 30 extra bases from her opponents.
Georgina Corrick (15-8, 9-3 B1G) gives South Florida the potential to make their mark on the Gainesville Regional Tournament. Helping her team with a 1.61 ERA, Corrick has pitched 165.1 innings on the mound, striking out 157. She has also kept her opponents to a .202 batting average after battling 604 at bats.
Prediction
Entering the NCAA Tournament at the overall No. 1 seed for the fifth-time last year and No.2 this year, Florida is looking to make their way to the Super Regionals and the College World Series. Losing last year in the World Series, an unforgettable 17-inning battle against Oklahoma didn't stop the Gators from coming back strong again this season. Hosting every year since head coach Tim Walton has been on board, gives the Gators the advantage they need to defeat the competition this weekend. With a close first match-up between Ohio State and Southern Florida, I am predicting a final championship game of Florida and Ohio State with Florida coming out victorious.