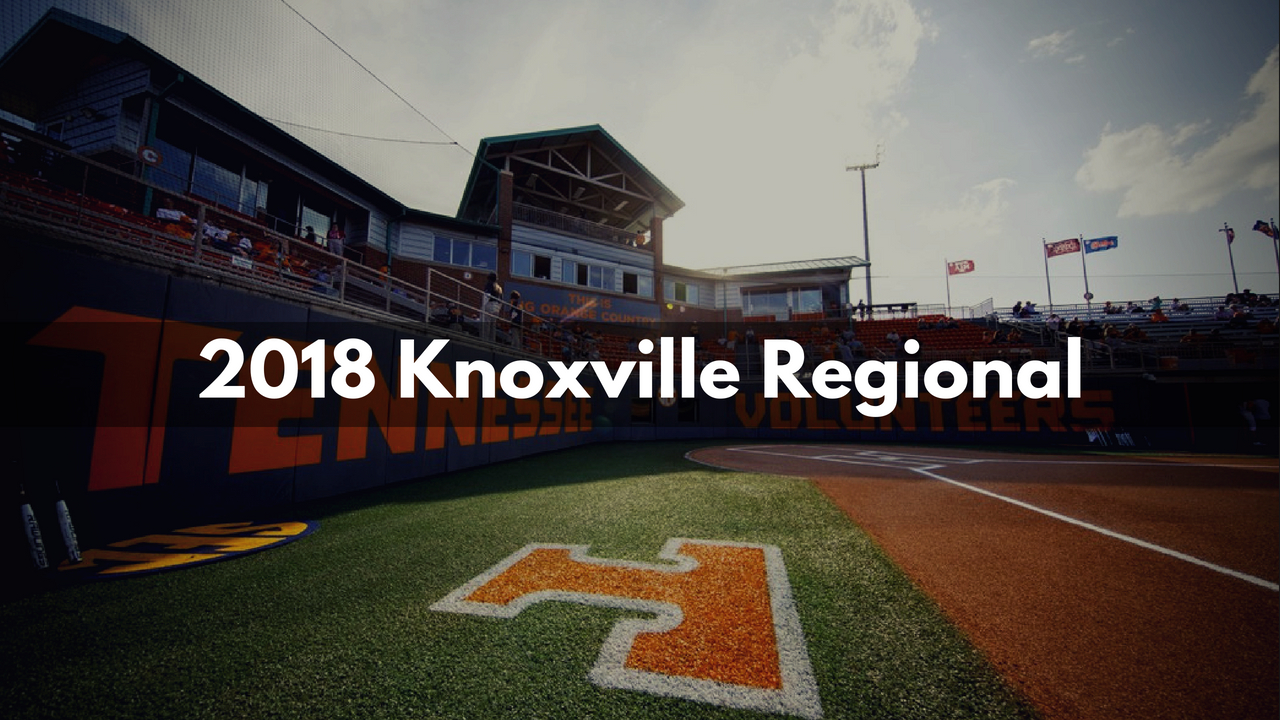 The Knoxville Regional
No. 10 Tennessee (45-12, 14-10 SEC) will have home field advantage as they host the 2018 Knoxville Regional at Lee Stadium in Knoxville, Tennessee. James Madison (42-14, 19-2 CAA) and MAC Champion Ohio University (38-15, 20-3 MAC) will open the tournament at 3:00 pm ET Friday afternoon. Tennessee vs. MAAC Champion Monmouth (32-14, 19-1 MAAC) follow shortly after on May 18th at 5:30 pm ET; both games can be watched on ESPN3 (WatchESPN). The championship game will be held Sunday, May 20 at 1:00 pm ET with a possible second game right after if needed to determine who moves on to the NCAA Super Regionals.
Top Seed
Ranked 10th coming into the tournament and given a chance to host, Tennessee is making its 16th overall, 15th consecutive tournament appearance, and hosting for the 14th straight year. After defeating No. 9 LSU, the Lady Vols then fell to Florida, eliminating them from SEC tournament play and finishing fourth. The team is batting an overall average of .308, has 47 home runs collectively, and have advanced to five Super Regionals in the last six seasons. Four of Tennessee's batters in the line-up are hitting over .300, with three of them all individually producing 60 or more hits for the team.
Best Shot at Upset
James Madison has shown a lot of determination this season and continues to fight for their spot in the national rankings. With their sixth straight NCAA Regional appearance, the Dukes are looking to keep playing some softball. Leading the nation in home runs per game with 1.52, sixth in scoring per game at 6.34, and eighth with .409 for on-base percentage James Madison is a team to look out for. They also have three players nationally ranked after competing in their sixth straight Colonial Athletic Association championship game.
Players to Watch
Odicci Alexander, a sophomore infielder for James Madison, is a force behind the plate and on the mound. Alexander was named CAA Player of the Year and is coming into the tournament with a 2.15 ERA. Of her 211.1 innings pitched, she has an outstanding 206 strikeouts and keeps her opponents' batting average at a .206. Alexander keeps her batting average at a .388, has acquired a .727 slugging percentage, leads the team with 56 RBI, and has successfully stolen six bases this season.
Senior Amanda Riley (21-5, 11-0 MAAC) of Monmouth received the MAAC Pitcher of the Year, and the Hawks acquired their first-ever conference championship. Riley finished with a hard-earned 216 strikeouts in her 187.2 innings pitched making her a player of significance in the Knoxville Regional.
Pitching 212.2 innings and maintaining a 1.51 ERA on the mound for Ohio University, Danielle Stiene (27-6, 12-1 MAC) is a someone to watch for. Stiene has also struck out 257 batters that she's faced and only given up 18 runs in conference play.
Meghan Gregg of Tennessee is earning her third-consecutive All-SEC First Team honor and is the team's all-time leader in home runs and RBIs. She is also a Top 25 finalist for the USA Softball Collegiate Player of the Year. Gregg is batting an overall .392, has a .760 slugging percentage, 67 RBI out of her 67 hits, and has hit 16 home runs for the Lady Vols.
Prediction
Tennessee finished one game short of a WCWS appearance last season, losing to Texas A&M in the Super Regional at Lee Stadium. However, they did make a run at the Knoxville Regional last year shutting out their opponents two out of their three games, as well as only allowing three runs in those games. Tennessee is the team with the most experience at the next level of play which can help them reach the Super Regionals again this year. The team to beat will be James Madison in the final game of the Regionals, with Tennessee moving on to face the winner of the Athens Regional.