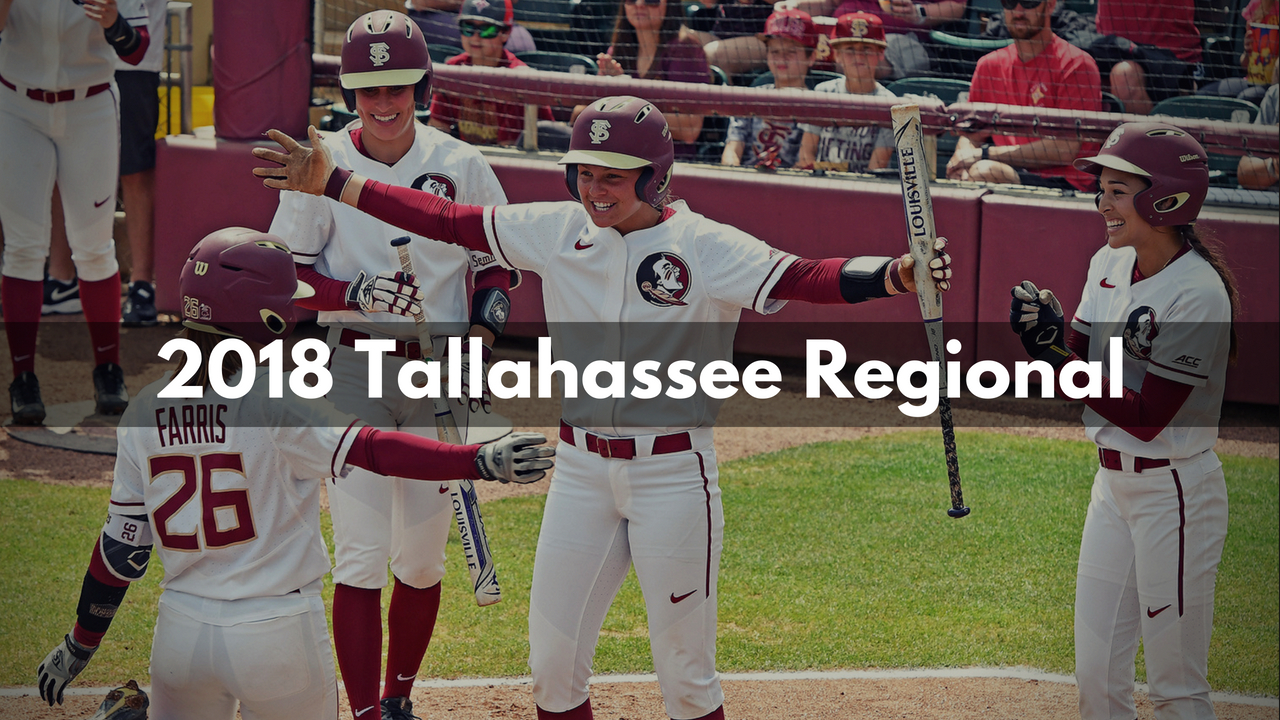 For the third consecutive season and fourth in five seasons, The Florida State (FSU) Seminoles earned a top-eight seed nationally. This year the FSU enters the tournament a the No. 6 overall seed.  FSU hosts Auburn (40-15), Kennesaw State (39-15) and Jacksonville State (33-23).
Top Seed
It is the 19th consecutive season the Seminoles have made the postseason. They are coming off another ACC Championship in which they won in dramatic walk-off homer fashion to beat Pittsburgh in ACC Championship game. FSU once again brings in one of best pitching staffs in the country led by the one-two punch of Kylee Hanson (25-4) and Meghan King (20-6). Hanson 1.06 ERA with 202 strikeouts over 171 innings. King is not far behind with a 1.26 ERA and 138 strikeouts over 144.2 innings. On offense, Florida State is led by Jessie Warren and Sydney Sherril. Warren is batting .393 with 16 home runs and 55 RBI's. Sherril hit .392 on the season with nine homers and 46 RBI's.
Best Shot at Upset
Not sure if this qualifies as an upset, but Auburn has a legitimate argument that they should be hosting a regional over Kentucky considering they finished ahead of the Wildcats in SEC Standings. The Tigers bring their own one-two punch in Makayla Martin (15-6) and Kayle Carlson (20-6). As a team, the Tigers have a 1.32 era. The question will be the Auburn bats, they have struggled at times this season and will be facing one of the best staffs in the country.
Players to Watch 
Kennesaw State's Alley Cutting (14-8) enters the tournament with a 1.55 ERA and won the A-SUN pitcher of the year award becoming the second Owl ever to win that award joining Brittany Matthews who won it in 2007. Jacksonville State's Taylor Beshears is batting .377 with a team-leading 11 home runs and 42 RBI's. Another player from Kennesaw having a strong season is Patricia Awald. Awald is hitting .389 with 14 home runs, and 41 RBI's on the season.
Prediction
This regional is dominated by pitching and has four teams in the RPI top 87. That would be FSU (5), Auburn (18), Kennesaw State (34), and Jacksonville State (87). Three conference champions will be represented with Florida State (ACC), Kennesaw State (A-Sun) and Jacksonville State (OVC).  Runs will be at a premium. We will go with the Noles to pull it out over Auburn in a regional that will go the distance.