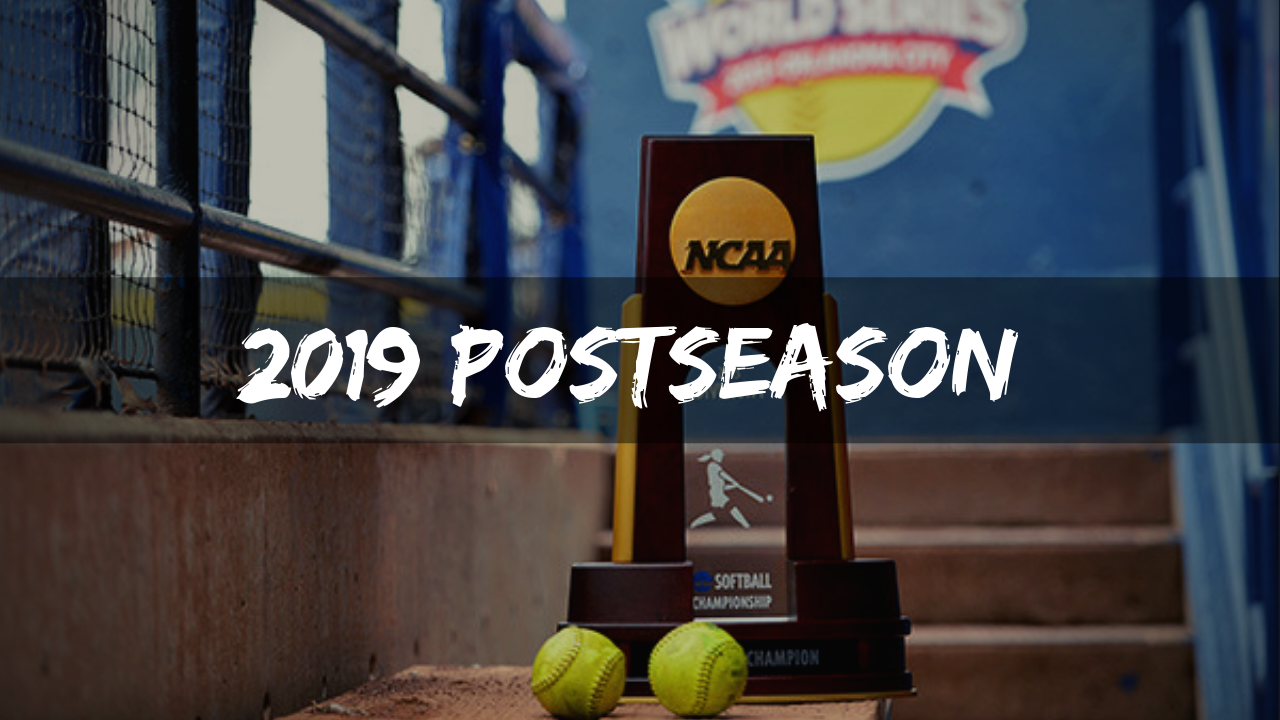 2019's Regional Round has been one of the most competitive, intense regionals within the sport of NCAA Softball in recent memory …maybe ever? We're looking at key notable moments from weekend that was region by region.
NO. 1 NORMAN
– Oklahoma's Giselle Juarez tossed a no hitter versus Wisconsin in game three.

– UMBC played a great game against Notre Dame, eventually dropping the contest 2-0 but paced with the Irish in hits (six versus four).

– Wisconsin faced off against Notre Dame in a first round rematch with the winner to punching their ticket to the regional final. Notre Dame was steadily in control and out hit the Badgers 12-4 before Wisconsin mounted an incredible come back in the bottom of the seventh to walk-off and win the game, 5-4.

– In the the first regional championship matchup Wisconsin shined, defeating Oklahoma with the help of not one, but two, suicide squeeze calls. Kaitlyn Menz was brilliant, pitching all 14 innings and only allowing the nation's top team three earned runs. The Badgers also ended Oklahoma's 40+ game winning streak.

NO. 2 LOS ANGELES
– A pretty straight forward region, seedings have held and UCLA faces off with Mizzou on Sunday for the regional championship.

*** Weber State secured the first NCAA Tournament win in program and Big Sky Conference history defeating Cal State Fullerton, 7-3.

– Mizzou absolutely battled in a gutsy performance, which honestly perfectly defined their 2019 season, to defeat UCLA in game six pushing the "if necessarily contest". UCLA would eventually defeat the Tigers, advancing to Super and ending Mizzou's campaign, but an incredibly successful and unexpected season for the Missouri Tigers.

NO. 3 SEATTLE
– Seattle U has battled all weekend and also won their first NCAA Tournament contest in the program's history.

– Fordham has also played well proving to be a handful for teams. The Rams went down to the wire with third seeded Washington, eventually losing, 2-0. Madie Aughinbaugh pitched a gem sprinkling eight hits over six innings, allowing only one earned run, while issuing only two walks.

NO. 4 TALLAHASSEE
– These four programs came to play this weekend! South Carolina and South Florida's first game was a tight and intense 3-2 contest in South Florida's favor. South Carolina dropped into the elimination bracket and battled their way back to championship Sunday; defeating South Florida in the game five rematch, 2-1.

– The Gamecocks carried their momentum into Sunday, giving Florida State everything they could handle, taking a one-run lead in the fifth. The Seminoles eventually won, taking advantage of timely hitting which is where South Carolina struggled. The Gamecocks actually outhit FSU, 11-6.
NO. 5 GAINESVILLE
– The Stanford Cardinal made their return to postseason play for the first time in six years.

– Boston U, behind the talented arm of Ali DuBois, pushed Florida to the brink in game one before dropping the contest, 3-0.

***Boise state secured their first NCAA tournament win in program history and played themselves into championship Sunday before bowing out.

– Florida played well and continued to receive more production from others in their lineup outside of Amanda Lorenz and Kendyl Lindaman.

NO. 6 TUCSON
– In game one, Auburn and Colorado State absolutely battled it out even though the final score may not necessarily portray that. A big fourth inning for Auburn helped the Tigers pull away, but before that Colorado State lead.

– Game three saw another battled between Arizona and Auburn, ending in a 2-1 Wildcat win. The Auburn defense played well and Lexie Handley was stellar throwing six innings, sprinkling four hits, allowing two earned runs. Tamara Statman, a pitch hitter, played hero for Arizona securing the two game winning RBIs.

*** Colorado State kept their season alive defeating Harvard in game four which also marked the Ram's first NCAA Tournament win since 1997.
NO. 7 MINNEAPOLIS
– What was called one of the toughest regionals of all 16 locations, Minnesota punched their ticket to the second Super Regional in program history and fist while hosting at home.

– Nicole Newman of Drake shined in the circle all weekend, capping off an incredibly successful collegiate career.

– Weather wreaked havoc on the midwest and Minnesota was hit hard. The regional spilled over into Monday and Drake versus Georgia wrapped up before the championship final was played.
NO. 8 TUSCALOOSA
– Arizona State pushed Alabama to the edge in both games they faced off (game three and game six) and if it wasn't for some late inning heroics Alabama could have truly been facing elimination. The biggest notable was Alabama's Bailey Hemphill who blasted a grand slam in the fifth inning during game six to tie it up. From there, the Sundevils and Tide battled and traded runs, but ultimately, the Tide moved on.
NO. 9 AUSTIN
– One of the three national seeds to suffer an early defeat in game one versus Sam Houston State, Texas set a tough road for themselves but managed to battle and come back to win the regional.

– Sam Houston State secured an impressive upset over host Texas playing a near flawless game. Lindsey McLeod went the seven inning distance, issuing only three walks, and sprinkling four hits while the defense was clean, and the timely hitting was there for the Bearkats.

– Houston played a fantastic weekend of ball, reaching the regional championship before dropping two contests to Texas.

*** Texas' Miranda Elish threw a total of 440 pitches over the course of the weekend.
NO. 10 BATON ROUGE
– Texas Tech played an amazing weekend of softball in Baton Rouge reaching the regional championship and pushing an "if necessary" game seven before bowing out.

– Monmouth had an impressive showing against LSU in game two before falling to host LSU, 2-0. Alyssa Irons went the distance only issuing one walk and holding the Tigers to five hits.

– LSU gutted out the regional starting off with that tight game versus Monmuth. Offensively, the Tigers have had problems as of late but it appears like they may be heading in the right direction, especially following the tough Sunday tests versus Texas Tech.
NO. 11 OXFORD
– In one of the regionals with the most eyes on it, Louisiana and Ole Miss delivered. Louisiana took the pairs first meeting, 2-0, before Ole Miss stormed back in Sunday's Regional Championship to push game seven and claim the regional in tight, intense games.

*** Southeast Missouri State made their first appearance in the NCAA tournament in 20 years and second all-time. They went 1-2 on the weekend, defeating Chattanooga in game four, 2-1.
NO. 12 KNOXVILLE
– Yet another regional that went to game seven, Tennessee survived and advance the tear that was North Carolina. After falling to Ohio State, 1-0, in the opening round UNC regrouped and charged towards Sunday's Regional Championship. The tale of the tape for the Tar Heels begun and ended in the circle and, man, did their pitchers show up. Brittany Pickett carried the load pitching 28 innings over the weekend and collecting 28 strike outs. She pitched the Heels to the if necessary game seven before the team fell just short of Super Regionals, 2-0.
NO. 13 STILLWATER
– The first regional to wrap, Stillwater was exciting and full of fireworks. In a surprise to many, Arkansas was the first team eliminated from the field of 64, while BYU and Tulsa made statements all weekend. Including a 13-10 scoring fest between Oklahoma State and BYU.

– Game five between Tulsa and BYU was another back-and-fourth barn burner that saw Tulsa hold on to advance to the regional final. Where on Sunday they also pushed Oklahoma State to the brink, nearly forcing a game seven.
NO. 14 LEXINGTON
– In arguably one of the "least" eventful regionals compared to the rest of the field, Kentucky controlled the field nicely while advancing to Supers.

– Virginia Tech was another program this season that wildly exceeded expectation over the entire season including their fourth trip to the NCAA tournament and a trip to the Regional Final on Sunday.
NO. 15 ANN ARBOR
– James Madison completed the upset to advance to their second Super Regional in program history. Ann Arbor was another regional that spilled over into Monday due to harsh weather and rain in the area. Megan Good was amazing for the Dukes pitching the entire day to advance her program through postseason.
NO. 16 EVANSTON
– The last of three seeded teams who fell into the elimination bracket before Sunday's championship final, losing game three to Louisville, 2-1. Northwestern battled back behind the arm of ace, Danielle Williams, who pitched 13 innings on the day. Louisville pushed back hard in game seven, pulling within one run in the top of the seventh but unable to pull off the upset of the No. 16 seed.
—————————————————————-
NO. 1 NORMAN
Oklahoma (3-1)
Wisconsin (3-2)
Notre Dame (1-2)
UMBC (0-2)

NO. 2 LOS ANGELES
UCLA (3-1)
Missouri (3-2)
Weber State (1-2)
Cal State Fullerton (0-2)

NO. 3 SEATTLE
Washington (3-0)
Mississippi St (2-2)
Seattle U (1-2)
Fordham (0-2)

NO. 4 TALLAHASSEE
Florida State (3-0)
South Carolina (2-2)
South Florida (1-2)
Bethune-Cookman (0-2)

NO. 5 GAINESVILLE
Florida (3-0)
Boise State (2-2)
Stanford (1-2)
Boston U (0-2)

NO. 6 TUCSON
Arizona (3-0)
Auburn (2-2)
Colorado State (1-2)
Harvard (0-2)

NO. 7 MINNEAPOLIS
Minnesota (3-0)
Georiga (2-2)
Drake (1-2)
NDSU (0-2)

NO. 8 TUSCALOOSA
Alabama (3-0)
Arizona State (2-2)
Lipscomb (1-2)
Alabama State (0-2)
NO. 16 EVANSTON
Northwestern (4-1)
Louisville (3-2)
Southern Ill. (1-2)
Detroit Mercy (0-2)

NO. 15 ANN ARBOR
JMU (3-1)
Michigan (2-2)
DePaul (1-2)
Saint Francis (0-2)

NO. 14 LEXINGTON
Kentucky (3-0)
Virginia Tech (2-2)
Illinois (1-2)
Toledo (0-2)

NO. 13 STILLWATER
Oklahoma State (3-0) – ADVANCE
Tulsa (2-2)
BYU (1-2)
Arkansas (0-2) – 1st team eliminated from tourney

NO. 12 KNOXVILLE
Tennessee (2-0)
North Carolina (2-1)
Ohio State (1-2)
Longwood (0-2)

NO. 11 OXFORD
Louisiana (2-0)
Ole Miss (2-1)
SEMO (1-2)
Chattanooga (0-2)

NO. 10 BATON ROUGE
LSU (3-1)
Texas Tech (3-2)
Louisiana Tech (1-2)
Monmouth (0-2)

NO. 9 AUSTIN
Texas (4-1)
Houston (2-2)
Sam Houston State (1-2)
Texas A&M (0-2)