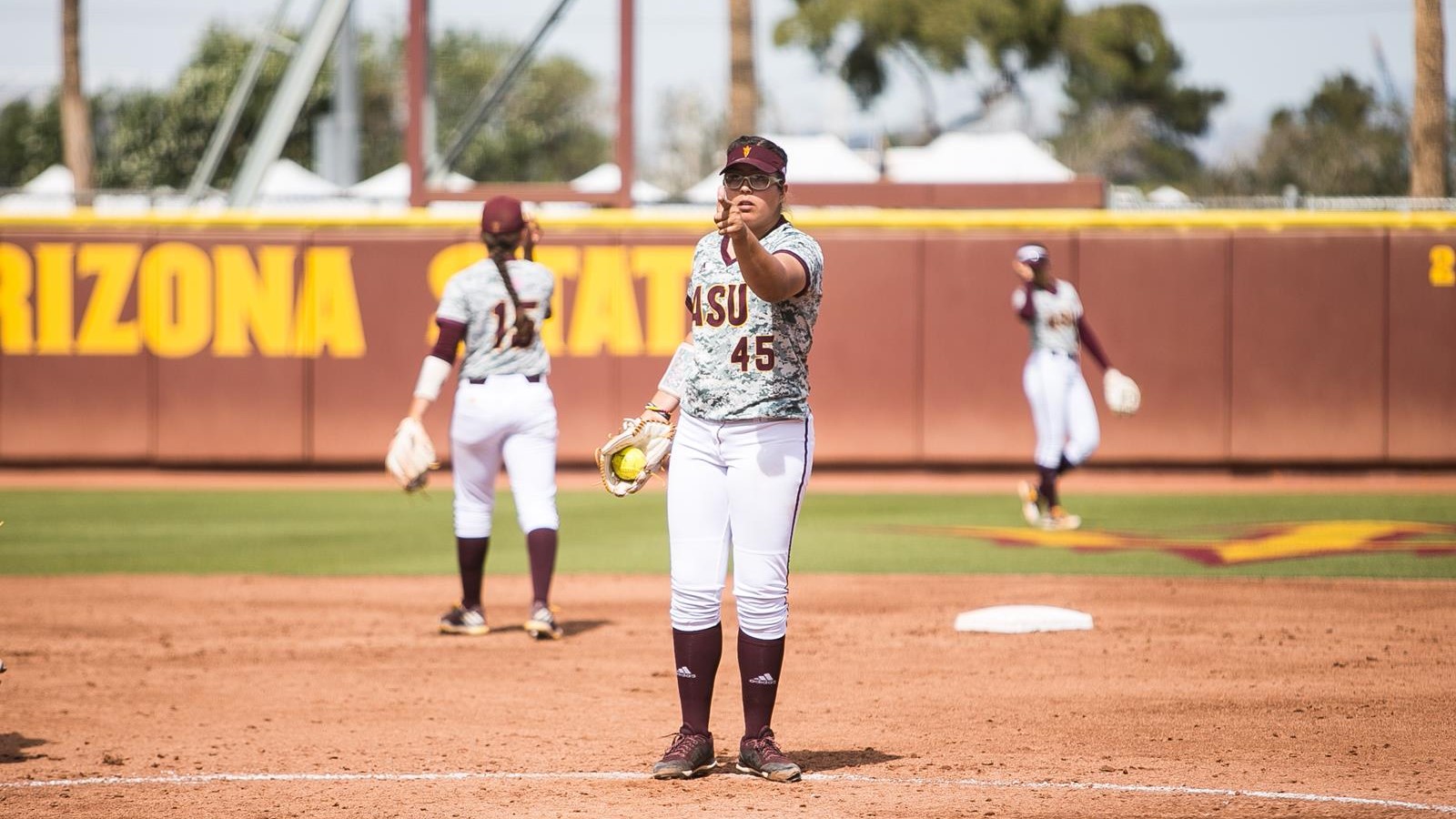 We are already more than half way through the 2018 College softball season and the teams are entering their second or third week of conference play. This upcoming weekend will be filled with conference rivalry games, Top 25 match ups, and all of the teams are fighting for the top spots in their conference. Below are five teams to watch for this upcoming weekend.
No. 4 Arizona State (31-4)
The Arizona State softball team will continue Pac-12 play this weekend with a trip to the Pacific Northwest to take on Oregon State. The three-game series between to the two teams will kick off on Friday. The Sun Devils enter the weekend atop the Pac-12 standings by way of their .833-win percentage. ASU enters the weekend slate batting .309 on the season, including an eye popping 1.20 home runs per game, a mark that ranks 9th- nationally. Sophomore pitcher, G Juarez, has been absolutely lights out in the circle for the Sun Devils in 2018. Through her last 70-innings pitched, Juarez notched 11 wins while maintaining a pristine 0.10 ERA and racking up 122 strikeouts. As a staff, the Sun Devil pitchers have combined to post a 1.18 ERA, the eighth- lowest ERA in the country entering the weekend. G Juarez has anchored the staff, posting a 0.70 ERA through the season, a mark that ranks fifth-nationally and second in the Pac-12. The Beavers enter the weekend series fresh off a hard-fought loss to Oregon in the 2018 Civil War Series. Oregon State brings a potent offense into the weekend slate, that has amassed 147 runs against the nation's second toughest schedule.
No. 6 Oregon (29-6)
The No. 5 ranked Oregon softball team hosts No. 8 Arizona for a three-game series starting Friday. The Ducks are coming off a pair of wins over Portland State on Tuesday. In the first two weekends of Pac-12 conference play, Oregon has taken 2-of-3 against both UCLA and Oregon State. The pitching combination of junior Megan Kleist and sophomore Miranda Elish has been spectacular this year. Kleist, who has started the first and third games of both Pac-12 series so far, owns a 0.91 ERA with 117 strikeouts compared to just nine walks. Kleist, an All-American last year, tallied 18 strikeouts and no walks in 15 innings last weekend at OSU. Elish is coming off her first career perfect game. She owns a 0.85 ERA with 121 strikeouts and just 17 walks. The Oregon offense is batting .323 with 218 runs scored compared to the 46 total runs scored by opponents. Arizona is 6-0 at home in Pac-12 play and 0-3 on the road. Junior lefty Taylor McQuillin has been the ace of the Wildcat staff, with a 0.89 ERA and 173 strikeouts in 134.1 innings. Arizona is batting .324 heading into the weekend with 188 runs scored and allowing 56 runs scored on the season. Arizona leads the all-time series with Oregon, 84-29. However, Oregon has won 15 of the last 21 meetings between the two squads.
No. 7 Georgia (33-4)
Georgia plays host to Southeastern Conference opponent Missouri in a three-game series this weekend. Georgia won its series at Tennessee over the weekend, the first series win over the Lady Vols since 2010, also in Knoxville. Through 37 games, Georgia is off to its second-best start in program history. The Bulldog pitching staff has been sharp this season, recording a 1.05 ERA through 37 games and 239.2 innings. Brittany Gray has the second-best ERA in the country at 0.51. She did not allow an earned run until her 14th appearance this season. She has allowed just 3.16 hits per seven innings pitched, ranking seventh in NCAA. At the plate, Georgia leads the SEC in five offensive categories including batting average (.353), slugging (.578), runs scored (254), home runs (49), and total bases (565). The Bulldogs have outscored opponents 254-48 this season. Nationally, Georgia ranks fourth in scoring with 7.03 runs per game. The Tigers enter this weekend on a high note, coming off a victory over No. 13 LSU. The walk-off win marked Mizzou's second top 25 ranked victory of the season, joining its first accomplishment on March 17 against No. 19 Mississippi State.
No. 17 Michigan (28-7)
The University of Michigan softball team will travel to State College, Pennsylvania, for a three-game weekend series against Penn State this weekend. The Michigan pitching staff has proved to be a force to be reckoned with this season. Freshman left-hander Meghan Beaubien was named Big Ten Pitcher of the Week for the fourth time this season after earning all four wins over the Wolverines' four-game week, posting a 0.00 ERA with 25 strikeouts and just two hits allowed over 17.1 innings pitched. Senior right-handed pitcher/first baseman Tera Blanco was named Big Ten Player of the Week after hitting .600 over the Wolverines' last four games, and more notably, went 6-for-8 in the Purdue weekend series with three home runs and 10 RBI. Michigan ranks second nationally with a team .989 fielding percentage — just .0006 behind Oklahoma. Michigan dominates the series with the Nittany Lions, 67-7. The Penn State softball team capped off the weekend series with a 7-3 victory over Rutgers. The Nittany Lions tallied a season-high 16 hits, scoring seven runs and committing just one error in the field. Michigan has won the last 28 meetings between the two teams with Penn State's last victory coming in the 2007 season.
No. 18 Arkansas (28-6)
The University of Arkansas softball team begins a five-game road trip with a weekend series at No. 11 South Carolina. The Razorbacks' are coming off a sweep of No. 19 Mississippi State, which was the program's first in SEC play since the 2013 season and their first ever against a ranked opponent in a three-game series. Arkansas' offense enters the weekend with 41 home runs, a mark that ranks second in the SEC and 11th in the NCAA. The team also carries top-50 national figures in slugging percentage .499, ERA 1.85, scoring 5.75 runs/game and batting average .300. Carolina finished 2-2 last week with wins over Furman and at No. 9 Texas A&M. The Carolina offense has outscored its opponents 203-70 (+133) through 37 games. Arkansas and South Carolina have played 52 times prior to Friday's series opener. Nine of the Razorbacks' 19 wins in the series have come in Columbia. This weekend marks the first series meeting with both ranked inside the top 25.