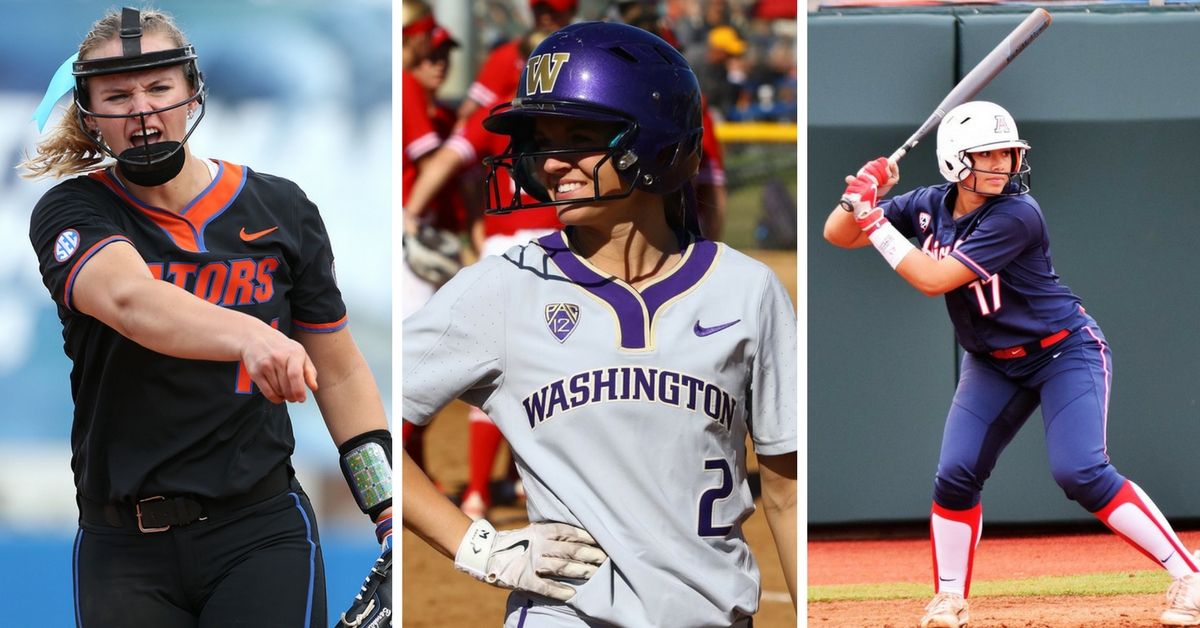 No. 1 Washington
The Huskies enter the weekend 23-0 and are one of three undefeated teams left. No. 1 Washington will open up play in Las Vegas this weekend for their final non-conference tournament, playing five games in three days. Washington will take on New Mexico State twice, DePaul, UNLV, and Portland State once each at the Rebel Classic before starting Pac-12 play next weekend. The Huskies are currently third in the nation in runs scored, averaging 8.26 runs per game to lead the Pac-12. Washington leads the conference in slugging percentage (.642), hits (228), doubles (42), home runs (37), and walks (81) offensively. The Husky pitching staff has been just as impressive and sit first in the conference in strikeouts (189) and second in ERA (0.90) and opposing batting average (.157). The first game of the Rebel Classic for Washington will be Friday, March 9 at 1:30 pm against New Mexico State (10-8).
No. 2 Florida
The second-ranked Florida softball team returns to Katie Seashole Pressly Stadium for SEC Opening Weekend, March 9-11, in a three-game series against Kentucky. The Gators (19-1) wrapped up the Judi Garman Classic this past weekend going 3-0 with three shutouts over Loyola Marymount, Cal State Fullerton and then ranked No. 11 Baylor. Kelly Barnhill was named SEC Pitcher of the Week after she extended her scoreless inning streak to 22.1 innings. Barnhill capped off her weekend throwing 6.0 innings of a combined no-hitter against Baylor. The Bears entered the contest only have struck out at most five times in a game, until Barnhill fanned 13 and Ocasio closed out the final inning with three of her own. The Florida offense has scored four or more runs in an inning 18 times over 20 games played. Amanda Lorenz has reached base safely in every game and has put together a seven and eight-game hit streak this season.
No. 8 Arizona
After two weeks on the road, eighth-ranked Arizona (15-2) is set to begin a 10-game home stand at Hillenbrand Stadium with the Wildcat Invitational. UA welcomes San Diego (11-11), South Dakota (6-15), No. 18 USC Upstate (18-0) and Wisconsin (11-8) for the four-day, 13-game event in Tucson. On the season, the Arizona offense is fourth in the NCAA in home runs per game (1.47), slugging percentage (.578) and 10th nationally in batting average (.338). The Wildcats are a perfect 16-for-16 in stolen base attempts, the second most in the country. UA is scheduled to take on undefeated No. 18 USC Upstate on Saturday; this will be the first time the two teams will have ever met on the playing field. The Spartans rank top 25 nationally in batting average, doubles per game, ERA, fielding percentage, OBP, scoring, slugging percentage and stolen bases.
No. 10 Georgia
Georgia heads into the weekend on an 18 game win streak, its longest win streak since 2006, which ties for the third-longest in program history. The No. 10-ranked Bulldogs (19-1) earned a 6-0 midweek victory over Western Carolina on Wednesday night. Brittany Gray (9-0) and Kylie Bass (8-0) are leading the way in the circle for the Bulldogs. Gray holds a 0.00 ERA on the season in 48.1 innings pitched, 80 strikeouts, and a .105 batting average against. Bass owns a 0.85 ERA in 42.1 innings on the season with 49 strikeouts and a .104 batting average against. The Georgia pitching staff as a whole holds a 0.85 ERA and has combined for 169 strikeouts. Georgia opens Southeastern Conference play this weekend at home against Arkansas. The series begins on Saturday at 1 p.m. on the SEC Network.
No. 19 Michigan
The No. 19-ranked University of Michigan softball team (13-6) will return to the Sunshine State for the third time this season this weekend, when they head to Boca Raton, Florida, for the FAU "Parent's Weekend" Tournament at the Owls' FAU Softball Stadium. Michigan's offense came alive at the Judi Garman Classic last weekend (March 1-3). After batting just .243 over the first 13 games of the season, the Wolverines hit .324 — with a .522 slugging percentage and .391 on-base percentage — over the five-game appearance in California. U-M boasted 14 extra-base hits, including six home runs, and averaged 5.6 runs per game. The Wolverines are scheduled to face Stony Brook (4-6), host Florida Atlantic (11-10), Ball State (12-5), Pittsburgh (10-6-1), and Florida A&M (3-6) this weekend.