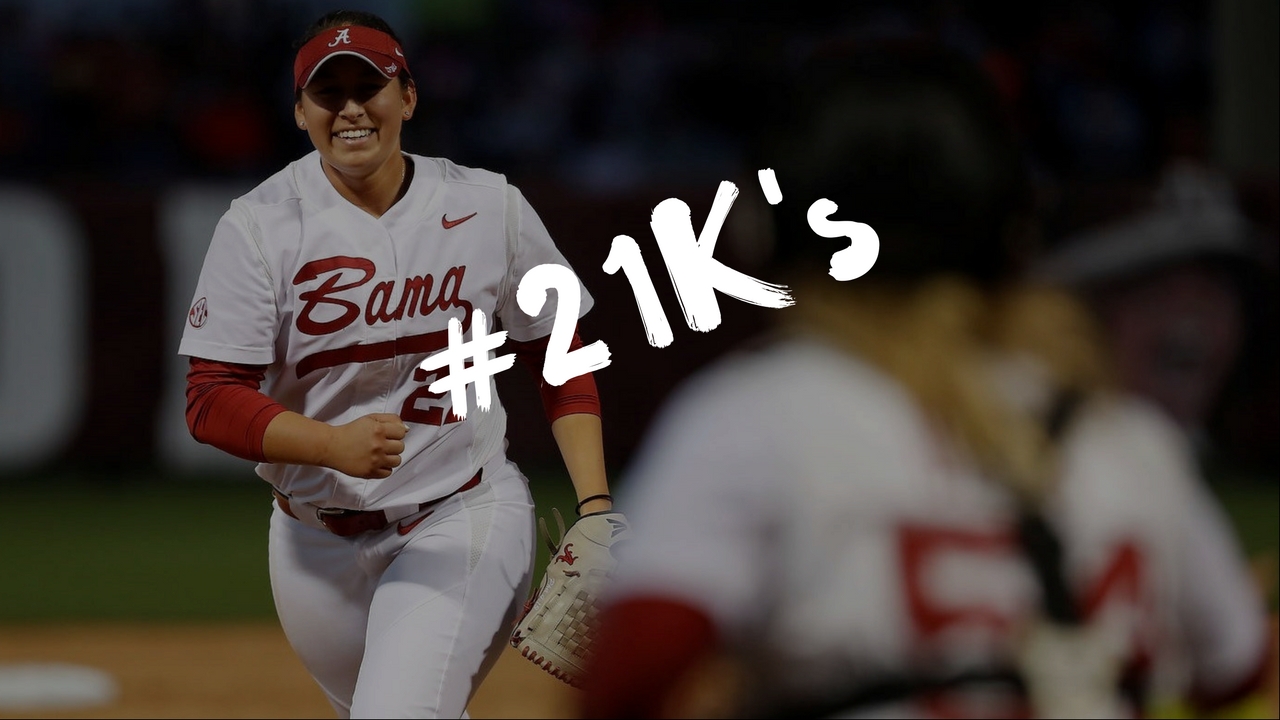 Alexis Osorio Ties NCAA Record with 21 Strikeouts
After throwing a no-hitter Friday, senior pitcher Alexis Osorio turned around and recorded another dominating performance for Alabama softball Saturday at the Easton Crimson Classic, tying an NCAA record for strikeouts in a seven-inning game with 21 in the 7-2 victory over Fordham, which followed a 6-3 win over Boston College. Fordham's runs came in the top of the first inning on a two-run home run. Osorio was dominant from that point on, retiring 21 of the 26 batters she faced via strikeout. This breaks her previous Alabama school record of 19 set in a perfect game on Feb. 10, 2017, at Coastal Carolina and ties the NCAA record for a seven-inning game. Osorio now owns five of the top seven single-game strikeout totals in program history. Alabama wraps up the weekend classic on Sunday vs. Samford.
FSU Coaching Milestone
In her 10th season at Florida State and 15th as a head coach in Division I softball, Lonni Alameda earned win No. 600 on Saturday as No. 13 Florida State (18-6) earned a pair of wins over North Florida (13-11) in a doubleheader at the UNF Softball Complex. The Seminoles shutout the Ospreys 13-0 in game one, before earning a 9-6 victory in game two. Alameda is now 600-302-2 in her head coaching career, including a 443-144-1 mark at the helm of Florida State. She is averaging 48 wins per year at FSU and has been named the ACC Coach of the Year in each of the last five seasons. The Seminoles return home to open up ACC play against Virginia Tech on March 16-18.
Bruin Offense Shows No Mercy
The No. 3 Bruins made it 3-for-3 in mercy-rule victories this weekend, defeating Boston U. 10-2 in six innings on Saturday at the LBSU Softball Complex. With the win, UCLA moves to a perfect 22-0 on the season after recording 13 hits from eight different players on Saturday. In the circle, freshman Holly Azevedo improved to 7-0, striking out one in six innings and giving up two runs, six hits, and three walks. The Bruins will finish out the weekend with a doubleheader on Sunday against Ohio State at 11:30 a.m. and No. 16 Long Beach State at 2 p.m.
Wildcats Remain Perfect at Home
No. 8 Arizona defeated No. 18 USC Upstate 3-0 and Wisconsin 9-3 to remain perfect at the Wildcat Invitational and improve to 20-2 on the season. In game one, Taylor McQuillin struck out eight and recorded her second shutout of a ranked opponent this season. The junior pitcher improved to 14-1 on the season. In game two, Arizona scattered a season-high 15 hits, including five for extra-bases to come back from an early deficit and sweep the day. The Wildcats and the Spartans conclude the event on Sunday at 1 p.m. MST at Hillenbrand Stadium.
Make That 19 Straight for Georgia
In the first conference action of the season, the Georgia Bulldogs softball team required only five innings to seal an 8-0 victory against the Arkansas Razorbacks on Saturday at Jack Turner Stadium. The top of the lineup produced for the Bulldogs, led by sophomore Justice Milz, who paced the Georgia offense with two home runs. Senior Brittany Gray improved to 10-0 on the year with five innings of one-hit work in the circle. Gray was set on cruise control and sat down 10 Razorbacks in a row at one point. The right-handed pitcher has held Georgia opponents to one hit or less in eight of 11 appearances. The Bulldogs return to Jack Turner on Sunday for game two of the Arkansas series; first pitch is scheduled for 6 p.m.