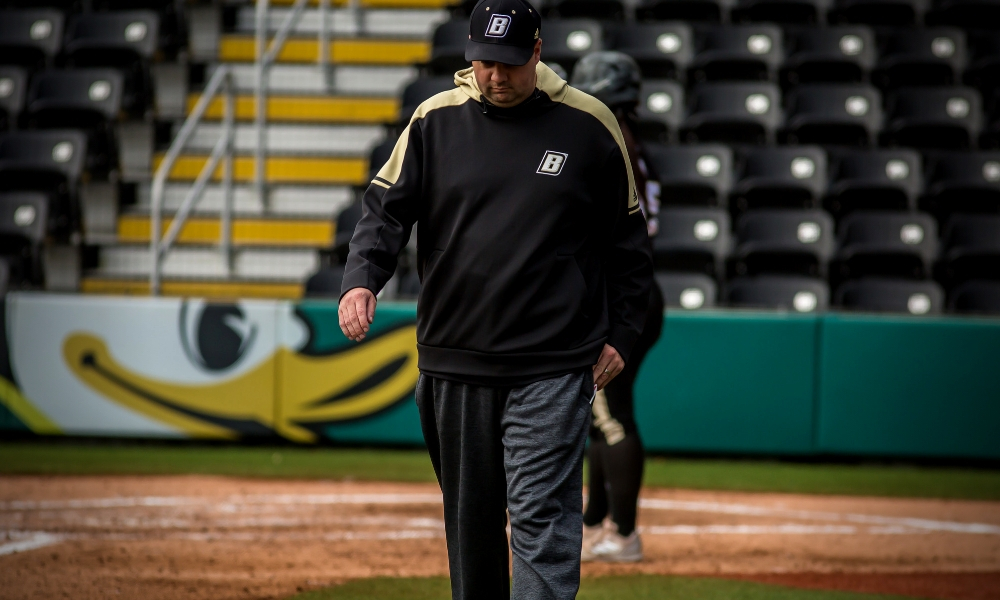 Nick French got promoted from assistant coach to head coach at Bryant on June 15th taking over the program for Shayne Lotito. French has been coaching in college softball for 11 seasons with stops at  Towson, Georgia, Holy Cross, Memphis, and  Arizona.
French talked to Fastpitch News on his new role and the key to building Bryant into an NEC contender. We also discuss his background in journalism and more.  Here is our latest installment of 7 Innings.
Eric Lopez (ELO): Take us through the process of you being named the head coach at Bryant after serving as an assistant this past season.
Nick French: At the end of last season Shayne had an opportunity to move back home to California, and that was too hard for her to pass up. For a few weeks there was a little uncertainty, but the support I had from our players and parents, coupled with the time I spent talking with our administration, helped them quickly decide to keep the continuity of the program going. We are extremely fortunate because it allowed us to get going on recruiting right away while also being able to retain the commitments we already had. I already had an assistant in place, as I intended to promote Bri from her role as a volunteer last year and we were able to hit the ground running right away in everything we did.
ELO: What is the key to building a successful program at Bryant?
French: As far as a successful program I think as long as our kids are growing as people, becoming strong, confident, women who graduate and pursue what they want to in their careers beyond softball (and hopefully make a lot of money along the way) then we are doing things right.
What I find is if we are working to be good people who are prepared for what's next the effort we put into doing that will translate onto the softball field.
As far as contending in the NEC, I think just focusing on us is what's important. It starts with having attention to detail and trying to get a little better every day while being passionate about the process instead of consumed by the outcome. Secondly, treating every day with the same sense of urgency as if the bases are loaded, and there are two outs will help us prepare for the test in April that is the NEC season.
ELO: What made you want to be involved in coaching college softball?
French: It sounds strange to say, but it's one of the only things I ever wanted to be after I realized playing for the Celtics or Red Sox probably wasn't going to happen. I started coaching as a teenager as the pitching coach on my high school team while I was still sitting in English class with the players. My dad has coached softball for almost 40 years at every level of the sport, so I grew up in dugouts and learned the game and became passionate about it at an early age. But I also saw how hard it was to make a living at it until very recently, especially in the Northeast.
I got my softball fix in after college by playing men's fastpitch which I have continued to do for the last 13 years. I had been trying to break in somewhere to start coaching softball and basketball in High School. I saw that a job opened up at Simmons College in 2007 during the fall, so more qualified candidates had already been hired elsewhere; it turned out they also needed a SID, and with my background in journalism, I was able to fill both roles and got the job. After that season I knew I wanted to stay at the college level as long as I could and I'm lucky enough to keep being asked back.
ELO: You were a Volunteer coach at Arizona under Mike Candrea. Describe the experience of working under Candrea as a volunteer coach.
French: It was an incredible experience, not just working under Coach, but also Larry Ray and Teresa Wilson. There was something like 30 WCWS appearances as head coaches on that staff, and then me. I was able to take a Masters class in softball, coaching in general, and how to manage people.  I have learned a great deal from all three coaches, and I cherish the time I spent there and the relationships I was able to build and maintain today. I can't thank Coach enough for giving me the opportunity, to begin with, it was a stretch for him as a diehard Yankee fan to have a Red Sox fan around every day. I was a DIII Grad assistant with no DI experience, but I wanted to learn and was willing to listen and do whatever was asked of me. And most importantly I could throw batting practice. I don't think I am here at the Division I level today without him being willing to take a chance on me first, he opened a lot of doors for me.
ELO: You majored in Journalism and worked at the Boston Globe.  What was your role there as well as the experience of being at one of the best newspapers in the country?  How does studying Journalism help you deal with the media as a coach?
French: Yes, before coaching I thought I wanted to be the next great American sportswriter. It was a part-time job a few days a week during college. I did a lot of grunt work that goes into producing the paper: fact checking, typing in box scores, answering the phones and collecting high school scores. I was also able to cover high school sports for the paper and continued to freelance covering high school games until just a few years ago.  
One of the coolest things was being in the office the day after the Sox won in 2004 and answering phone calls from people around the world congratulating me on "my" win.
Being a part of what I think is the best sports section in America at the height of Boston's sports resurgence was pretty special. It was the journalism equivalent of going to the WCWS every day.
As far as how it helps in dealing with the media? Well, first I have to spellcheck and edit everything now because I can't claim I'm just a coach who doesn't know how to write.
In general, I think it just gives me an understanding that other people have jobs to do too. Whether it's the media, umpires, administrators, having empathy for what others have to do to get their jobs done and keep their bosses happy is an important skill to have. Understanding it's not all about you and what's convenient and easy for yourself.   
ELO: You were on the Georgia staff that upset Florida in the Super Regionals and made it to WCWS. Describe the experience of being part of that postseason run?
French: It's the stuff dreams are made of; A two-out, two strikes, pinch-hit walk-off home run to go to the World Series while beating your biggest rival who is also the two-time defending champs.
I think I was on an adrenaline high for like 36 hours. I hope every person gets to be that happy and excited once in their life. There's a picture in my house of the dogpile at home plate, and it serves as a reminder that even if I had a bad day, they weren't all bad and tomorrow has the chance to be just like that day was.  
The postseason run was terrific obviously but the entire season as a whole was unforgettable. Coach Harris-Champer, Tony Baldwin and Rachel Fico, all embraced me, asked for input from me and I can't thank them enough for making me feel welcome and at home in Athens. The kids on that team were awesome. I threw a ton of batting practice and game-like live at-bats and the battles I had with Alex, Tina, and AD everyone else were so much fun. I had the best summer of my men's pitching career that year too lol.  
It was tough being away from home, but my incredible wife Anne stayed back in Boston at her job and told me to make this coaching thing work, and we'll figure it out; it was the best career decision I ever made.
Between Arizona and Georgia, I am so incredibly fortunate to have been a part of two amazing programs and coaching staffs. Having been to the WCWS twice is beyond my wildest dreams when I started doing this at the college level.
ELO: What your goal this fall at Bryant as you get them ready for the 2019 season and the staff that you have with you and what they bring to Bryant?
French: I'm not really a goals person anymore, I think they can negatively consume you, especially if you don't achieve them.
What I want out of our kids is to start studying for the test now, so we aren't cramming in April. What I mean by that is college softball especially as a mid-major is the closest thing to a class you will find. We practice all year, have a few quizzes which are essentially non-conference games, and all of that leads to the final exam that is conference play.
Now, most students will go to class, (or practice) study a little but don't sit down to prepare until a couple of days before the exam. Then exam time comes, and they freak out because they haven't studied for everything and their mind is racing, and they get overwhelmed.
The high achieving students study a little bit all semester long and don't have to cram the week of the exam, and they are relaxed and ready on test day.
We are an elite academic institution with high achieving students, so I want us to take that classroom approach to the field every day starting on the first day of fall ball so when we open NEC play we are prepared for the test and can play relaxed and confident, ready to thrive.
As for my staff, I was lucky to keep Briana Chiusano who came from a standout career at Coastal Carolina and was fantastic last year as our volunteer. She showed up every day for long hours, always wanting to learn and all for very little money. Not enough people want to do that anymore, and as someone who has volunteered twice that attitude went a long way for me, and it was a no-brainer to keep her.  
I am still open to adding a volunteer if it's the right fit, so if anyone out there reading this wants to contact me feel free. But if it's just Bri and I this year we'll be just fine because of the familiarity we already have with the players and them with us regarding how we want to run things.