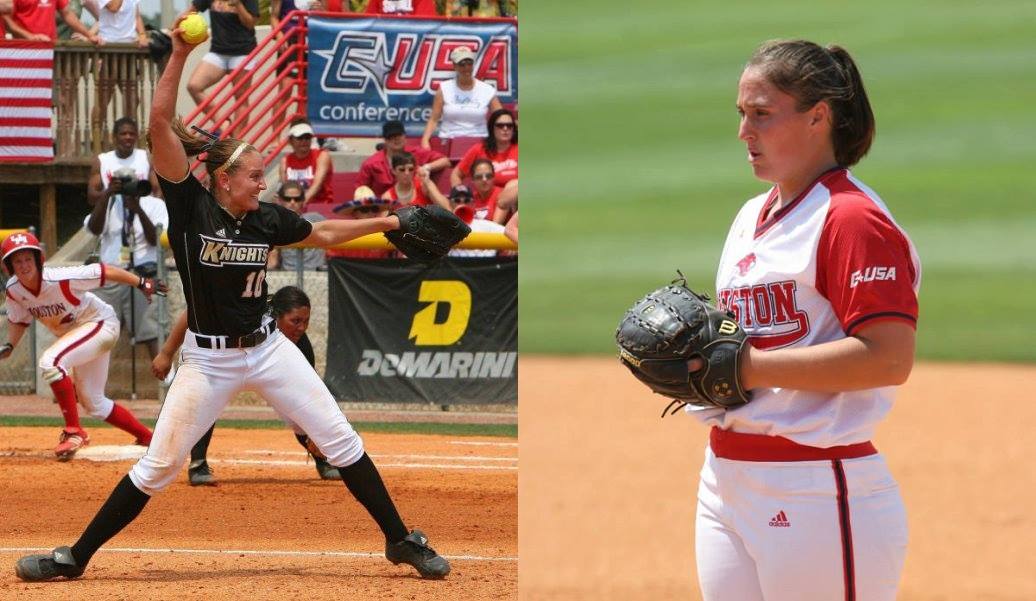 On This edition of 7 Innings, we talk with former Houston All-American Angel Shamblin and former UCF Knight great Allison Kime on their career and rivalry.
Shamblin and Kime competed for three seasons from 2006-2008 in C-USA and helped bring two upstart programs in the Houston Cougars and the UCF Knights to new heights in college softball.
Shamblin still holds just about every significant pitching record in Houston's program history.
Shamblin led the Cougars to back-to-back C-USA regular season titles in 2007 and 2008, which included a trip to the program's first ever Super Regional in 2008. The Cougars came within one win from a bid to the Women's College World Series.The Cougars finished the season 60-13 which is still the record for most wins in UH Softball history. Shamblin is the only Houston pitcher to ever win Conference Pitcher of the Year. She also became the first pitcher to win C-USA Pitcher of the Year three times (2006-2008) and was the Cougars first All-American pitcher in 2008. Shamblin was also a College Softball Player of the Year Top-10 finalist.
Kime rewrote the UCF record book setting the record in 2007 for lowest ERA in a season (0.87) which was third best in NCAA behind Angela Tincher and Monica Abbott as Kime helped turn around UCF program going from 19 wins as a team in 2006 to 38 wins in 2007. Kime  was a two-time All-Region selection and a CUSA 1st team All-Conference member (2007-2008). Kime carried UCF in 2008 with a school record 34 wins. She led the Knights to the C-USA Tournament title in 2008 and to the program's first-ever Regional Final appearance in Gainesville.
Kime threw an 8 inning shutout and had the game winning walk off hit to knock off No. 1 ranked Florida 1-0 on 5/18/08, which ended the Gators 36 consecutive wins that season and 41 in a row at home. The Knights ended the 2008 season with a 49-20 record, which was the most wins in program history up until 2015 when UCF went 50-9. Allison's 34 wins was 8th best in the NCAA and right behind her was rival Shamblin's 36 wins, which is still the Houston program record.
Allison and Angel were at their best against in-state rivals. Kime is still the only UCF pitcher to ever beat the three main in-state rivals; Florida, Florida State and USF in her career. Shamblin is the only Houston pitcher to knock off Baylor, Texas A&M, and Texas in a career. In Shamblin's first ever college start, she faced Cat Osterman and got her first career hit in her first career at bat with a double on 2/6/05.
Allison and Angel battled against each other even when they were not playing against each other. They were 1-2 in pretty much every significant pitching category, dominating the weekly C-USA pitching awards. Even ten years after the final meeting between the two at the 2008 C-USA Championship game.
I got a chance to chat with Allison and Angel and found out that they are more alike than you would think Both had to overcome significant injuries early on to play college softball. Currently Allison lives in Tampa, Florida and is married to Pete Trela with a baby boy named J.J. Allison works as a
Risk Coordinator at Enterprise Rent a Car. Shamblin works at the University of Houston as an academic advisor and gives pitching lessons in the area, one of her pitchers is current Texas Tech freshman Erin Edmoundson.
I decided to let Angel and Allison begin "7 Innings" by letting them ask each other a question they wanted to know about each other as both reflect on their careers and what it was like to compete against each other.
Angel Shamblin– "I know you transferred to UCF after your freshman year at a junior college, what made you choose UCF going through that process and what made you decide to transfer after your freshman year rather than your sophomore year?  I know when you transferred, you were hurt most of the sophomore year- I know injuries take a toll on you mentally, how were you able to overcome the injury mentally?"
Allison Kime-Trela– "I had committed to U. Tampa. After some things had come up with the coaches and what she was saying wasn't adding up and I didn't like it. So I uncommitted to UT and Ray Seymour asked if I wanted to play at HCC and I said yes. Literally weeks later UCF contacted me offering me a full scholarship and I said if the offer stands for next year (Sophomore year) I would come and play at UCF. ​I didn't want to go back on my word since I had committed to another coach and program. I am so happy I played one year in JUCO. It gave me more playing experience and really prepared me for DI ball. JUCO hitters were tough 1-9 and I knew going to UCF it was going to be that much harder. I never really thought about it. I had to pitch and I wanted to win. The injury hurt and I knew I couldn't throw my drop ball. As you know, Kaci tells you that you have numerous pitches because some days certain pitches won't work. (LOL) instead of certain days this happened to be majority of my sophomore year."
Allison- "How was it playing at Houston? "What made you choose Houston over other Division I schools that recruited you heavily?"
Angel– "I loved every minute of it. It was an amazing ride and I would not change it for anything. I wish I could go back to playing again. I chose Houston because of the family atmosphere. I felt like I was at home when I came on my visit. Going through the recruiting process everyone said you will know what your right fit is. I knew when I got on campus what the right fit was."
Eric Lopez (ELO)–  What influenced both of you to play softball and who were influences in your softball career?
Angel- "I enjoyed playing sports from a very young age. I started out playing T-ball then slowly worked my way to playing softball. I enjoyed it so much I continued playing as far as I could go. People that were influences in my softball career? God, giving me the ability to even play. My parents for supporting me and allowing me to play the sport I loved so much. Lastly, my coaches. Every single coach I have ever had the opportunity to play for, they all had a role at some point in their lives that helped mold me into the player I became."
Allison– "My parents signed my brother up for T-Ball and at the time I was too young so I couldn't play. I told my parents I wanted to play and that I would be better than AJ (my brother). People who influenced me are my parents and Kaci. "
Kaci who Allison refers to is Kaci Clark-Zerbe who pitched on the 1995 National Title team and is a personal pitching coach in the Tampa area. Clark-Zerbe coached both Kime and Shamblin.
"They were two kids who brought the intangible part of this sport more than most," said Kaci Clark-Zerbie on Kime and Shamblin. "They both defined the term "gamer" and were spectacular at finding ways to win. They could both beat you with whatever they had going for them on any given day, even when it wasn't all of their good stuff. Those two brought the game in their bags every time they showed up to play!"
ELO– Allison, what was it like playing for UCF Head Coach Renee Luers-Gillispie? What did you learn from Coach Gillispie?
Allison– "If coach puts you in the game she believes you can get the job done. She is very caring and understanding which is nice to have when you're new to a team. Some coaches are very intimidating, but not coach Gillispie. She was always very welcoming. Coach taught me to always believe in myself.  There may have been moments in a game that I may have been struggling and she would come out to the circle to tell me I could get the job done and there wasn't anyone else out there that she would want than me. Sometimes as an athlete you think you lost it so it was nice to have a coach reassure you that you're doing a great job."
Allison overcame injuries in her career. Allison tore her ACL when she was 15 years old and when she first got to UCF she had to overcome an injury called "Intersection Syndrome", which is a painful condition of the forearm and wrist that some thought would jeopardized her career. Allison was not herself when she pitched through the injury the entire 2006 season. Eventually Allison was able to overcome the injury with cortisone injections and dunking her hand in ice.
ELO– Angel, what did you learned from both Kyla Holas and Beth Torina?
Angel– "I was blessed to be able to be coached by not one but two successful pitching coaches. Some athletes only have one pitching coach on their staff. I had two pitching coaches that coached me. Not only did I learn the basics as far as mechanics and what not, but they were a huge influence on my mental game. They helped me tremendously with that. They helped me with my leadership skills, they helped me see the game differently besides just pitching, with scouting reports, and why I did things in certain situations. They were my mentors and still to this day are.They believed in me from day one prior to me coming to campus still recruiting me even after two ACL knee surgeries. They believed I could do big things at Houston. With them believing in me during some of my roughest parts of my career, that gave me more confidence in myself that I could still be something in a pitcher."
Holas was a former All-American pitcher at Louisiana and started up the Houston program as Head Coach in 2001. Torina who is currently the LSU Head Coach was Holas assistant coach at UH from 03-07 and helped recruit Shamblin to Houston beating out schools ironically enough LSU and UCF.
Angel, like Allison, had to overcome many injuries early in her career as well. Shamblin had to overcome two ACL knee surgeries which was discussed in-depth in a feature that Richard Justice did in 2007 on Shamblin in for the Houston Chronicle.
ELO–  Angel, you won the CUSA Championship and broke the Houston school record for career strikeouts in Cougars softball history at UCF Softball Complex. You never lost as a starting pitcher at UCF Softball Complex. What was it about the UCF Softball Complex that you always played at a high level there?
Angel- "Honestly, I never thought about anything in particular during those series. My approach was always the same as any other series or games. The one thing I did enjoy about UCF and Florida was I was able to play in front of my family and friends since the trip was close for all."
Shamblin was named C-USA Tournament MVP and led Houston to the title with a 1-0 win over East Carolina on 5/12/07 at UCF Softball Complex. She still remains the winningest pitcher by a visiting pitcher. Shamblin beat Kime and UCF on the way to the championship on 5/10/07 by a score of 2-1, breaking the UH career record for most strikeouts in the process.
ELO– Allison, You won the 2008 CUSA Championship in Houston, (Shamblin's Home) a year after Houston won the title at UCF. What did it mean to win the Championship in Houston in your last battle against Shamblin?
Allison– "Winning the C-USA Championship was the best feeling. To go out on top your senior year is what you work everyday in practice for. Putting in the countless hours and pushing yourself further than you could imagine and it paying off."
One year exactly after Houston beat UCF in the '07 CUSA Tournament, UCF returned the favor knocking off No. 9 Houston 4-2 on 5/10/08 in what turned out to be the 10th and final chapter in rivalry between Kime and Shamblin. Like Shamblin did a year earlier in setting the school record at Kime's expense, Kime recorded seven strikeouts to set the UCF record for most strikeouts at a Conference Tournament. She Had 24 in three games in Houston and the record still stands today.
ELO- Angel you hit .360 in your career vs. Allison which was the best of any Cougar in the lineup. Allison you hit .500 against Angel in your career which was the best any UCF hitter hit against Angel. Why were you both so successful hitting against each other while other hitters were not?
Allison– "I think it is a pitcher thing. You know how to read a pitcher and you know the situations you will be put in since that's how you would pitch to them."
Angel– "I had no idea either of us were that successful against each other. I never really looked at numbers while playing. I agree with Allison on knowing how to read a pitcher and situation. Both of us having worked with Kaci, I think help us figure out what the other was thinking too."
One example of the success both had hitting against each other and also defines the rivalry between the two was on April 21, 2007. UCF and Houston began a three game series at Houston. In the bottom of the 2nd, Shamblin took Kime deep to left center field for a solo home run to set the tone as Houston would go on to win 6-0. They also went on to sweep UCF on the way to winning the 2007 C-USA Regular Season Title.
Less than one year later on April 6th, 2008 at UCF, Houston and UCF were playing in a big conference showdown. In game two of the series, Kime was at the plate against Shamblin in the bottom of the 3rd inning with two outs and returned the favor from the past season with a solo homer to left field. Allison would get the best of Angel on this day as UCF knocked off No 9. Houston 6-4.
ELO-  Angel, if you could take any part of Allison's game either as a pitcher or hitter that you would add to your game, what would it be?
Angel– "I thought Allison was a very composed player. You could never tell if she was on or off on game day. She always carried herself the same way regardless of the outcome of the situations and games. If there is one part of her game I could take away it would be that Allison, no matter the situation, had the same body language and composure every single pitch."
ELO– Allison, if you could take any part of Angel's game either as a pitcher or hitter, that you would add to your game, what would it be?
Allison– "She had a great curve ball and her stamina pitching every game at the end of the season when you are beyond exhausted."
ELO–  Describe what it was like competing against Allison for weekly Pitching, Conference Awards, and Conference Championships?
Angel– "UCF was always a great series for us. They challenged us, Allison was a great athlete of the game. Because she was such a great athlete and because of that series always being a competitive one, she made me a better ball player. It was always fun going against her and the team. You knew every time we stepped on the field it was going to be a great game, series on either side. I never really got caught up in the awards and such. I just continued to focus on the task at hand and that was to win games.  When the awards came they came. The awards are also a big part because of the team I had surrounding me. I had a great defense, offense and support all around that allowed me to win the awards I did. If it wasn't for my team, there would not have been awards or championships."
ELO– Allison, describe what it was like competing against Angel for weekly Pitching, Conference Awards, and Conference Championships?
Allison- "I never thought of weekly awards or conference awards. I wanted to do the best I could to help my team and if that meant winning an individual awards along the line that's great. But winning something for myself doesn't really help the team when you play a team sport. Angel was tough both in the circle and box. I knew I would have to bring my A game to give my team a chance to win. She is a great competitor. I tore my ACL once and she tore her ACL in each knee. Coming back from an ACL injury is tough and I know her drive and determination to be the best was there. So I am not surprised she won pitcher of the year and all her weekly and conference awards."
Both college careers came to an end in 2008. Kime and Shamblin went on to play in the National Pro Fastpitch League. Kime signed as a free agent with Rockford Thunder and would go on to win NPF Championship in 2009 with teammate Cat Osterman.
Seeking advice on how the process worked, Shamblin reached out to Kime following the 2008 season to talk about free agency and what information Kime had gotten about the NPF since Kime signed a week earlier. Shamblin ended up signing with the Akron Racers.
Allison and Angel should be locks to be inducted into each school's Athletic Hall of Fame in the near future. Angel would become the first Houston softball player ever to be inducted into UH Athletic Hall of Fame, while Allison would join Stephanie Best as UCF Softball players in the UCF Athletic Hall of Fame.
This weekend both UCF and Houston will be hosting the American Conference series and alumni weekend, which will be highlighted by each program celebrating the 10-year anniversary of their 2008 teams. The Knights will honor the 2008 team on Saturday prior to home game vs Memphis, while the Cougars will honor their 2008 team prior to Sunday's game against Wichita State.
Allison and Angel will both throw out ceremonial first pitches in respective games. It would be no surprise to anyone if Allison and Angel will be thinking about topping each other one more time this weekend, on who throws the better first pitch.