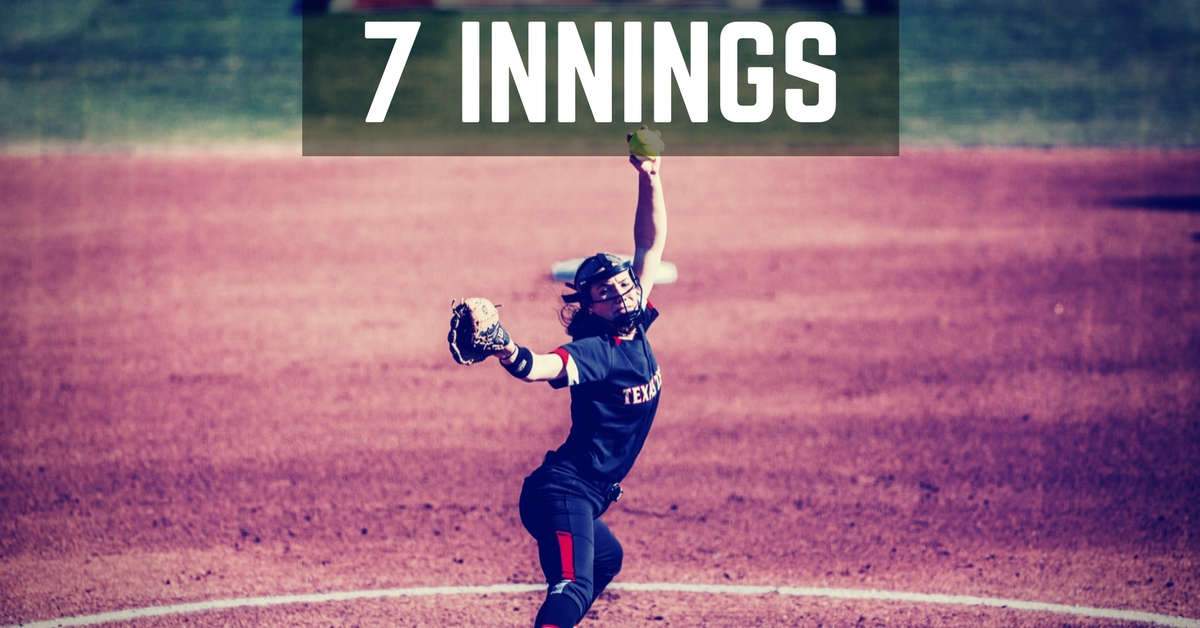 This season, Texas Tech is off to a good start with a 12-7 record, part of the reason for the excellent start is improved pitching.  Freshman left-handed Erin Edmoundson is a big reason for the improvement. Edmoundson has made an immediate impact going 8-1 with a 0.96 ERA, which ranks 34th in the country. The eight wins tie her for the No. 22 spot and she also holds the No. 42 spot in hits allowed per seven innings at 4.08. She was named Big 12 pitcher of the week on February 26th becoming the first Red Raider to receive the honor since Cara Custer did in 2015. Edmoundson was the first freshman to be honored at Texas Tech since 1998 when Amanda Renfro won it twice.
I recently had a chance to learn more about Erin in my new feature "Seven Innings."
Eric Lopez (ELO):  What drew you to Texas Tech?
Edmoundson: "I was drawn to Texas Tech because I definitely wanted to play softball in Texas and Tech was the best chance for me to play DI softball in a power 5 conference. When I was getting recruited, Coach Gregory and the other coaches were very dedicated to coming to watch my team, and I play. They would be there watching at almost every tournament, and I wanted to go play at a college where I was wanted. They made the decision very easy when figuring out where the right place for me was."
ELO: Whats been the most significant adjustment going from High School to Division I College Softball?
Edmoundson: "I believe the biggest adjustment is the amount of work you have to put in. Softball was a big part of my life in high school, but not the way it is now. My high school coach prepared me a lot for college by having practice 6 days a week like it is now in college, but having to juggle living on my own, studying for hard college classes, and being on my best game for softball is not easy! I definitely have to work much harder and for a longer amount of time to be able to compete with the best."
 ELO: I know you had pitching lessons from Angel Shamblin. What kind of impact has she had on you and what have you learned from her?
 Edmoundson: "Angel has been my pitching coach since I was in the sixth grade, so she has been a HUGE part of my success both in high school and now. I have been through the lowest of lows and highest of highs with her, and she has helped mentor me through recruiting and now competing at the college level. She has been keeping up with how I've been doing in college, and it means the world to have her follow how I've been doing even though she hasn't been teaching me for a while. Coach [Amanda] Locke and Angel teach very similarly so it made the transition very smooth from one pitching coach to another."
Amanda Locke was an All-American at Alabama (2009-2012) and was part of the Crimson Tide's National Championship in 2012.  Locke is in her fourth season as an assistant coach under head coach Adrian Gregory at Texas Tech.
Shamblin was an All-American pitcher at Houston ( 2005-2008)  winning CUSA pitcher of the Year Award three times. She helped the Cougars reach the NCAA Tournament in 2007, and 2008. The also won the Conference USA Regular season championships in 2007 and 2008.
"I really enjoyed working with Erin," Shamblin told me when talking about working with Edmoundson. "She is a hard worker, she is a competitor, always looking to get better. The sky is the limit for her"
ELO:  You wear a mask when you pitch. Talk about what led you to wear one and was there any adjustment to playing with a mask?
Edmoundson: "I care too much about my face to not one wear one honestly! My parents made me wear a mask when I was nine years old and I've worn one since because it makes my mom a little more comfortable watching in the stands. I think it makes no difference in your game if you wear one, rather than if you don't."
Edmoundson got the first win of her Red Raider career in her first start on February 18th vs. Hofstra in Orlando at the UCF Softball Complex. The same stadium where Shamblin won the CUSA Tournament MVP in 2007 going 3-0 and leading the Cougars to the conference title. She went seven innings giving up just two runs on seven hits while striking out three in the 4-2 win over Hofstra.
ELO:  What will you remember the most from your first win?
Edmoundson: "I will definitely remember almost getting beamed with the ball in the last inning! A girl hit a rocket straight at me and I just stuck my glove out there and got lucky to have the ball land right in it and then make the double play after. I was tired, it was the last day and the last game of the weekend, and I was just trying to push through and get the win. Catching that line drive sure did give me a sign of relief getting two outs and knowing that I could finish the game out with my first win."
 ELO: What was your reaction when you won Big 12 Pitcher of the Week?
Edmoundson:– "I really wasn't expecting it! I wasn't expecting anything the next week after we played Northwestern State, except for another week of practice and games like normal. My coaches and teammates have been so supportive and I can only thank them for helping me feel comfortable in the circle and on the field."
ELO: What on and off-field goals do you have at Texas Tech?
Edmoundson: "I plan to make a difference for the Texas Tech softball program and be a leader of our team. I want to play my best game so that my teammates and I can be successful against the best teams in the country. Off the field, I plan to try to focus on having fun with my friends, while also trying to maintain a high GPA. I like to make sure I have a good separation between softball and my normal life because softball can easily consume every aspect of my life. I try to create a healthy balance between my family, friends, faith, school, and softball!"
If the first month of her career is any indication, Edmoundson will indeed make a big difference to the Texas Tech softball program by the time she graduates.