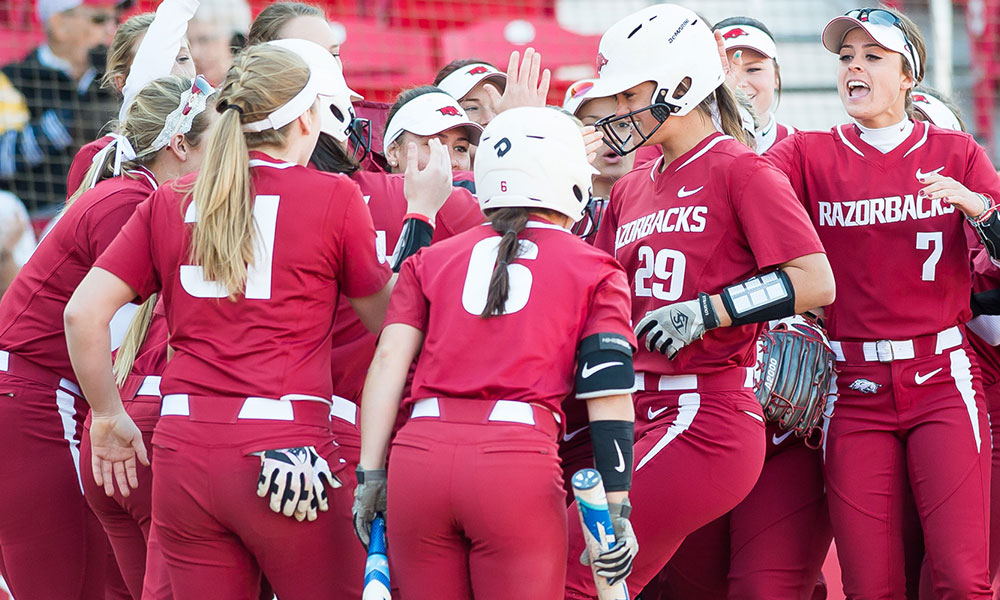 The University of Arkansas softball program has struggled for quite some time. Since the program's inception in 1997, the Razorbacks have averaged about 28 wins and 34 losses a year.
There have been seven winning seasons and only three of those have included a winning conference record. At 25-14, 4-11 in SEC play, things are starting to turn around for the Razorbacks.
Redshirt senior Nicole Schroeder has witnessed the ups and downs in Fayetteville firsthand. She was a part of the 2013 team that finished 36-20, 12-10 in the conference, and made it to the postseason.
"It's definitely been a roller coaster for sure but this team is way better than that team (2013)," said Schroeder. "It's mind-blowing, the confidence, just everything about this team is awesome and we've worked so hard for it."
The confidence this 2017 squad has gained starts with the coaching staff. Head coach Courtney Deifel inherited players in 2016 that were down and it was up to her to build them back up.
"We do our jobs in pushing them every day to grow as people and as athletes and I think in that we've seen their confidence flourish and I think that's the big thing we didn't have last year," said Deifel. "Whenever you're confident, you play a lot more freely and trust your instincts. I think that's what we've seen so far. They've completely flipped that switch and are getting the job done."
Mechanics haven't changed, just expectations. Deifel and her staff have instilled a mentality that the Razorbacks have responded to in a positive way.
"Last year we had to do a lot of teaching about what our expectations are and what our system is and this year they are settled into that," said Deifel. "Rankings are a bonus and they start to see what they are capable of when they get recognized."
Another confidence booster has been the emergence of freshman pitcher Autumn Storms. The California native has won 11 games and has an earned run average of 1.87.
"I knew that coming to Arkansas was going to be a challenge and I knew that I wanted to be a part of rebuilding this program and I wanted to be a part of our winning when we finally got there," said Storms. "When you see the player's faces turn up instead of down in tough situations, that's how you know that the team is really changing around you and just to be a part of that I think is what drives me to be here."
Arkansas is coming off its first SEC road series win (Missouri) since 2013 when it beat then-No. 8 Missouri. The conference schedule has not been easy for the Razorbacks this year. They've played Alabama, Tennessee, Kentucky, Florida and Missouri. This weekend they host Texas A&M and finish out with Mississippi State and Georgia.
"It's exciting that people are taking notice of Arkansas," said Deifel. We have to do our part and put a good product out there and they've absolutely stepped up. We still have a lot of work to do but we are getting there."