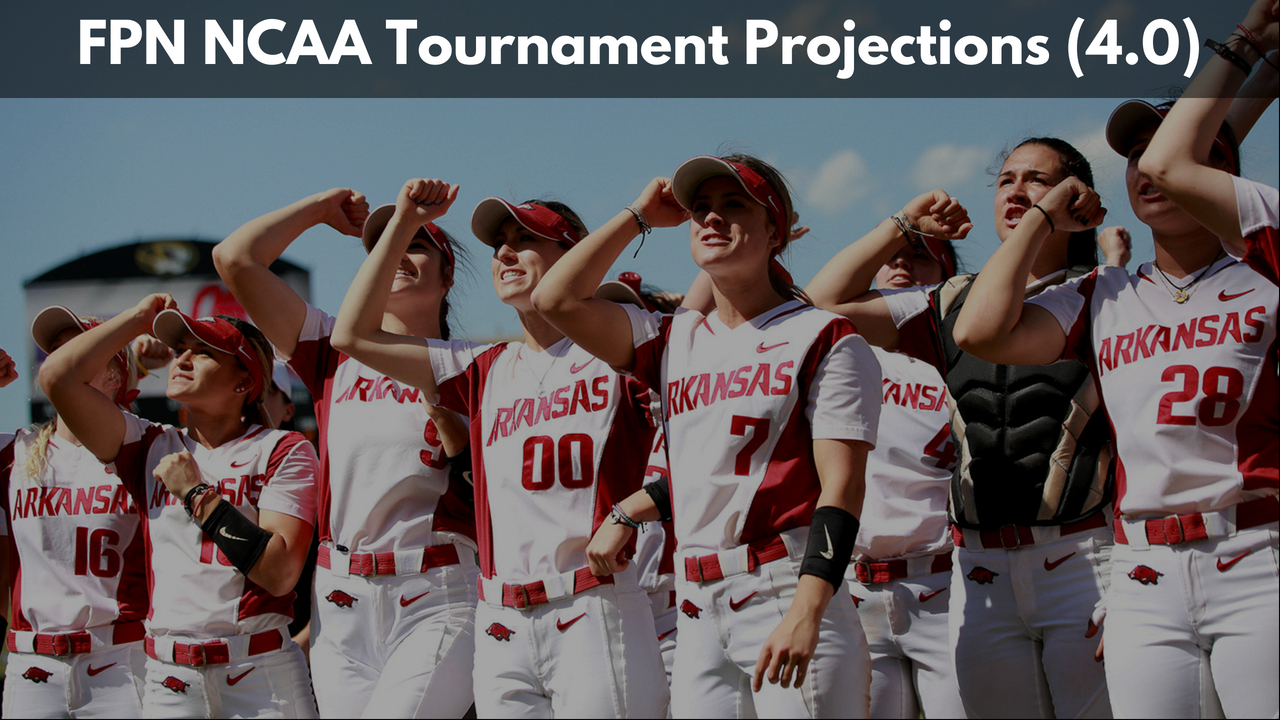 Selection Sunday is tonight at 10 pm eastern on ESPN2.  Here what we think the field of 64 will look like when it gets announced. * automatic bid
ACC– *Florida State (6), Notre Dame (43), Pittsburgh (48)
American (4):  * Tulsa (59), USF (42),  Wichita State (32), Houston (35)
Big East (1) * DePaul
Big 12 (4):  *Oklahoma (3), Baylor (16),  Oklahoma State (26),  Texas (39)
Big Ten (4):  *Minnesota (28), Michigan (30),  Ohio State (27) Northwestern (38)
Pac-12 (7):   *Oregon (1), UCLA (2),Washington (5)  Arizona State (7), Arizona (12), California (29), Oregon State (24)
SEC (12):   *Florida (4), Georgia (10) Tennessee (8),South Carolina (11), LSU (9), Texas AM (13), Auburn (17),  Arkansas (19), Mississippi State (20), Kentucky (14), Alabama (15),  Ole Miss (34)
A-10 (1): *Fordham
America East (1): *UMass-Lowell
A-Sun (2): *Kennesaw State (41), Florida Gulf Coast (33)
Big Sky (1): *Sacramento State
Big South (1): *Liberty (36)
Big West (2):  *Cal State Fullerton (47), Long Beach State (18)
CAA (2):  *Hofstra (22), James Madison (24)
C-USA (1) : * Middle Tennessee
Horizon (1):  *Illinois-Chicago
Ivy (1):  *Harvard
MAAC (1): *Monmouth
MAC (1):  *Ohio
MEAC (1):  *Bethune Cookman
MVC (1):  *Drake (37)
MWC (1): * Boise State
NEC (1): * Saint Francis
OVC (1): * Jacksonville State
Patriot( 1): *  Boston U
Southern (1): *UNCG (47)
Southland (1):  *McNeese State (45)
Summit (1): * North Dakota State (55)
Sun Belt (2): * Texas State (31), Louisiana Lafayette (21)
SWAC (1):  * Prairie View A&M
WAC (1):  *New Mexico State
WCC (1): * BYU (52)
Last four In
1-Oregon State (24)
2- Pittsburgh (48)
3- Florida Gulf Coast (33)
4- Notre Dame (43)
First Six out
Wisconsin (46)
UCF (61)
Boston College (53)
San Jose State (49)
Illinois (58)
Nebraska (40)
Oregon State had lost nine straight including a home loss to Seattle prior Utah series. Beavers won the series at Utah to be eligible for the NCAA Tournament. If the committee goes strickly based on RPI, both Oregon State and Missouri will be in the tournament.
Missouri paid Wichita State $5,000 to get out of a doubleheader at Wichita State and replaced them with Arkansas Pine Bluff. Without this transaction. Missouri would be under 500 for the season and miss the SEC Tournament by losing to Florida last Sunday despite the fact that the Gators started freshman Natalie Lugo. If the committee puts in Missouri, it would be sending the message that you can buy your way into the field of 64 and endorse this behavior which cost Wichita State two games against an SEC opponent at home which would have helped the Shockers and the American Conference from an RPI perspective. Missouri should not be in NCAA Tournament based on how they bought 2 wins to stay eligible with mediocre record.
NCAA Tournament Hosts and Teams Projected to be In Regional
1-Oregon –   2- Kentucky  3- BYU 4- Boise State
2- Florida –  2- Minnesota  3- Florida Gulf Coast 4- Bethune Cookman
3- UCLA- 2-Long Beach State 3- Notre Dame 4- Sacramento State
4-Oklahoma – 2- Wichita State  3 Oregon State  4- Monmouth
5- Washington  2- Northwestern  3- North Dakota State  4-Illinois Chicago
6-Florida State    2- Mississippi State  3- USF 4- Harvard
7- South Carolina – 2-James Madison  3- UNCG 4- DePaul
8- Arizona State-  2- Auburn   3- Cal State Fullerton  4- New Mexico State
9- Tennessee –  2- Ohio State  3- Pittsburgh  4- Ohio
10- LSU –   2- Houston  3- Texas  4- Saint Francis
11-Georgia – 2- Liberty 3- Kennesaw State  4- Middle Tennessee
12- Arkansas-   2- Oklahoma State  3- Drake  4- Fordham
13- Arizona –  2- Hofstra  3- Ole Miss 4- UMass Lowell
14- Alabama –  2-Michigan  3- California  4- Jacksonville State
15- Baylor – 2-Texas State  3- Tulsa  4- Boston U
16- Texas A&M – 2- Louisiana  3- McNeese State  4- Praire View A&M
Check out our latest edition of "In The Circle" as we break down our projections.