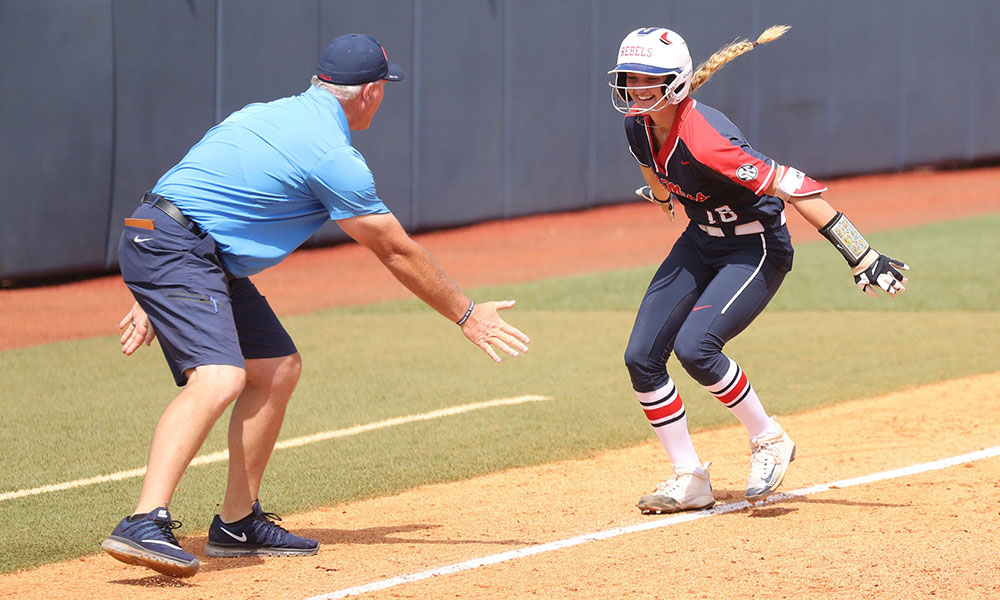 Brittany Finney stepped up to the plate with a runner on second, two outs and her team down a run in the regional finals against North Carolina on Sunday afternoon. The pitch came in belt high on the inside corner and Finney took it to left field to tie the game.
Sounds like a standard at bat for the Ole Miss Rebels these days but it was anything but that. Finney hadn't had an at-bat since May 1 against Alabama. She hadn't recorded a hit or a run batted in since April 29.
"I was definitely a little nervous when I found out I was DP (designated player)," said Finney. "My first at-bat was a little rough. After that, I decided I only have so many opportunities and I need to make the most of them."
Making the most of the opportunities is exactly what she did.
The sophomore came up again in the sixth with a runner on first and on a 1-1 count took a curveball out of the park. The two-run home run put the Rebels on top, 4-2, and they never looked back.
"Brittany has been swinging the bat pretty good," said head coach Mike Smith. "We (the coaching staff) knew she was going to be ready. She knows what it's like to play on this stage. She's got nerves of steel and I'm so happy for her."
The 2015 Kansas Gatorade Player of the Year transferred from Oklahoma just after winning a National Championship last season. As a Sooner, she played in 12 games and started four. She pitched just over 18 innings and 2-for-4 at the plate.
She has been here before. She knows what it's like to win a Regional and move on to Super Regionals. She even knows how it feels to play in Oklahoma City and win a championship. But this, this is different. This is the first time Ole Miss has won a Regional and moved on to the next round.
"There's definitely no comparison," said Finney. "All the firsts and all the history this program is making makes it very humbling to be able to be a part of this program. It's so very nice to wear these colors and to play for coaches like this and with a team like this. There are no words to describe the feeling that I'm feeling."
Ole Miss won the game 7-2 and will travel to Los Angeles for a date with the UCLA Bruins in the Super Regionals beginning Thursday. The Bruins have one of the most storied programs in the country while the Rebels are still writing theirs.
"We're the Cinderella story. We're going to be wearing the glass slipper.," said Smith. "We're two games away from playing in Oklahoma City and that is unbelievable."
Hopefully, the clock doesn't strike midnight anytime soon.