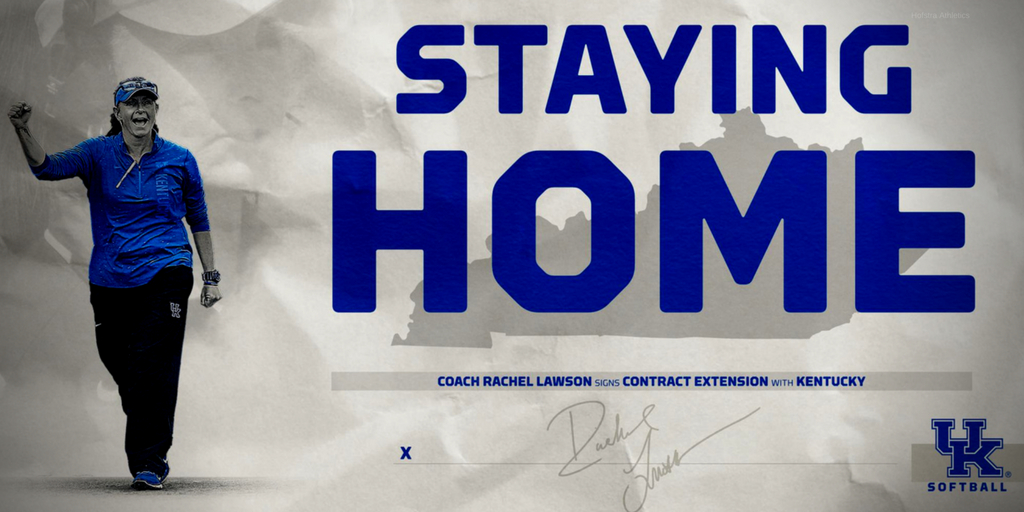 This week headlines were made by some coaches leaving and others staying. Headlines included a new hire at Louisville and a significant assistant move at Oklahoma. Those were not the only significant moves recently.
Rachel Lawson Staying at Kentucky Through 2023
BREAKING – @UKCoachLawson and @UKMitchBarnhart have agreed to a contract extension, keeping Coach Lawson at home in Lexington! #WeAreUK

Read more: https://t.co/RolQ51HHXj pic.twitter.com/KXY3CXkodN

— Kentucky Softball (@UKsoftball) July 18, 2018
Kentucky announced this week that Wildcats Head Coach Rachel Lawson agreed to a contract extension that will keep her in Lexington through 2023.
As first reported by Kentucky.com and confirmed by FastpitchNews. Lawson will now make an average base salary of $ 300,000 per year which is up from the previous average of  $220,000 per year.
In the newly amended contract, Lawson is now  subject to salary-based bonuses of  $40,000 for winning the Southeastern Conference regular season or tournament championship – in addition to possible postseason bonuses of $30,000 for advancing to the NCAA Super Regionals, $45,000 for making it to the  Women's College World Series, NCAA championship series and $ 50,000 by winning the national championship.
Also included are longevity bonuses of $50,000 which rewards Lawson for staying in Lexington and run all the way through 2023 on a year-by-year basis.
Lawson's name was rumored this summer as a candidate for both the Texas Head Coaching job and the Oregon Head Coaching job, but she will remain at Kentucky where she just finished her 11th season taking the Wildcats to their sixth Super Regional appearance.
Jessica O'Donnell Named New Head Coach At Saint Francis
We are extremely excited to welcome @Jess_Odonnell88 as our new Head Coach!!! O'Donnell comes to Loretto after five seasons as the Associate Head Coach at Villanova! #RedFlashhttps://t.co/OKomQdKZJE pic.twitter.com/MbksabWLDv

— Saint Francis U SB (@RedFlashSB) July 18, 2018
Jessica O'Donnell was named the new Head Coach at Saint Francis on July 18th taking over for Jennifer Patrick-Swift who left for North Carolina State on June 2.
O'Donnell served as Associate Head Coach the last five seasons at Villanova. Three weeks ago O'Donnell took the Head Coaching job at DII Seton Hill.
O'Donnell takes over a Saint Francis program that boasts an active winning streak of thirty-eight staight NEC conference games, a streak that stretches back to 2016 after back-to-back undefeated conference records in 2017-18. The Red Flash reached the NCAA tournament, as well, in 2017 and 2018.
Kortny Hall Promoted to Southern Utah Head Coach
https://twitter.com/SUUThunderbirds/status/1019994536326524928
After coming to Southern Utah as an assistant coach in 2018. Kortny Hall was promoted to Head Coach. Hall was responsible for developing pitchers and catchers, creating and implementing scouting reports, and calling pitches in 2018. Hall came to Southern Utah from Southern Virginia University, where she was the Head Coach of the Knights for three years.
Saint Mary's Hires Sonja Garnett as New Head Coach
Matoso Hires Garnett To Lead Softball Program #GaelsRisehttps://t.co/CtKs6lm5PH pic.twitter.com/ghcnq5NGRy

— Saint Mary's Gaels (@smcgaels) July 18, 2018
Garnett previously served as the Head Coach for the Academy of Art Urban Knights and led her team to their best finish in program history last year at 40-18. Before the Academy of Art, Garnett served as an assistant coach at CSU Monterey Bay, Whittier College, and San Francisco State. While at Monterey Bay, the Otters reached the NCAA Super Regionals for the first time in school history, recorded their most single-season wins ever (48), and were ranked as high as 11th in the NCAA DII Top-25 poll.
Mike White Hires Kerry Shaw as Assistant Coach
https://twitter.com/TexasSoftball/status/1019612996061065217
On the same day that Patty Gasso announced the hiring of Jennifer Rocha to Oklahoma. Mike White announced the hiring of Kerry Shaw as his assistant coach. Shaw comes over after being the Head Coach at DII Mary for the last three seasons. Shaw and White were teammates playing together for the U.S. Men National Team.
Mike White Completes Texas Staff By Adding Kailee Cuico 
https://twitter.com/TexasSoftball/status/1020015507959943179
Mike White will be bringing with him from Oregon Kailee Cuico as a volunteer coach. Cuico was a volunteer coach at Oregon and was also a standout player for White and the Ducks. Cuico joins Chelsea Spencer who was hired by White on July 10th. Spencer and Cuico were both on White's staff at Oregon.
Hannah Flippen Promoted to Utah Assistant Coach 
https://twitter.com/Utah_Softball/status/1017844776308101120
Fresh off a dominant performance for Team USA in the International Cup. Hannah Flippen has been promoted to a full-time assistant coach. Flippen spent 2018 season as a grad assistant after finishing her college career in 2017. Flippen takes over for Maggie Livreri who left to become the new Head Coach at Boise State.
Vanessa Shippy Hired As Assistant Coach At Syracuse
Excited to welcome three-time All-American, Vanessa Shippy, to the Orange coaching staff! https://t.co/f4aoyU6BDY pic.twitter.com/axVmfYcaBG

— Syracuse Softball (@CuseSB) July 19, 2018
Three-Time All-American and Big 12 Player of the Year standout Vanessa Shippy is entering the coaching world as Shippy was hired to be an Assistant Coach at Syracuse after a spot became available when  Alisa Goler left Syracuse on June 28th.
Alisa Goler leaves Syracuse for Penn State 
https://twitter.com/PennStateSB/status/1012392979825418245
Goler spent three seasons at Syracuse before coming over to Penn State.
"I enjoyed my time at Syracuse and am grateful to Mike Bosch for giving me the opportunity to coach at the Division I level," Goler said in Penn State Press Release. "I am thankful to Coach Lehotak for giving me a chance to join Penn State and a Big Ten program, and I am excited to work and learn under her. I look forward to continuing to build the competitive culture here in Happy Valley.
Tommy Santiago Hired as Assistant Coach at Jacksonville 
https://twitter.com/JUSoftball/status/1018896272336572418
Dolphins Head Coach Erica Ayers has hired Tommy Santiago as an assistant coach. Santiago brings almost a decade of experience coaching softball at the DI level, Santiago previously made stops at Florida State, St. John's (NY), Maryland, and South Florida most recently where he was part of the Bulls American Conference Regular season championship in 2016. Most recently, Santiago has served as a hitting and fielding instructor at Crossfit Lutz in Tampa, Fla. for the past two years.