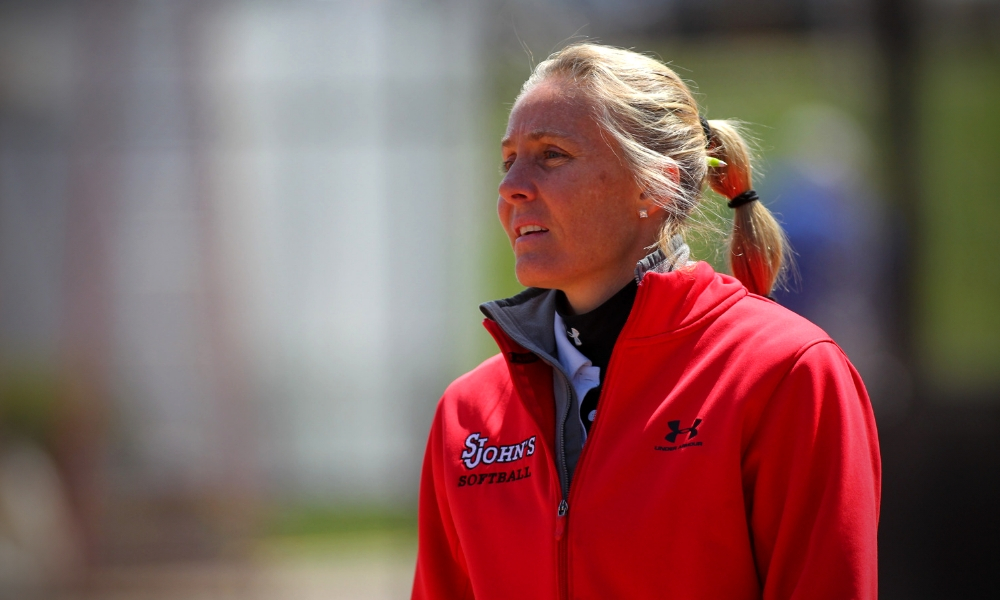 Just when we thought things were starting to slow down, we had a sudden retirement that highlights this week's coaching moves.
St. John's Amy Kvilhaug Announces Retirement
Coach Amy Kvilhaug will be retiring from her position as head coach of the St. John's softball team.

Thank you Coach K for all you have done for the #SJUSB program!

— St. John's Softball (@StJohnsSoftball) September 6, 2018
Head Coach Amy Kvilhaug announced her retirement effective immediately after 12 seasons as Head Coach.
Kvilhaug spent the past twelve seasons as the head coach of the Red Storm, earning 281 victories during her tenure with the program. In 2015, Kvilhaug helmed the program to a Big East conference tournament championship and the corresponding automatic bid to the NCAA tournament. It was the first time the Red Storm had reached the NCAA regional round in more than three decades.  St. John's has named associate head coach Bob Guerriero as the interim head coach; a search for Kvilhaug's replacement is underway.  This marks the second head coach in the Big East this off-season to retire abruptly joining DePaul's Eugene Lenti stepping down back in June.
Mark Montgomery Signs New Deal with La Tech 
BREAKING | @LATechBSB @LaneBurroughs23 and @LATechWBB @BrookeStoehr sign contract extensions while @LATechSB @GoCoacher signs new contract. #EverLoyalBe https://t.co/w6BzHFMV8J pic.twitter.com/fC9kzgJWDo

— #EverLoyalBe (@LATechSports) September 5, 2018
Montgomery is under contract with the Lady Techsters through the 2023 season. Montgomery will enter his seventh season with the program in 2019 and has led the Lady Techsters to four straight 30-win seasons. The squad won the 2017 Conference USA tournament championship and advanced to the NCAA tournament.
In 2018, the Lady Techsters posted a 34-23 overall record and went 15-9 in conference play.
Texas Tech hires Letty Olivarez to be an assistant coach
https://twitter.com/TexasTechSB/status/1035585910794907648
Letty Olivarez is the new pitching coach at Texas Tech coming over from San Jose State where she spent two seasons in the same role and helped lead them to the NCAA Tournament in 2017, in year that the Spartans also had the top pitching staff in the Mountain West.
Olivarez was co-interim head coach at Arizona State in 2016 and helped lead the Sun Devils to NCAA Tournament. Olivarez spent the 2015 season at Cal State Northridge (CSUN) where she helped lead the Matadors program to its first outright Big West Championship in 19 seasons and its first NCAA Regional appearance since 2007. Olivarez was a pitcher at Wisconsin.
Sam Marder Promoted to Associate Coach at Texas Tech 
https://twitter.com/TexasTechSB/status/1034546981811761152
Texas Tech head coach Adrian Gregory promoted assistant coach Sam Marder to associate head coach. Marder, who is in Ohio State Athletics Hall of Fame, runs an improving Red Raiders offense which hit .294 as a team last year.
Amanda Locke Returns to Northwestern State Staff
The Lady Demon softball family welcomes back one of their own to the coaching staff. Amanda Locke joins NSU as the associate head coach. https://t.co/8eNyIvx63H

— NSU Demons Softball (@NSUDemonsSB) August 27, 2018
Amanda Locke returns to Northwestern State where she was an assistant coach from 2013-2014. Locke spent the last four seasons as the pitching coach at Texas Tech. Locke was a former All-American player at Alabama helping them win a National title in 2012.
Pittsburgh Hires Brock Van Faussien as an Assistant Coach
https://twitter.com/Pitt_SB/status/1034856244450942977
Head Coach Jodi Hermanek completed her staff with the hiring of Van Faussien. Van Fausssien comes over to Pitt after spending last season as a volunteer coach at Georgia. Van Faussien joins Jillian Van Wagnen who followed Hermanek from Ohio to Pitt.
Jay Miller hires Lindsay Maher to  join Hofstra staff
SB: Lindsay Mayer Joins #Hofstra Staff As Assistant Coach. #RoarWithPride https://t.co/JWENtr1upI pic.twitter.com/1stBn0DL32

— Hofstra Softball (@HofstraSoftball) September 5, 2018
Maher was a former A-10 player of the year at Fordham and will now join Millers staff at Hofstra. Maher recently was an assistant coach at Wagner.