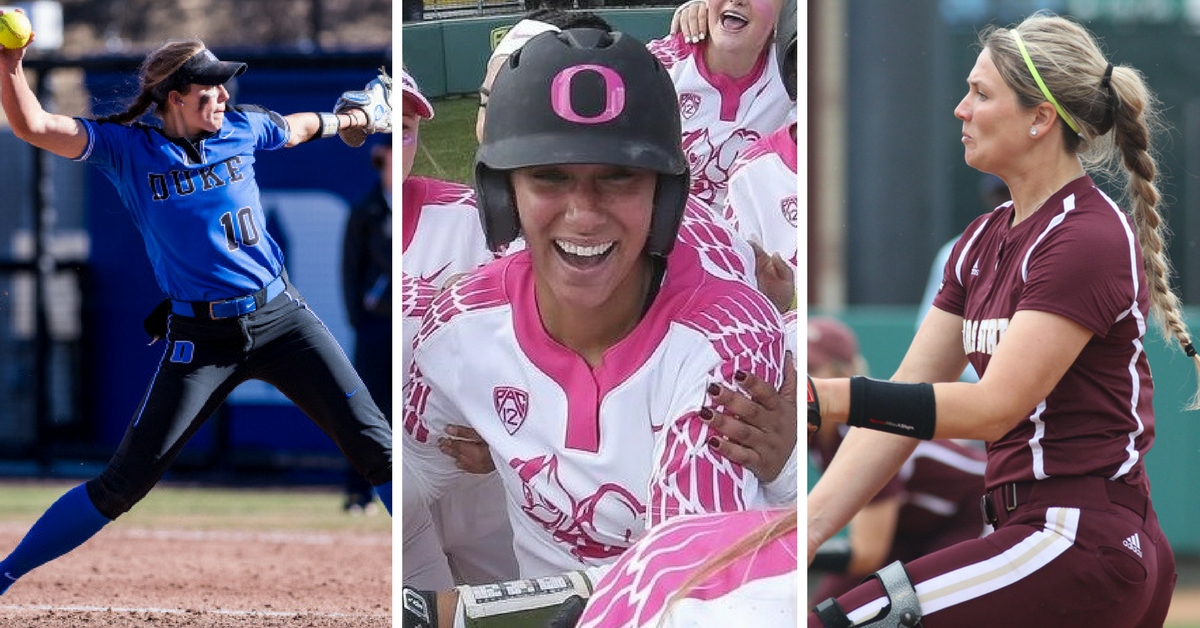 Auburn Takes Series Over Alabama
The Auburn Tigers won the series finale 2-1 against Alabama on Sunday at Jane B. Moore Field in walk-off fashion. The Tigers were trailing 1-0 with three outs going into the bottom of the seventh inning when Alyssa Rivera delivered an opposite-field home run to tie the game. Casey McCrackin singled to left to bring home Tannon Snow from second to secure the walk-off win. Kaylee Carlson was the winning pitcher for Auburn after giving up three hits and struck out four batters in a complete-game effort. Up next the Tigers will face Alabama State at home on Wednesday.
Game-winner: @CaseyMacCrackin drives in @taylonsnoww in 2-1 @AuburnSoftball series-clinching win.@arivv21 tied at 1 with leadoff HR, B7. pic.twitter.com/gVZdrchuGI

— Jeff Shearer (@jeff_shearer) March 18, 2018
Duke Earns First ACC Series Sweep
The brooms were broken out Sunday afternoon at the Duke Softball Stadium, as the Duke Blue Devils (16-10, 3-3 ACC) scored late to seal a 1-0 victory against the Boston College Eagles (9-15, 0-3 ACC) and earn the first series sweep in program history. After five scoreless innings that featured dominant pitching on both sides, the Blue Devils broke through in the sixth behind back-to-back leadoff singles and a BC fielding error. The Blue Devils will get back on the road for a pair of midweek games before returning home for their third ACC series of the season. Duke travels to No. 20 South Carolina Tuesday, March 20, before taking on East Carolina Wednesday, March 21.
Fordham Coaching Milestone
The Fordham softball team finished its tournament this weekend after recording 21 runs against Detroit Mercy over just four innings to cap the three-day event with a 3-1 record and giving head coach Bridget Orchard 600 career victories in maroon and white. The Rams tied single-game records for most RBIs and doubles in a single contest on Sunday. For the season, the Rams improve to 9-15 with the win. The 21 runs are the third-most in a single game in program history, behind last year's 23 runs at St. Bonaventure and 22 runs against Temple in 2007.
Congrats, Coach @bridgetorchard on 600 wins at Fordham!!! #RamsRising pic.twitter.com/jp4k3h4YMZ

— Fordham Softball (@FordhamSoftball) March 18, 2018
Texas State Pitcher Tosses Perfect Game to Secure Sweep
The Texas State softball team (22-7, 5-0 SBC) earned a three-game sweep over Sun Belt Conference foe Coastal Carolina (14-14, 1-5 SBC), winning the third game of the set by a score of 10-0 in six innings at Bobcat Softball Stadium on Sunday afternoon. The Bobcats remain perfect in SBC play and have won eight consecutive contests. Senior pitcher Randi Rupp threw her second career perfect game, the fourth such game ever thrown by a Bobcat pitcher. Rupp faced 18 Chanticleer batters in the game, striking out 11 batters, including the first six she faced while registering four fly balls outs and three groundouts.
Oregon Takes Rubber Match Vs. UCLA
Oregon sophomore Shannon Rhodes blasted a three-run, walk-off home run to left-center field in Jane Sanders Stadium, giving the No. 6 Ducks a 3-0 victory Sunday in the rubber match of a three-game series against No. 3 UCLA. Rhodes previously struck out three times against UCLA starting pitcher Rachel Garcia in the Bruins 6-2 victory Friday, but despite falling behind 0-2 with two on and one out in the seventh Sunday, she got a pitch to hit and launched a missile to left-center. Megan Kleist earned the win for the Ducks in the circle after tossing a six-hit shutout.
HIGHLIGHT | That ball is out of here and so are we! Shannon Rhodes finishes the game and the series with a three run walk-off homerun. #GoDucks pic.twitter.com/6a98rEp1cT

— Oregon Softball (@OregonSB) March 18, 2018