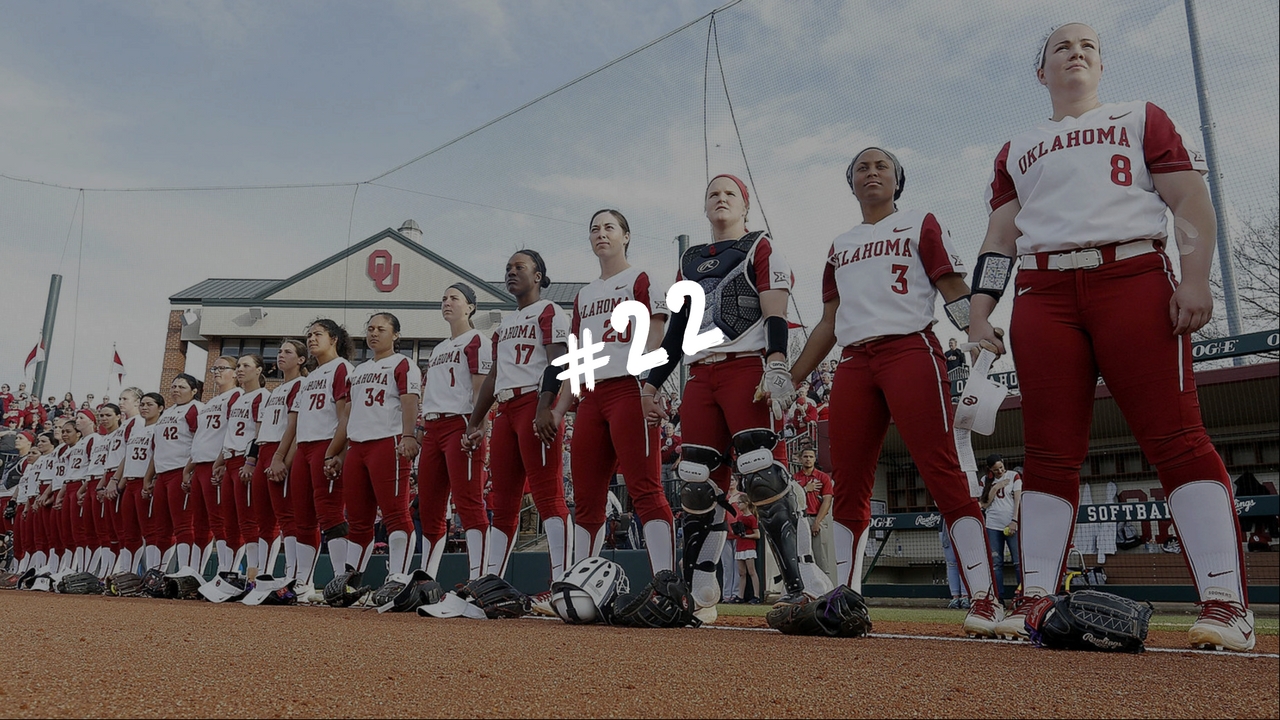 Another weekend of college softball is in the books. This past weekend brought many conference rival series to the playing field. There were new coaching milestones met, record books re-written, standout pitching performances, outstanding offensive numbers, and team victories. Below are five things that stood out to us at FPN, that you may have missed in college softball this past weekend.
Indiana Sweeps Second Big Ten Series
Indiana Softball clinched the sweep of its second straight Big Ten series on Saturday, defeating Michigan State, 5-1. The win moves the Hoosiers to 6-0 in conference action, the best start to Big Ten play for the program since 1994. Also, Indiana has won seven straight games, the longest win streak since 2011. The Saturday victory marked the 600th career win for head coach Shonda Stanton, who won 560 games at Marshall and 27 at IUPUI. "This group has really bought in," said coach Stanton. "They're learning a new system, a new process and I'm really proud of how we're fighting every pitch and competing. Really excited about the things we're doing." The Hoosiers will return to action next weekend as they play host to Nebraska.
Oklahoma Claims 22nd Straight Win
The No. 5 Oklahoma softball team secured a series sweep of No. 19 Baylor with a 4-1 victory on Saturday night inside Getterman Stadium. The Sooners (31-2, 6-0 Big 12) have now won 22 consecutive games, good for the fifth-best win streak in program history. Additionally, the win over the Lady Bears (20-9, 0-3), was OU's 36th straight road win. Paige Parker and Paige Lowary combined in the circle for OU. Parker moved to 17-1 on the season as she tossed the first 4.0 innings, allowing four hits and no runs while striking out four. She has now recorded 38 consecutive scoreless innings. Lowary registered her fourth save of the season, extending her program-record career save total to 15 as she closed the final 3.0 innings with one hit and one run. Oklahoma heads to Ames, Iowa, next weekend for a three-game series with Iowa State.
UCLA Earns Sweep Over Utah
The No. 6 UCLA softball team turned the tables this year and claimed the sweep over Utah after a 9-4 victory on Saturday at Dumke Family Softball Stadium. The Utes swept UCLA in Westwood last year. UCLA improved to 31-2 overall and 7-2 in Pac-12 play, while Utah fell to 17-15 and 2-7 in the league. After the weekend, the Bruins have four players hitting over .400. Leading the averages are Aaliyah Jordan (.490) and Kinsley Washington (.415). The Bruins have been pitching by committee this season. Rachel Garcia is 11-1 with a 1.40 ERA, Holly Azevedo is 10-0 with a 1.96 ERA, Selina Ta'amilo moved to 7-1 after the weekend and holds a 2.71 ERA, and Johanna Grauer is 3-0 with a 2.50 ERA. Next up for the Bruins is a non-conference home game on Tuesday against CSUN at Easton Stadium.
Arkansas Completes First SEC Sweep Since 2013
The Razorbacks earned an 8-2 victory on Sunday over No. 17 Mississippi State to complete the first three-game sweep of a ranked opponent in program history. Arkansas improved to 28-6 overall with a 5-4 mark in SEC play. Sunday's triumph also capped a three-week homestand that saw the Razorbacks post a 12-1 record at Bogle Park. Overall, Arkansas is now 19-1 playing on its home field. The program last swept a conference opponent in 2013. Junior Katie Warrick drove in four runs, and sophomore Autumn Storms picked up her second win to wrap up the weekend. Up next the Razorbacks continue their SEC schedule next weekend with a road trip to No. 8 South Carolina. The series opener is scheduled to begin on Friday.
Georgia Responds in Game Two Against Tennessee
The No. 3-ranked Georgia softball team evened its series at No.9 Tennessee (31-5, 4-4) Sunday evening with a six-inning, 9-1 victory over the Lady Vols. The Georgia (31-4, 8-3) offense rattled off its nine runs on nine hits, slugging two home runs and a double. Kylie Bass (11-1) worked the complete game in the circle for the Bulldogs. The junior allowed five hits to the Lady Vols. Tennessee's Caylan Arnold pitched four and two-thirds total innings. She surrendered eight runs on all nine hits. Gabby Sprang pitched one and a third innings for Tennessee. The Bulldogs and Lady Vols will square off in the rubber match on Monday at 7 p.m. live on the SEC Network.