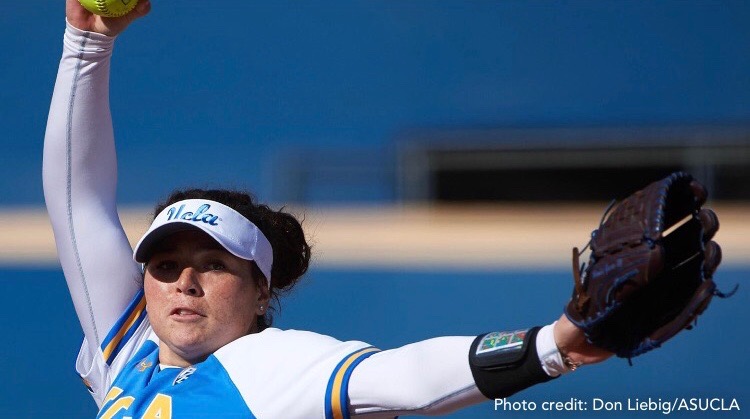 Another weekend of college softball is in the books. This weekend brought many conference rival series to the playing field. There were new coaching milestones met, record books re-written, standout pitching performances, outstanding offensive numbers, and extra-inning team victories. Below are five things that stood out to us at FPN, that you may have missed in college softball this past weekend.
Cowgirls Earn First Three-Game Sweep vs. Baylor
The No. 24 Oklahoma State softball team earned the program's first three-game sweep of No. 20 Baylor on Sunday, defeating the Lady Bears 5-1 at Cowgirl Stadium. The win marks the first time that OSU has swept Baylor since 2011, when the Cowgirls won a two-game set between the teams. Sunday's triumph also marked the first time since 2003 that OSU has bested BU three times in a single season, and it was the Cowgirls' fifth-straight win over the Lady Bears, which is the second longest streak in team history. OSU improves to 32-12 on the season and 10-2 in Big 12 Conference play. This upcoming week, the Cowgirls first travel to Wichita State on Wednesday before heading to Austin for a three-game set against the Texas Longhorns, who currently sit at 9-0 in conference play this year.
Texas Completes Third-Straight Big 12 Sweep
On Sunday afternoon the Texas softball team earned the series sweep over Texas Tech and improved to 9-0 in league play for only the second time in program history. The weekend sweep moved the Longhorns to 26-15 on the season. In Sundays matchup, the Longhorn offense strung together nine hits and was led by designated player, Paige von Sprecken, who went 3-for-4 with two doubles and two RBI. Texas will play host to two teams this upcoming week. First, the Longhorns will face Baylor on Wednesday in a single game, before playing a three-game series against Oklahoma State which is set to kick off Friday April 20th.
Razorbacks Post First-Ever Series Win vs. Alabama
The No. 18 University of Arkansas softball team jumped out to an early lead Sunday on its way to a 6-3 win over No. 15 Alabama to post the program's first-ever series win over the Crimson Tide. Freshman Mary Haff was solid in a complete-game performance for her 20th win of the season while fellow freshman Hannah McEwen recorded two hits and two RBI in the triumph. With Sunday's win, the Razorbacks improve to 33-9 overall with an 8-7 mark in SEC play. The team's 33 wins are its most since a 36-win campaign in 2013. Additionally, Arkansas now seven wins against ranked opponents this year. Down to their final nine games of the 2018 season, the Razorbacks hit the road next weekend for a series at No. 13 Auburn.
Washington Completes Sweep Over Cal
The No. 1 Washington Huskies completed their fourth consecutive Pac-12 sweep, defeating the California Golden Bears 9-1 in six innings on Sunday. The Huskies move to 41-2 on the year and 11-2 in conference, holding a ten-game winning streak in conference play. The Huskies offense posted big numbers this past weekend. In Sunday's victory, Washington hit five doubles and a home run in the game. They also improved their stolen base total to 53 on the season, which is the programs third 50-steal season in their last six. Washington heads to California for a three-game series against UCLA next weekend.
UCLA Sweeps Arizona
The fifth-ranked Bruins finished off a three-game sweep at No. 10 Arizona with a 10-3 win on Sunday at Hillenbrand Stadium. Senior Kylee Perez went 4-for-4, hitting a solo home run and scoring three times, while redshirt sophomore Rachel Garcia struck out nine in 4 1/3 innings of shutout relief to go with a three-run homer of her own. Garcia moved to 13-1 on the season, limiting the Wildcats to just two hits. The Bruins improved to 37-3 overall and 12-3 in Pac-12 play, while the Wildcats fell to 27-12 and 6-9 in league play. UCLA hosts No. 1 Washington next weekend at Easton Stadium.