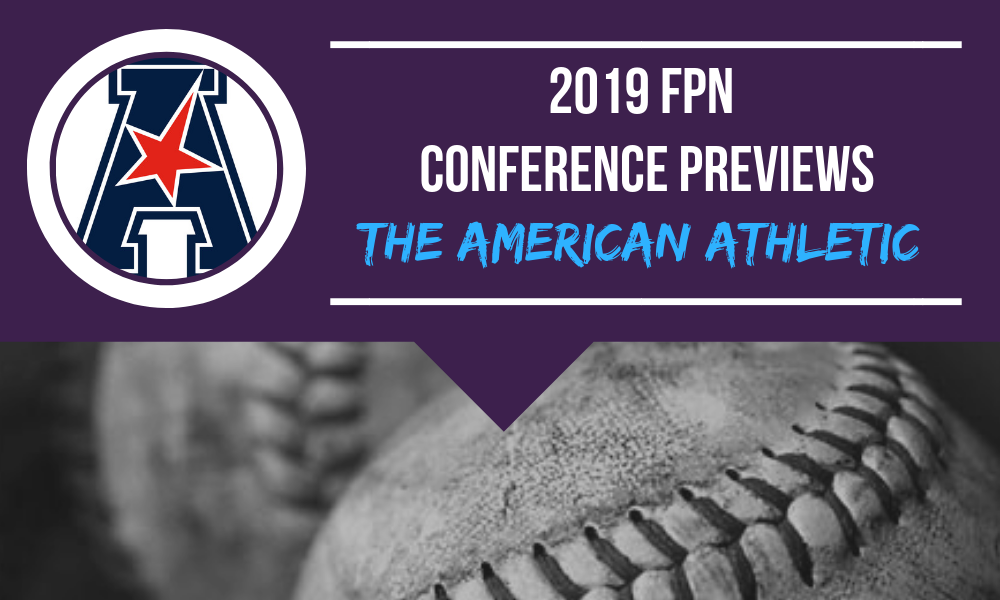 In 2018 the American Athletic Conference sent four teams to the NCAA Tournament (Houston, Tulsa, USF, Wichita State), had 13 All-Region honorees, one All-American, and housed some of the best mid-major programs in the country. The AAC is a fun conference to keep an eye on as it's one where anyone can win week in and week out. Looking forward into 2019, expect to see continued success and improvement throughout the entire conference.
To recap, USF took home its sixth regular season title after posting a 14-7 conference record in 2018. In the AAC tournament, No. 6 Tulsa knocked off the Bulls to claim the crown and automatic qualifying berth to the NCAA Tournament.
FINAL 2018 AAC STANDINGS
| TEAM | CONFERENCE RECORD | OVERALL RECORD |
| --- | --- | --- |
| USF | 14-7 | 39-23 |
| HOUSTON | 13-8 | 37-22 |
| UCF | 12-9 | 34-22 |
| WICHITA STATE | 12-9 | 32-23 |
| MEMPHIS | 10-11 | 37-21 |
| TULSA | 10-11 | 34-25 |
| ECU | 8-13 | 23-32 |
| UCONN | 5-16 | 20-35 |
Catch up on all of our conference previews here: Big West, Big Ten, CUSA, Atlantic 10, Big Sky, CAA, Summit League, American, ACC.
TEAMS TO WATCH
HOUSTON
Coming off a 37-22 record, a second place finish in the American Athletic Conference, and a NCAA Regional Tournament appearance the Cougars return a majority of its roster and are poised for an even better campaign in 2019. The biggest key to success for Houston this season? Depth in the circle! Someone, or multiple someones, have to step up to help 2018 All-American, Savannah Heebner. The Cougars lost eight games during conference play: of those games, seven of them were lost when Heebner either didn't pitch or pitched less than five innings. Houston does return its entire pitching staff from last season and adds freshman newcomer, Rachel Hertenberger. Hopefully a true number two will emerge for the Cougars and provide some relief for Heebner.
Houston graduated two starters but will retain the rest of the lineup that lead the Cougars to a .276 batting average and placed them second in the AAC. With another year of experience under its belt, I would expect to see the offense continue to improve and provide more run support to its pitching staff.

WICHITA STATE
This is a team to get excited about in 2019! What's the Shockers key to success? Consistency. At times during the 2018, Wichita State struggled to "sync up" offensively and in the circle. In AAC games the Shockers were outscored 55-20 in losses while outscoring its opponents 90-33 in victories. Wichita State averaged 4.89 runs per game and won 27 of 32 games when scoring four or more runs but struggled in closer contests.
When offense and pitching came together, good things happened. The Shockers beat ranked or RV Oklahoma State four times; beat Arkansas once (RV); played Auburn close in a 0-2 loss; beat a then RV Nebraska team twice; and gave No. 2 Oklahoma all it could handle in a 6-7 loss where the Shockers lit up Paige Parker for six earned runs. Conversely, Wichita recorded pivotal losses to Memphis (7-10); Creighton (11-12); Iowa (2-3) who they later beat 12-5; Tulsa twice (3-9 and 2-3); ECU (0-5); and 4-6 in the regional championship versus Arkansas. Like any team, these two areas have to align to win a lot of games but with a pitching staff who's second arm recorded a 5.72 ERA there is going to be inconsistency and too much burn out on a team's ace. If the Shockers can improve its pitching staff's ERA they should be in good shape.
Wichita will need to fill voids left by graduated players Mackenzie Wright (.360 BA) and Paige Luellen (.326 BA) but should have the players do so. Now sophomores, Caitlin Bingham and Bailee Nickerson were impactful their freshmen seasons and will need to continue to improve and produce for the Shockers. Bingham is a two-way player who pitches as well as hits which could be a huge asset for Wichita if she can continue to develop. The Shockers also had a number of then sophomore and junior mainstays in the lineup who will step into even bigger roles this season to anchor this team. With another year of experience under its belt, playing tough competition, and being an older team, keep a close eye on the Wichita State Shockers.
BIGGEST QUESTIONS:
– THEY GROW UP SO FAST:
Can the Bulls fill the holes left by graduation in 2018 and remain atop the conference? USF looks to replace seven seniors, many of whom were key contributors during their careers. Most notably the Bulls lose Astin Donovan (.355 BA), Lauren Evans (.272 BA), and Amber Atkinson (.333 BA in 44 games played). Head Coach, Ken Erickson, will need players to step up into new leadership roles in the circle, in the field, and in the lineup in order to stay at the very top of the AAC. We are looking forward to keeping a close eye on pitcher Cheyenne Eggens as well as the Bulls' three new freshmen arms (Alivia Sinnott, Brittany Hook, and Tayli Filla) to see what kind of support ace Georgina Corrick will have behind her in what could be a "down" season offensively for USF.
– LIFE WITHOUT WATSON: 
Tulsa says "goodbye" to one of its most storied pitchers in program history: Emily Watson. Over 694.0 innings pitched during her career she posted an ERA of 1.69, a 74-31 record, 31 shutout wins, and notched 903 strikeouts. She was also drafted into the NPF by the Beijing-Shougang Eagles. Watson was one of the main anchors for this program during her tenure, she kept them in dozens of games, and was a driving force behind many of the program's biggest wins. How will Tulsa fill this big hole left in the circle? And how does the 2019 campaign go while they figure it out if it's not solved quickly?
– SLOW AND STEADY
ECU and UConn have slowly been improving little by little and should be expected to have better 2019 campaigns. ECU welcomes four freshmen, a big transfer in Rachael McCollum, and little turn over from the 2018 roster. UConn only lost three student-athletes to graduation and welcome in five newcomers including one pitcher: Kylie Gavitt. With another year of experience under both teams' belt coupled with a majority of returners can both ECU and UConn piece together better campaigns in 2019?
– THE "EASY" ONE: 
An easy question anytime a program undergoes a coaching change is "how will it go?" both in the short and long term. The roster retains many faces from 2018 and are considered another top contender in the AAC. Junior ace, Alea White, will lead the Knights again in the circle but will she have more support this season? White pitched 266.2 of the 368 innings played in 2018. This lack of depth has hurt UCF and contributed to the program being left out of the NCAA the past two season.
– WANTED: NEW ACE, NEW BATTING CHAMP
The Tigers lose top hitter, Kyler Trosclair (.405 BA) and ace Molly Smith as well as a few other starters this coming season. Memphis also welcomes nine newcomers. In what could be considered a small transitional year, how will Memphis do? If a new ace can emerge; Bailey Smith and Delaney Smith put together another great season at the plate; and if the Tigers can increase production from the bottom of the lineup Memphis will give teams all they can handle in 2019.
PLAYERS TO WATCH:
Savannah Heebner (P – Houston): What else is there to say? Heebner is a stud who garnered Second Team All-American honors in 2018 and is poised for another strong campaign in her senior season.
Georgina Corrick (P – USF): The AAC's reigning Pitcher and Rookie of the year, Corrick was phenomenal and should only be expected to be better.
Bailey Lange (P/OF – Wichita State): The junior pitcher will need to be good again (if not better) this season to provide stability in the circle while the staff around her develops. Oh! And she also hits for the Shockers.
Alea White (P – UCF): An anchor for the Knights, White needs to be good again in 2019 but also needs to limit the free passes (92), if she can do that, she will be poised for another strong season.
Julia Hollingsworth (OF – Tulsa): Second in the conference in batting average (.380) and the conference leader in runs scored (55) this senior is a big time threat who has been incredibly consistent her entire career.
Lindsey Devitt (INF – USF): Third in the conference in batting (.379) the now senior should be considered a AAC Player of the Year front runner.
Bailey Smith (SS/OF – Memphis): Part of Memphis' "Smith Smash", Bailey Smith ended 2018 with the 4th highest batting average in the conference (.373) in just her freshman season. The Smith's will be fun to watch through their next three seasons.
Delaney Smith (OF – Memphis): Delaney Smith finished 5th in the conference with a .363 batting average in just her freshman season as well! Keep an eye on her and Memphis.
Rachel McCollum (UTL – ECU): A transfer from Campbell, McCollum was an NFCA All-Southeast Region selection in 2018 who will make an immediate impact at ECU. Last season she ranked in the top 30 nationally in five offensive categories: seventh in total bases (143), eighth in home runs (19), 15th in doubles (18), 18th in slugging (.808), and 29th in RBIs (56). With stronger pitching in the AAC it will be worth keeping an eye on McCollum to see how she adapts and if she can repeat her success.
PROJECTIONS
FPN PROJECTED CONFERENCE CHAMPION (REGULAR SEASON): Houston
FPN PROJECTED PLAYER OF THE YEAR: Lindsey Devitt (USF)
FPN PROJECTED PITCHER OF THE YEAR: Savannah Heebner (Houston)
FPN PROJECTED COACH OF THE YEAR: Kristin Vesely (Houston)