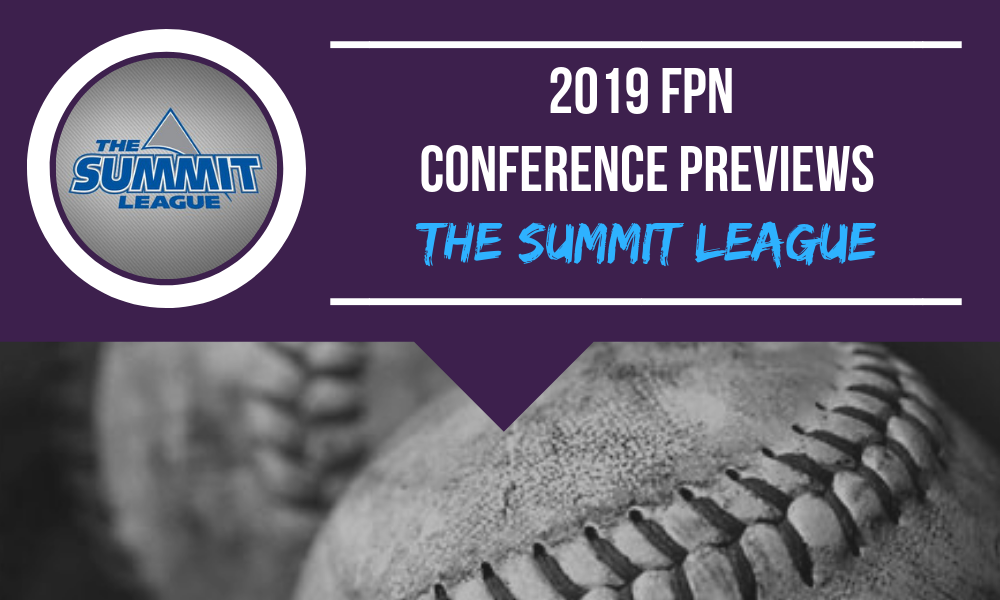 In 2018, The Summit League placed eight student-athletes on NFCA All-Region teams while NDSU claimed both the regular season and tournament championship titles to remain the dominating force of the conference. South Dakota State also had a historic season culminating with the programs first postseason appearance in its Division I era. Many of the conferences' big name student-athletes and statistical category leaders graduated in 2018 making The Summit League worth keeping an eye on as new stars emerge.
| TEAM | CONFERENCE RECORD | OVERALL RECORD |
| --- | --- | --- |
| NDSU | 10-3 | 34-19 |
| South Dakota State | 10-4 | 37-18 |
| Western Illinois | 9-6 | 17-31 |
| Omaha | 5-9 | 20-31 |
| South Dakota | 5-9 | 17-38 |
| Purdue Fort Wayne | 3-11 | 19-35 |
Catch up on all of our conference previews here: Big West, Big Ten, CUSA, Atlantic 10, Big Sky, CAA, Summit League, American, ACC.
TEAMS TO WATCH:
NDSU
The Bison of North Dakota State University have been "the" team to beat within the Summit in recent memory. Head Coach, Darren Mueller, enters his 18th season at the helm and has developed the recipe for success in Fargo, ND. that continues to produce champion programs year in and year out. In 2019, NDSU will yet again be the team to beat and always challenges the top national programs wherever it goes. 

OMAHA
This summer Omaha named Amanda Rivera-Eberhart the program's next head coach. Prior to taking over at Ohama, Rivera-Eberhart was at Purdue as an assistant coach, the head coach at IUPUI, an assistant coach at Indiana and NC State, and lastly served in volunteer assistant roles at both Northwestern and Illinois-Chicago. She also named legendary Nebraska pitcher, Tatum Edwards, to her staff.
Omaha adds 12 (yes, 12) freshmen to its roster this year but losses three of its four top hitters from 2018 (two to graduation, one to transfer). The Mavericks also lose two of its three key pitchers from 2018 to transfer. Aubrey Hacke (Summit League Freshman of the Year) and Laura Roecker both left the program after combining for 190 innings of work.
SOUTH DAKOTA STATE
After an amazing 2018 that rewrote SDSU's record books, can the Jackrabbits keep it going? SDSU competed in the 2018 National Invitational Softball Championship and reached the championship round before losing to eventual champion, LMU. This marked the program's first Division I postseason appearance.
The Jackrabbits finished 2018 with the highest-ever winning percentage (.673) and broke the 35-win mark for only the second time in program history. However, SDSU said goodbye to impact seniors Abbey Murphy (.415 BA), Brittney Morse (.396 BA), and Madison Hope (team ace).
BIGGEST QUESTIONS:
– LOOKING TO RELOAD, NOT REBUILD
NDSU losses its top two hitters as well as ace pitcher, Jacquelyn Sertic. The Bison were not the strongest offensive program in 2018 and Sertic kept NDSU in a lot of games, allowing the Bison to pull out victories. With those holes, there are some questions surrounding NDSU this season that are still to be answered. Can the Bison improve offensively from top to bottom? Can KK Leady and company step up to fill the void left by Sertic?
– VETERANS, ROOKIES, AND NOT MUCH IN BETWEEN 
SDSU enters the 2019 season with a roster made up of 23 student-athletes: nine seniors, one junior, four sophomores, and nine freshmen. When a roster is so lopsided like this one, it can be fun to watch the progression through an entire season! How will SDSU do with such a polarized roster? How many freshmen will be immediately impactful? Given SDSU's recent success and the success of the now senior class, how will those student-athletes perform as well as stepping up to lead in 2019?
– NEW ERA
How will year one under new head coach, Amanda Rivera-Eberhart go? Omaha will have the tough challenge of finding solutions to filling the big holes left in the lineup by the graduation of the 2018 senior class as well as a few transfers, including Summit League Freshman of the Year, Aubrey Hacke. Pitching will be the biggest unknown for the Mavericks but what can Tatum Edwards do with the young staff? How much improvement will we see in the circle?
– STRENGTHEN THE CIRCLE
If Western Illinois wants to be more competitive and push towards a .500 record, it must be stronger in the circle. In 2018, the Leathernecks posted a staff ERA of 4.67. While they lack the power of the long ball, offensively Western Illinois was pretty decent and posted a team batting average of .268. Can the Leathernecks improve its pitching and develop a true number two behind Emily Ira? If so, how much better of a season could be in store for Western Illinois?
– LEVELING UP
In 2018, South Dakota carried 11 freshmen on its roster. With a season of experience under their belt, are these now sophomores ready to step up and play bigger roles in 2019, especially in the circle? The Coyotes return a majority of its lineup that boasted the second highest batting average in conference (.283) and, if it can be better in the circle, could be posed for a much more competitive season.
– LOOKING FOR IMPROVEMENT
Purdue Fort Wayne also returns a majority of its lineup but holds a pitching staff made up of underclassmen including two freshmen. Biggest question for the Mastodon's is can it improve in all aspects of the game in 2019?
PLAYERS TO WATCH:
KK Leddy (P – NDSU): Leddy was the second arm for NDSU in 2018 throwing 114.0 innings, compiling a 3.19 ERA, striking out 92, and issuing 30 walks. Leddy should be considered a front runner for The Summit Pitcher of the Year and she is arguably the biggest key to the Bison's success in 2019. She will need to take on more innings while working to lower her ERA.
Hailey Duwa (INF – Western Illinois): Duwa ranked second in batting average (.359) for the Leathernecks in 2018. She also knocked in 32 RBIs and boasted a .437 on base percentage. Duwa has been steadily improving every year and if the trend holds true, she is poised to lead Western Illinois offensively and could have a legitimate case for Player of the Year honors.
Ali Herdliska (IF – SDSU): Another impressive bat for the Jackrabbits who may have been a bit overlooked is Ali Herdliska. Her 2018 stat line included stellar numbers like a .320 batting average, 10 home runs, 41 RBIs, and a .421 on base percentage. The punch of Herdliska and Julia Andersen could be deadly for opponents in 2019.
Julia Andersen (OF – SDSU): After an impressive 2018 campaign where Andersen boasted quite the stat line offensively, she should be watched as a front runner for the conference Player of the Year. Andersen batted .397, hit 19 doubles, notched 38 RBIs, and held an on base percentage of .453.
Maria Palmegiani (C/INF – Purdue Fort Wayne): As a sophomore Palmegiani hit .304, with nine doubles, hitting six home runs, notching 31 RBIs, and racking up 26 walks. Now an upperclassman, look for Palmegiani to only continue to improve.
Emily Ira (P – Western Illinois): Second in the conference in strike outs Ira pitched 152.1 innings, struck out 170 batters, and only issued 38 free passes. As the Leathernecks ace, carrying the load for Western Illinois is nothing new for the now senior. Can Ira continue to improve in 2019 and go out with a bang? OH! She also hits for Western Illinois, posting a .286 batting average in 2018.
Jessica Rogers (C – South Dakota): Another front runner for the 2019 Summit League Player of the Year, Jessica Rogers is a "do it all" offensive player for the Coyotes. She posted a batting average of .376, hit seven doubles, blasted 15 home runs, recorded 45 RBIs, and held a .454 on base percentage. The biggest chink in her armor? She has to limit her strike outs.
Emma Dargy (3B – Omaha): Dargy will be the highest returning hitter for the Mavericks in 2019 and she will need to continue leading Omaha at the plate. Her stat line in 2018 included a .273 batting average, six doubles, one triple, seven home runs, 19 RBIs, and a .409 on base percentage. Now a junior, can her new upperclassman status and experience propel her to even greater heights?
PROJECTIONS:
FPN PROJECTED CONFERENCE CHAMPION (REGULAR SEASON): SDSU
FPN PROJECTED PLAYER OF THE YEAR: Jessica Rodgers (SD)
FPN PROJECTED PITCHER OF THE YEAR: KK Leady (NDSU)/Emily Ira (Western Illinois)
FPN PROJECTED COACH OF THE YEAR: Krista Wood (SDSU)