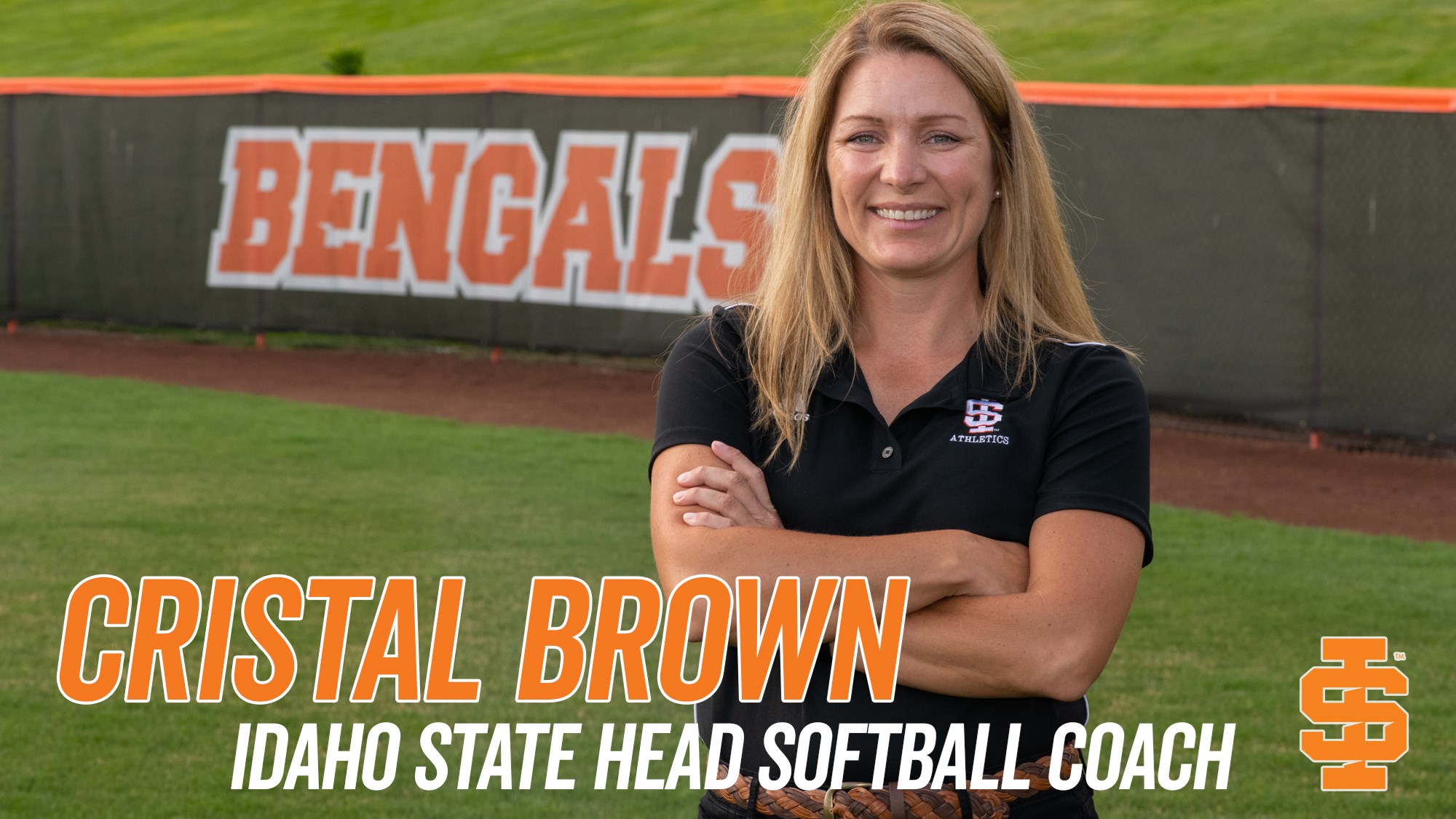 From Idaho State Athletic Department
POCATELLO, Idaho- Idaho State University has found its new softball coach. Director of Athletics Pauline Thiros has tabbed Cristal Brown as the new coach to lead the Bengal program. Brown comes to Idaho State after eight seasons as the head coach at Whitworth where she compiled a 221-124 record. She will be the eighth head softball coach in Idaho State history.
"We are excited to welcome Cristal to Idaho State University," Director of Athletics Pauline Thiros said. "She has achieved tremendous success in her coaching career and we expect to compete for championships under her leadership. Not only does she bring to Bengal Athletics what it takes to build upon the rich history of ISU softball, she has the right values and thehigh energy to build an excellent culture. She will make a profound impact on the experience, lives, and futures of our student-athletes."

Brown's coaching career is nothing short of success. She joined the Whitworth program in 2011 and after four seasons as head coach, Brown led the Pirates to three consecutive Northwest Conference regular season titles (2015-17). The 2015 season was the program's first-ever NWC regular season championship title as the team had an overall record of 31-12 and 21-7 in conference play which was a (then) school record for most victories in a season.
Following the 2016 NWC championship title, Brown led the program to their first NCAA Division III regional tournament appearance. The 2017 season would be the Pirates third consecutive NWC regular season championship, the first NWC tournament championship, and their second consecutive NCAA post-season tournament appearance. Whitworth went 2-2 in the NCAA regional tournament, earning the school's first NCAA tournament victories and an overall season record of 37-12. With this outstanding performance, Brown was selected the conference Coach of the Year in 2016 and 2017.
During the 2018 season, the Pirates finished third in the conference with a 24-18 overall record and went 17-11 in conference play. In 2019, Brown led the program to a strong second place finish going 31-11 overall and 23-5 in the NWC.
In addition to her coaching duties, Brown was also the faculty representative for the university's SAAC program which involves student athletes in NCAA legislation and also many community service events. She emphasizes academic excellence as the program earned top 10 GPA in the nation in 2015 and top three in 2016.
In her combined eight years at Whitworth,Brown led her team to seven consecutive winning seasons and an overall record of 221 wins and 124 losses.
"I feel honored that the leadership at Idaho State thinks I can come in and do great things with the program," Brown said. "I love the positivity that exists right now on campus and especially within the athletic department."
Through her first seven years, Brown had 30 players named All-Northwest Conference and 15 players receive NFCA All-Region honors. In 2016 Whitworth posted the third-highest team GPA in all of NCAA DIII softball and had 14 players recognized as scholar-athletes by the NFCA. In 2015 Megan John became the first CoSIDA Division III softball Academic All-American in school history.

Before her exceptional career at Whitworth, Brown was the head coach at Kingsburg High School for four seasons (2008-2011) in Kingsburg, California. During her time there, the Vikings went 101-29, won four Central Sequoia League championships, won a Central Section (CIF) crown in 2008, finished as Central Section runner-ups in 2009, and was a three-time Central Sequoia League Coach of the Year honoree.

Her coaching experience includes two seasons as the assistant varsity coach at Valencia High School where they were ranked number one in the nation as well as a two year stint as an assistant coach with The Master's College helping them attain a top 25 national ranking.

"The pool of candidates was expansive and impressive, but Coach Brown was the clear choice," Thiros said. "I am beyond proud to add her to the amazing staff of head coaches who are a critical part of our leadership team in athletics."
Brown was raised in California and is a former small-college All-American. She was an intimidating left-handed leadoff batter who utilized her wide range of skills. She could hit for power and also had the ability to slap her way on base using her speed. She was the Western State Conference Junior College Player of the Year in 1998 at Bakersfield JC before earning Second Team NAIA All-America honors at Azusa Pacific in 2000. During her time at Azusa she set single season records for games played (68), at-bats (234) and stolen bases (40 out of 44). Brown helped lead the Cougars to a 53-15 record, a GSAC crown and a runner-up finish at the NAIA national championship.
She received her Bachelor of Arts in History in 2001 from The Master's College in Santa Clarita California and went on to receive her Masters of Arts in Coaching and Athletic Admin in 2011 from Concordia University in Irvine, California.
"I can't wait to get there and contribute to the positive environment and bring some of that really good positive energy to the softball program," Brown said.

What People are Saying About Brown
"Cristal has worked her way through the college ranks and has proven to be successful. She is a relentless recruiter who knows how to win. I have no doubt she will be a fantastic leader for Idaho State. Every interaction I've had with Coach Brown she has always been a class act. I wish her much success and look forward to following her career."
Linda Garza
Fresno State Head Softball Coach
"I have known Cristal for many years and wherever she has been, she has been a tireless worker and highly successful. As you can see by her path of coaching, she has worked at all levels and paid her dues for this opportunity at the Division I level."
Brian Kolze
University of the Pacific Head Softball Coach

"Cristal's teams are extremely disciplined. Her combination of competitiveness, work ethic, and the desire to win separate her in the college softball world."
Dan Ramsay
Professional Scout for the Arizona Diamondbacks
–