COLLEEN SULLIVAN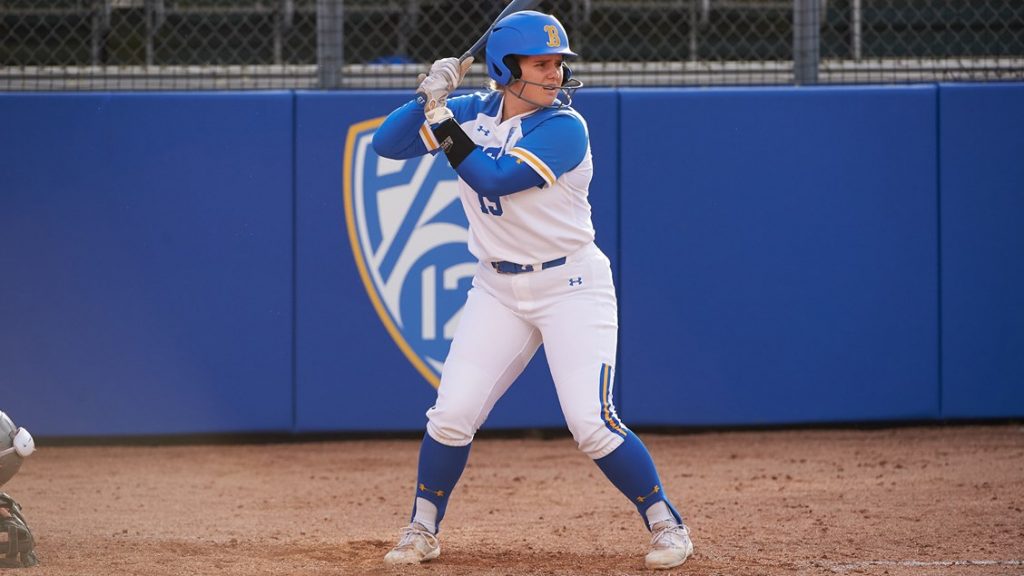 UCLA's Colleen Sullivan will suit up in the burnt orange next season in Austin, Texas.

Texas Athletics Release:
AUSTIN, Texas – Texas head softball coach Mike White announced on Tuesday the signing of UCLA transfer Colleen Sullivan(Sophomore/Catcher-First Baseman/Poway, Calif./Poway H.S.) to an ASA to join the Longhorns program heading into the 2019-20 academic year.
As a Pac-12 Conference All-Freshman Team selection in 2019, Sullivan played in 49 games with 32 starts at either catcher or first base for the eventual NCAA national champion UCLA Bruins. She batted .239 overall with 22 hits, 15 runs scored, nine extra-base hits, including five HR's, and 12 RBIs while walking 28 times (tied for second on the squad) and posting a .421 on-base percentage. The Poway, Calif., native registered four multi-hit and four multi-RBI efforts last season. Included were a 2-for-3, double, HR, two-RBI effort versus Hawai'i, a 2-for-3 performance with two runs scored, a double and two RBIs against Missouri and a 2-for-4 effort with a double, a HR and three RBIs in a matchup at Oregon State. She drew at least one walk in 21 of her appearances and registered a career-high four free passes during an April 6 match-up at Arizona State.

A standout at Poway H.S. and the No. 24 ranked player in FloSoftball's Class of 2018 national recruits, Sullivan was named an Extra Inning Softball First-Team All-American as well as All-California Interscholastic Federation (CIF)-San Diego Section, All-Palomar North County League and league player of the year, SoCal Sidelines All-San Diego and All-Southern California, PGF All-American and FloSoftball Second Team All-Southern California as a senior in 2018. During her final interscholastic campaign, she equaled the All-CIF-SDS record and broke the Poway H.S. mark for single-season HR's (17) while batting .500 overall with a school-record 33 intentional walks and 51 RBIs. She also helped guide her Titans squad to a CIF title as a freshman and a runner-up finish as a sophomore (she didn't play as a junior). She played travel ball for the Orange County Batbusters, finishing as an 18-under Premier Girls Fastpitch (PGF) runner-up in 2018 and a 14-U PGF champion in 2015.
CHARDONNAY HARRIS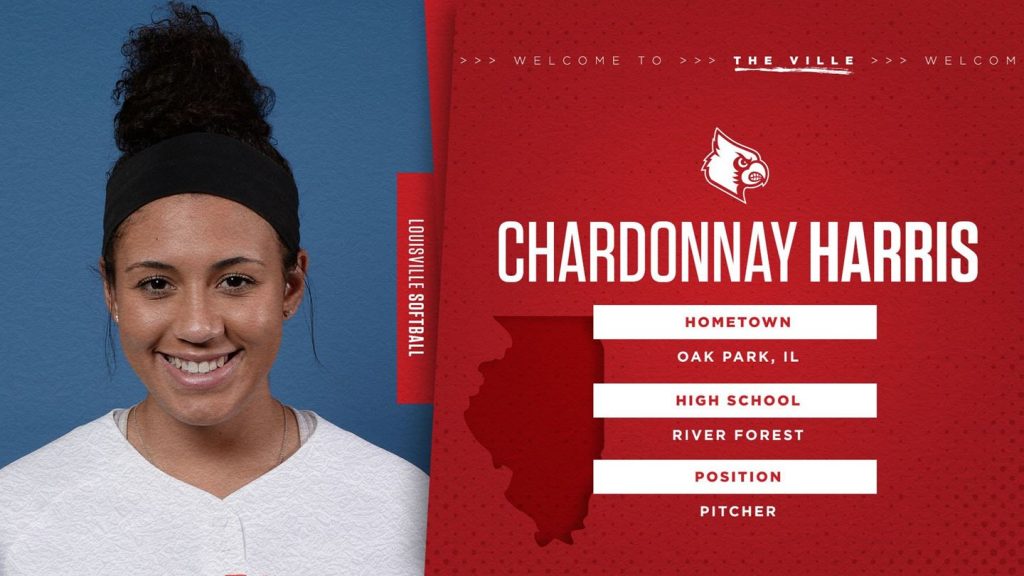 Former Auburn pitcher, Chardonnay Harris, lands closer to home as many speculated announcing her decision to attend Louisville.

Louisville Athletics Release:
LOUISVILLE, Ky. – University of Louisville head softball coach Holly Aprile has announced that Chardonnay Harris will join the Cardinals in the fall of 2019.

Harris (Oak Park, Ill.) comes to Louisville after two seasons at Auburn. The left-handed pitcher is coming off of a solid sophomore season in which she posted 11 wins and four shutouts while leading the team with 121 strikeouts in 106.0 innings. During the season, she registered four double-digit strikeout performances including a career-high 17 strikeouts in a win over then-No. 7 Florida. She also recorded complete game shutouts against No. 5 Tennessee and Missouri.
In her two seasons at Auburn, the Tigers posted 80 wins and advanced to two NCAA regional finals.
Head coach Holly Aprile on Chardonnay Harris: "We are thrilled to add a pitcher of Chardonnay's caliber to our staff. She adds a new dimension as a lefty and she brings a ton of great experience and poise to our already strong staff."
CARMYN GREENWOOD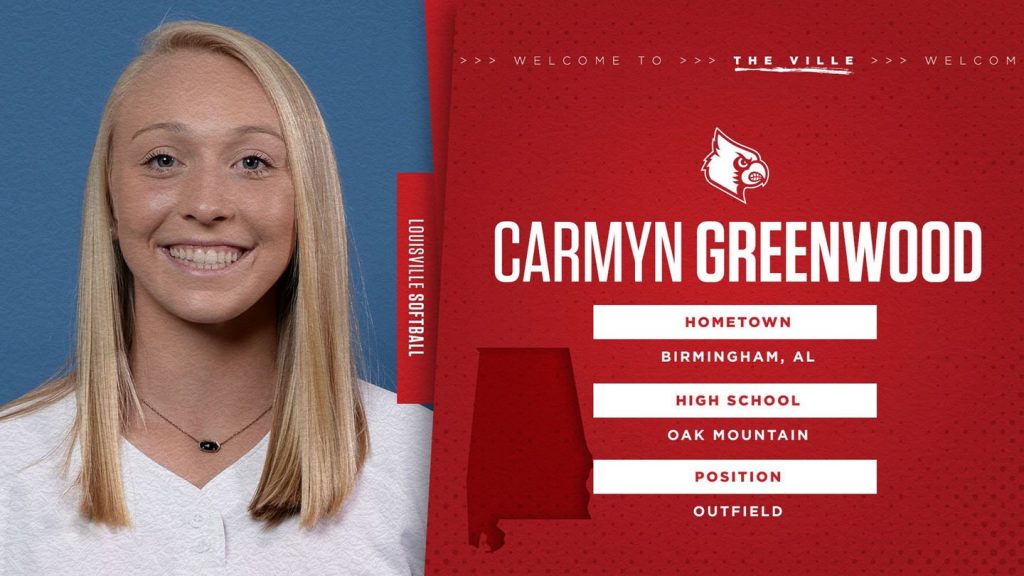 Former Auburn teammates will reunite in the Cardinals' uniform as Carmyn Greenwood will also transfer to Louisville this fall.

Louisville Athletics Release: LOUISVILLE, Ky.. – University of Louisville softball coach Holly Aprile has announced the Carmyn Greenwood will join the Cardinals in the fall of 2019.

Greenwood comes to Louisville after two seasons at Auburn. The outfielder played in 52 games for the Tigers last season and scored 19 runs while driving in seven to help her team to a 39-21 overall record and an appearance in the Tucson Regional.

In Greenwood's two seasons at Auburn, the Tigers posted 80 wins and advanced to two NCAA regional finals.

Head coach Holly Aprile on Carmyn Greenwood:"We couldn't be happier to welcome Carmyn to Louisville. In addition to her experience at the plate and in the outfield, her very positive and enthusiastic demeanor is going to add great value to our team. We are excited that Carmyn will get to finish her career in a Cardinal uniform alongside her sister, Cass."
MADISON PRESTON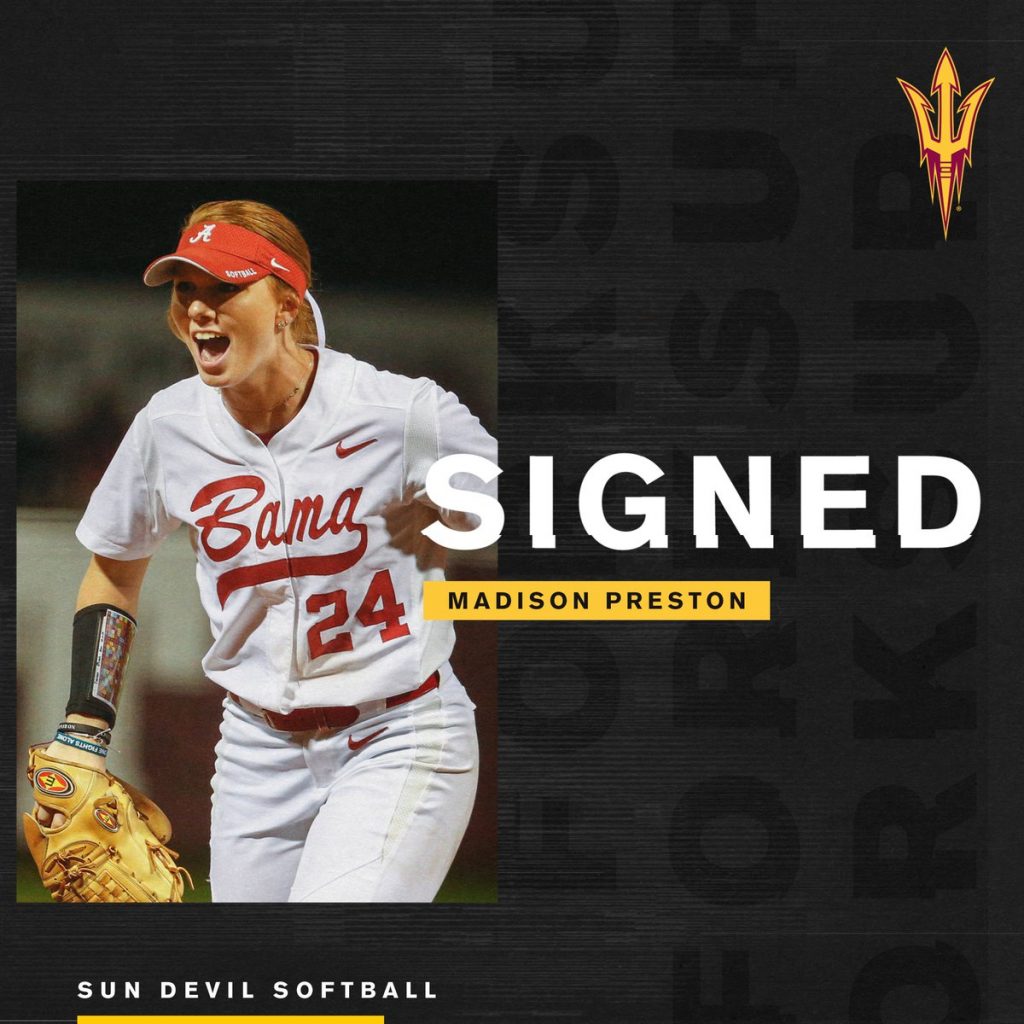 Arizona State deepens their pitching staff with the addition of former Alabama pitcher, Madison Preston.

Last season the Sundevils struggled in the circle posting a staff ERA of 4.64.

Alabama's pitching staff ran five deep and Preston saw limited work during the 2019 campaign throwing 12.2 innings and fanning 14 batters. During her freshman season she saw more action making 21 appearances with 12 starts, logging a 3.17 ERA.



MARIAH LOPEZ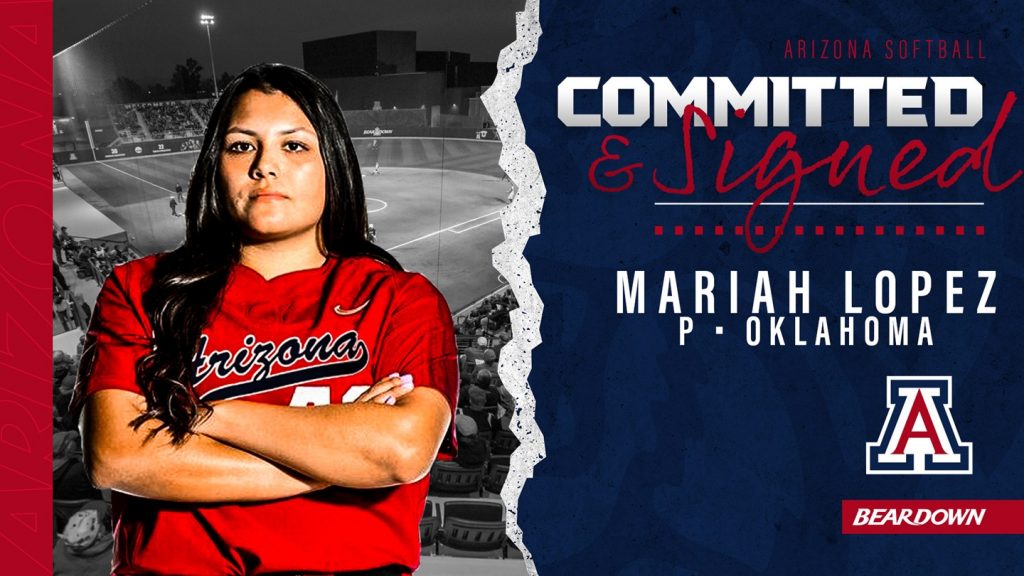 Mariah Lopez will dawn the Red and Blue of Arizona in her final season.

Arizona Athletics Release: TUCSON, Ariz. — Oklahoma's career winning percentage record holder and 2019 NFCA first-team all-region pitcher Mariah Lopez will transfer and complete her collegiate eligibility at Arizona, UA head softball coach Mike Candrea announced on Tuesday. Lopez will be a senior for the Wildcats in 2020.
"I'm excited to welcome Mariah to the Wildcat family," said Candrea. "She's a great fit on our team and will make an excellent addition to our already accomplished pitching staff. She brings Women's College World Series experience and comes to Arizona with already decorated collegiate career. She played with many of our current players in travel ball and has worked with Susie Parra, so there's a level of familiarity that you don't often get with transfers. I'm very excited to add Mariah and the incoming freshmen to our great group of returners and can't wait to see this team compete in 2020."
Lopez will join Arizona's excellent pitching staff, which finished sixth in the NCAA with a 1.61 ERA in Taryne Mowatt's second season as UA pitching coach.
Lopez went 51-2 with a 1.61 ERA in three seasons at Oklahoma and struck out 355 batters compared to just 55 walks in 295.0 innings pitched. She leaves OU as the career leader in winning percentage (.962), fourth in program history in strikeouts per seven innings (8.42), fifth in walks per seven innings (1.31) and 10th in opponent batting average (.191).
The 2019 NFCA All-Central Region first-team selection had her best season in an OU uniform as a junior in 2019, going 19-1 with a 1.25 ERA and holding opponents to a .159 batting average with 159 strikeouts in 117.2 innings pitched. She threw a pair of no-hitters in 2019, two of her seven shutouts on the season. Lopez ranked sixth nationally in hits allowed per seven innings (3.87), 11th in ERA (1.25) and 11th in strikeouts per seven innings (9.5).
Lopez pitched in a pair of Women's College World Series, including 2017 when she was the winning pitcher in OU's national-title-clinching-victory over Florida. The Saugus, California native was a finalist for NFCA Freshman of the Year and a Big 12 all-freshman honoree in 2017.
Lopez will join Arizona's solid returning core that includes four All-Americans and six all-Pac-12 players from a 48-14 team that advanced to the program's 23rd Women's College World Series in 2019.

TAYLON SNOW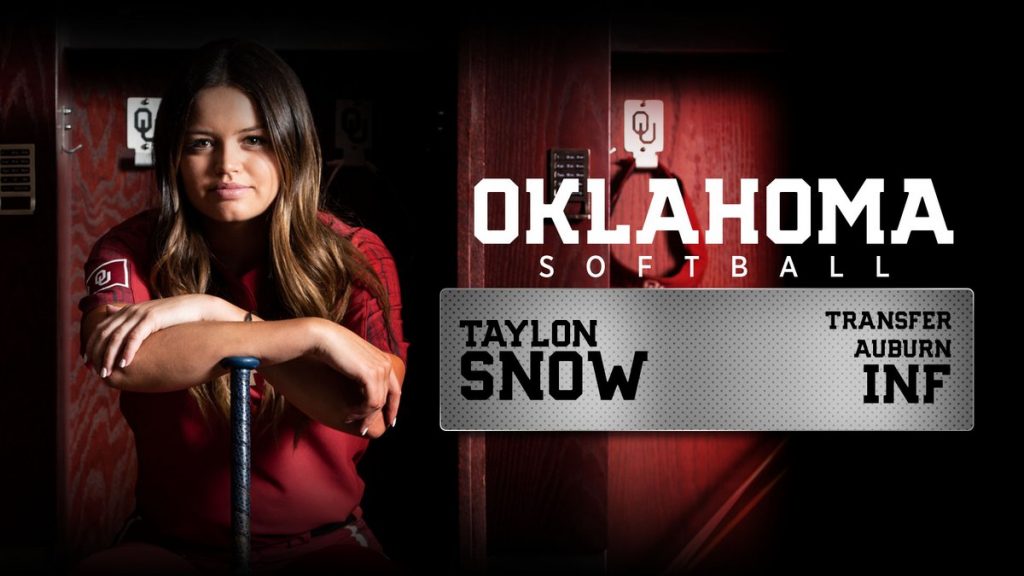 Another big departure from the Auburn Tigers' program, Taylon Snow will join the Oklahoma Sooners in 2020.

Oklahoma Athletics Release:NORMAN — Oklahoma head softball coach Patty Gasso announced Tuesday the addition of infielder Taylon Snow to the program for the upcoming 2020 season.
Snow, who will be a junior next year, comes to Oklahoma after spending the first two seasons of her career at Auburn.
"We are beyond thrilled to be adding Taylon Snow to the Sooner family," Gasso said. "Our fans will enjoy her athleticism and versatility. Her experience and leadership will be a great addition to the 2020 roster."
Snow started 52 games at shortstop for the Tigers in 2019, ranking third on the team with a .324 batting average. She finished the season with one home run and 27 RBIs while leading Auburn with 17 multi-hit games. Snow posted a .975 fielding percentage for the Tigers in 2019 and helped them turn 30 double plays, the most by any team in the SEC.
The Chino Hills, Calif., native tallied her 100th career hit on April 17 against Alabama State and slashed .324/.387/.359 during her sophomore season.
Snow was an All-SEC Freshman Team selection in 2018 after earning 47 starts at shortstop. Her .325 batting clip was good for second on the team as she tallied 49 hits, scored 26 runs and led the Tigers with three triples and seven doubles. She completed her freshman season with a .411 slugging clip and a .377 on-base percentage.
Snow will join a Sooners squad that is coming off its fourth straight Women's College World Series appearance and eighth consecutive Big 12 regular season title in 2019. OU will announce its fall schedule at a later date.
CARRIE EBERLE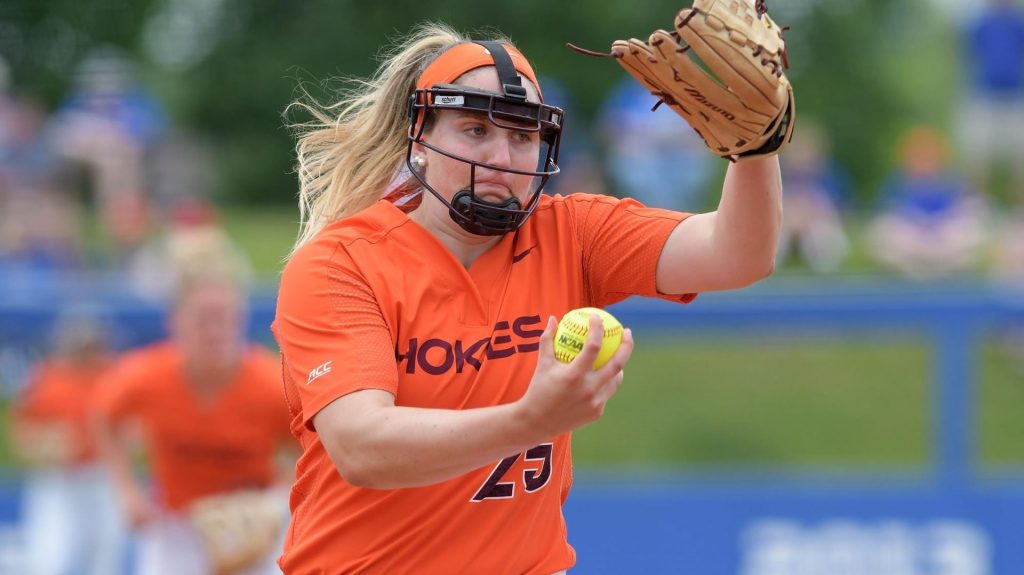 In news that surprised many, former Virginia Tech pitcher Carrie Eberle left the Hokies' program in search of a new team to complete her collegiate career.

Oklahoma State Athletics Release:STILLWATER – The Oklahoma State softball team, coming off its winningest season since 1994, continued to bolster its 2020 roster by signing Carrie Eberle from Virginia Tech on Monday.

She is the second ACC transfer from the state of Virginia to join OSU this summer after Virginia's Hayley Busby signed with the Cowgirls earlier this month.

Eberle, an incoming senior, was a frontline starter and a workhorse in the circle the past three seasons for the Hokies. She earned conference honors in all three campaigns, with selection to the ACC All-Freshman Team in 2017, the All-ACC Second Team in 2018 and was a First-Team All-ACC honoree in 2019.

Last season, Eberle was also named the ACC Pitcher of the Year for her dominance in the circle. She started 32 games and compiled a 25-8 record to go along with an impressive 1.84 ERA. The right-hander tallied 164 strikeouts in 201.1 innings pitched while holding opponents to a .236 batting average during her junior campaign.

The Charlotte, North Carolina, native gave up just six home runs last season and has allowed only 17 total in 542 career innings of work.

Aside from overpowering batters, Eberle also has had tremendous success in the classroom. The incoming senior was named the ACC Softball Scholar-Athlete of the Year last season, has earned CoSIDA Academic All-District honors the past two years and was selected to the conference's All-Academic Team both in 2017 and 2019.

Prior to her collegiate career, Eberle was a four-year letterwinner at Catholic High School and was named The Charlotte Observer Softball Player of the Year. She was named to the All-State and All-District team four times in high school.

Eberle is the daughter of T.J. and Missie Eberle and has one brother, Joey. She was majoring in biology at Virginia Tech and wants to be a forensic scientist or a medical examiner in the future.

For more information on Eberle and the rest of the 2020 OSU softball roster, visit okstate.com.
MAKINZY HERZOG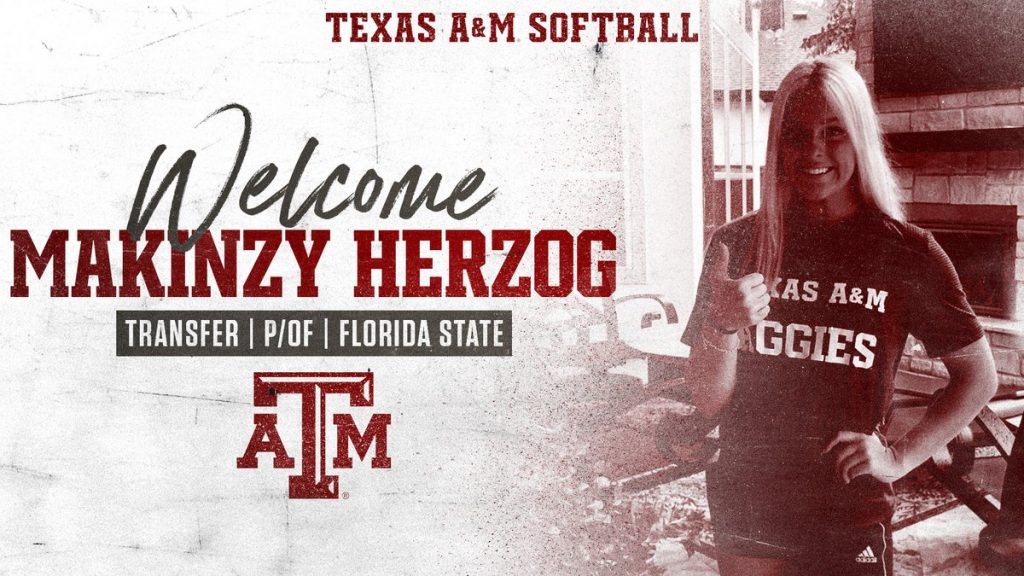 Highly touted prospect Makinzy Herzog will rejoin former Florida State coach, Craig Snider at Texas A&M.

Texas A&M Athletics Release: COLLEGE STATION, Texas – Texas A&M softball head coach Jo Evans has announced the addition of transfer pitcher/outfielder Makinzy Herzog.

Herzog, a sophomore from Missouri City, Texas, is eligible to compete immediately for the Aggies and has three years of eligibility remaining.

"I am excited to welcome Makinzy into our Aggie Softball Family," Evans said. "Makinzy is a versatile athlete with great speed and athleticism. She pitches, plays outfield, hits for power as well as slaps and drags. She had a very successful freshman year at Florida State and gained valuable experience from a great coaching staff.

"Makinzy comes from a family of Aggies; her parents David and Stacy and her sister, Morgan, are all proud Aggies. Makinzy is a great addition to our program and will make an immediate impact."

As a freshman, Herzog played in 56 games for Florida State, registering a .316 batting average with three home runs, 12 doubles and 26 RBI. She belted the first grand slam of her career en route to the Seminoles' victory over USF in the Tallahassee Regional.

Herzog made 21 appearances in the circle, posting a 10-2 record with 58 strikeouts and a 1.56 ERA in 71.2 innings. The right-hander ranked fifth in the ACC with a 2.03 ERA and held a 5-0 record in conference play, helping the Seminoles clinch their sixth-consecutive ACC Championship.

Her performance in 2019 earned her a spot on the All-ACC Freshman Team as well as the NFCA Southeast All-Region Second Team.

"I am excited to become an Aggie and embrace all of the traditions that come with it," Herzog said. "I can't wait to get out on the field again and play with a couple of my former teammates. I am hoping to be able to contribute and help the team get back to the Women's College World Series. Gig 'em!"

Herzog's older sister, Morgan, was a member of the Aggies' 2015 signing class and was a team manager for the 2018 and 2019 seasons.

The Aggies are coming off a 28-27 season and their 18th-consecutive appearance in the NCAA Championships.

BROOKE YANEZ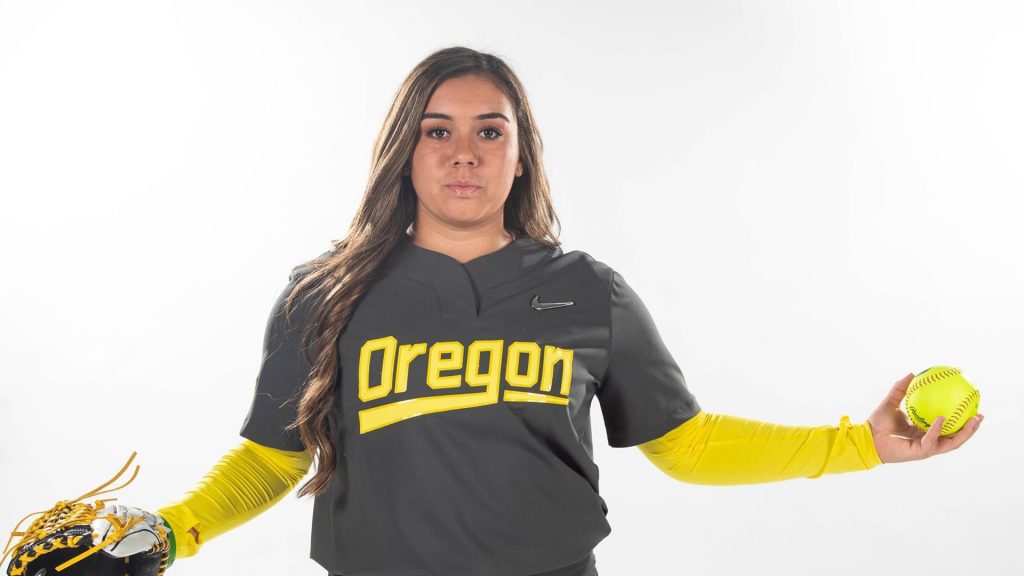 Oregon Athletics Release:EUGENE, Ore. – Oregon softball head coach Melyssa Lombardi bolstered the Ducks' pitching staff in a big way on Monday with the addition of left hander Brooke Yanez, the 2019 Big West pitcher of the year.

Yanez, who shined at UC Davis the last two seasons, will join the Ducks this fall as a junior and will be immediately eligible to compete for Oregon in 2020.

"Brooke is a huge addition for our pitching staff and our program," said Lombardi. "She is an intense competitor who knows how to win, and she has a fearless approach on the mound. She creates a ton of spin on her ball, which allows for sharp break and constantly keeps hitters guessing. Brooke is a tremendous young woman who Duck fans will love watching over the next two seasons."

A Ventura, Calif., native, Yanez was stellar as a sophomore en route to being named the top pitcher in the Big West and an NFCA all-region first team selection. Yanez posted a 25-7 record and ranked fourth in the nation with a 1.03 ERA, and she was seventh nationally with 273 strikeouts across 203.2 innings pitched. The southpaw held opposing hitters to just a .179 batting average and surrendered only five home runs and 67 walks.

Yanez burst onto the collegiate scene as a freshman in 2018, going 15-11 with a 1.75 ERA and 190 strikeouts in 187.2 innings while earning Big West freshman pitcher of the year honors. In her career, the lefty owns a 40-18 record and a 1.38 ERA with 463 strikeouts in 391.1 innings pitched. A right-handed hitter, she also showed an ability to handle the bat at UC Davis, blasting five home runs with 13 RBIs in 70 at-bats last season.

A 2017 Buena High School graduate, Yanez went a perfect 19-0 with a 0.58 ERA and 214 strikeouts as a senior and hit .397 with 11 home runs while earning league MVP honors. Yanez was a four-time first-team all-league selection and was also the CIF Division IV player of the year in her final season, during which she threw a perfect game with 18 strikeouts.

Yanez will bolster an Oregon pitching staff that includes rising junior Jordan Dail, who threw a whopping 248.0 innings while carrying the load for the Ducks in 2019, as well as highly-touted freshman Makenna Kliethermes, the Missouri Gatorade player of the year out of Blair Oaks High School.
———————————————————–