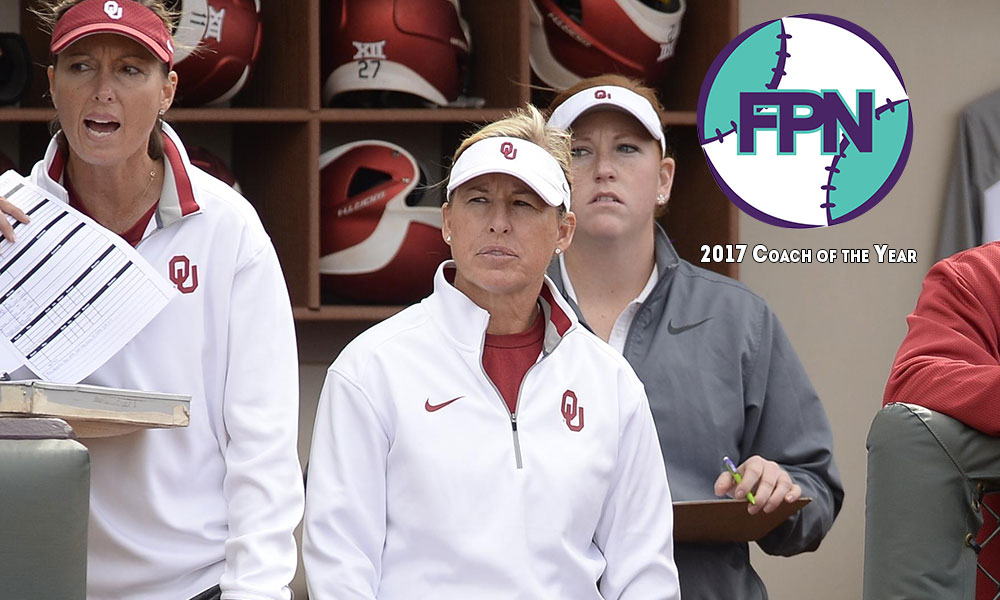 Following their back-to-back National Championship title last week at the Women's College World Series, Oklahoma head coach Patty Gasso has been named the 2017 Coach of the Year by Fastpitch News.
The Oklahoma Sooners clinched their third National Championship in the past five seasons under Coach Gasso not even a week ago. The Sooners finished the 2017 season with a 61-9 overall record. Seven of the nine losses occurred early on in the season during pre-season play. Coming off being crowned Champions last season, the Sooners lost the first game of the year to Auburn in a 3-2 battle. They also lost to Washington 1-0 that same weekend.
Anyone who is familiar with the Oklahoma softball program and Head Coach Patty Gasso knows it's not about how you start but rather how you finish. The Sooners are known for peaking during the season at the right time, it's what they do best and it's exactly why they have earned back-to-back National Championship titles.
The Sooners won the regular Big 12 season as well as the Big 12 Tournament before heading into post-season play. After losing the Regional Opener at home to NDSU, Oklahoma went on an 11 game win streak and remained undefeated for the remainder of the season.
They entered the Women's College World Series as the No. 10 seed and came out on top after downing No. 1 Florida twice (the first game went 17 innings), to secure the National Championship and bring the trophy home to Norman.