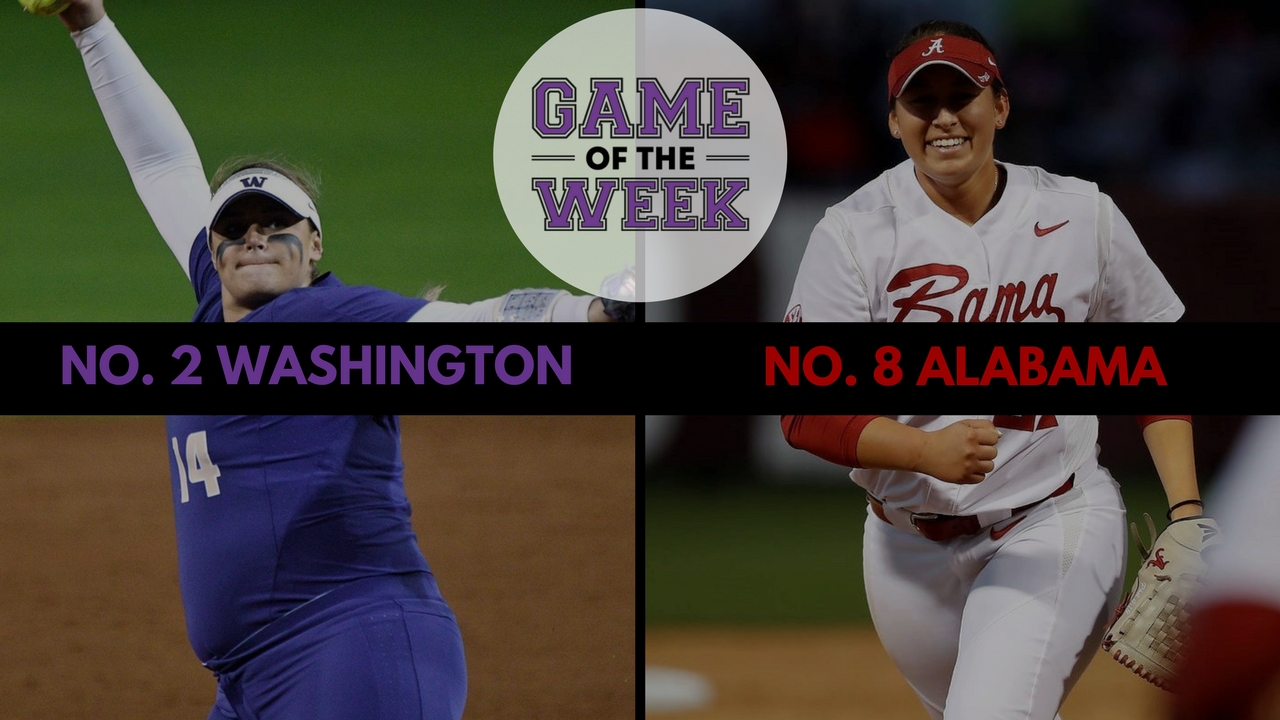 The FPN game of the week again will feature two top 10 teams. It will also be the second straight week where we have the Pac-12 facing the SEC when No. 8 Alabama heads west and will face No. 2 Washington twice. Some were upset that we did not have Washington in the top spot in the rankings and this weekend should be a great test for the Huskies. Alabama enters the weekend with a 10-2 record and split with then No. 4 Florida State. Game one will be played tonight at 6:45 PM EST and game two will be Saturday at 8:00 PM EST. You may be able to watch here.
At the Plate
Washington has been red hot to start the season. With that said, it should be noted, that they have yet to face the caliber of pitching they will see from the Tide. None the less, they enter the weekend with the fourth best team batting average in the country (.389) and sit second for home runs per game (1.78). Senior Kirstyn Thomas has been a force at the plate thus far. Thomas is batting .579 with ten home runs and 26 RBI's. She carries a slugging percentage of 1.281 as well. Taylor Van Zee has been nearly as impressive hitting .492 with 20 RBI's and 61 runs. Sis Bates is also sitting above .400 with her .483 average and 18 RBI's. As a team, they have already hit 32 home runs on the season. They have power, speed and the ability to move runners, all of which makes them dangerous.
Alabama has not displayed nearly the same level of offensive prowess that the Huskies have. Coming into the weekend they have just 11 home runs. They have scored less runs as well, but they have played fewer games also. What they have been, is relatively consistent. Five of their everyday starters are batting above .300 in Caroline Hardy (.381), Gabby Callaway (.379), Peyton Grantham (.375), Bailey Hemphill (.310) and Kaylee Tow (.310). Tow leads they tied in home runs with three while Hemphill leads the team in RBI's with 11. On paper, it is pretty clear which team has the advantage at the plate.
Advantage: Washington
In the Circle
Washington has shown they have depth in the circle with a combined team ERA of 0.65 so far. Staff ace Taran Alvelo (9-0) has pitched nearly half the innings (52), but the other two Gabbie Plain (5-0) and Samantha Manti (4-0) also have impressed. Alvelo has allowed just three runs while striking out 82. Plain has allowed four and struck out 41 while Manti has only allowed five runs. There is not a lot to say other then the one possible weakness is that they have allowed a fair amount of walks so far. But even that is being a bit nit-picky.
In this area, the Tide are right there with the Huskies. As a staff, they come in with a 0.86 ERA through 12 games. They have split their innings to this point pretty evenly with staff ace Alexis Osorio (27), Madison Preston (25) and Courtney Gettins (21). Osorio (3-1) continues to be tough to hit, as she has her entire career, holding opposing batters to just a .141 average and striking out 38. Preston (3-1) has been consistent and holds a 0.84 ERA. Gettins (4-0) who transferred in from Florida Southwestern has yet to lose and has shown poise in the circle.
Advantage: Draw
Opinion
As stated, on paper, the Washington Offense should provide the Huskies a distinct advantage. But, as also said, they have not faced the likes of Osorio yet. By all accounts, Washington seems to be the team to beat this year. They are playing at such a high level right now on both sides it is hard to see them slowing down. Alabama does what it has always done, they find a way to win ball games. They are good at exploiting mistakes and manufacturing runs when they need him. The potential match-up of Osorio vs. Alvelo should be an instant classic. Washington could find themselves in a place they have not been too much this year, a low scoring one run type of game. The edge is to Washington being at home, but we will not be surprised to see the two split games.
Pick: Split