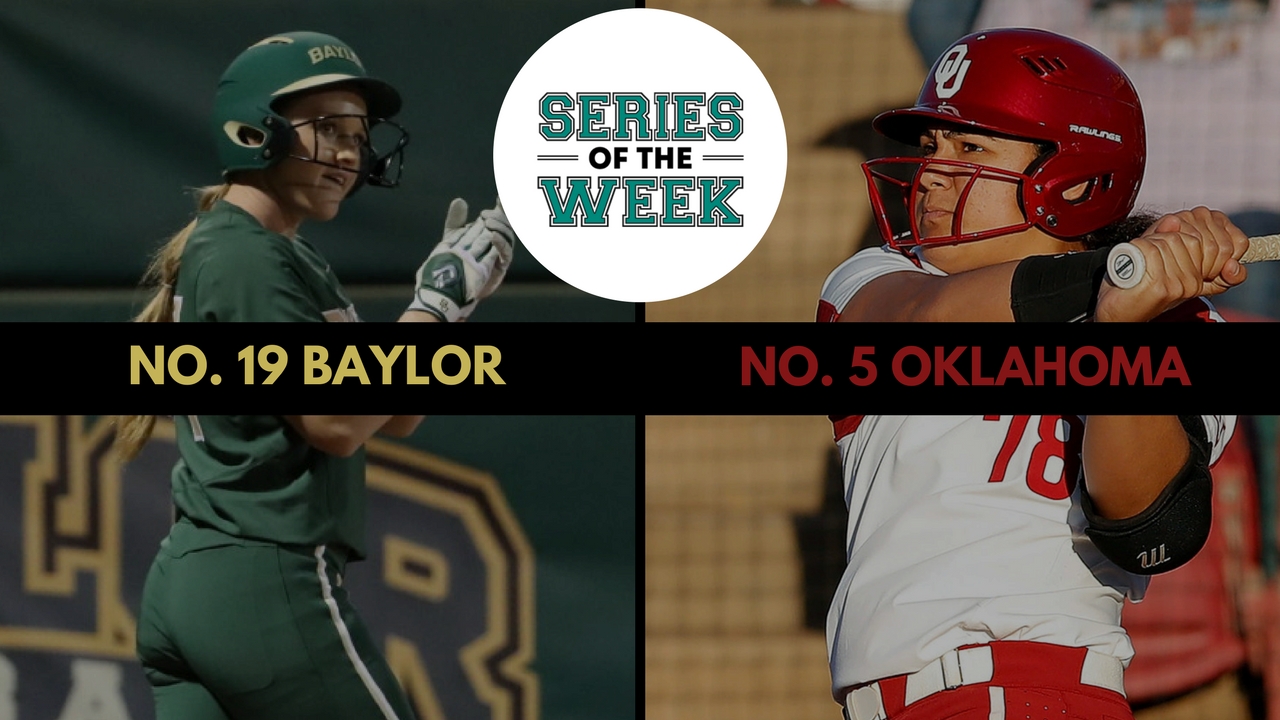 This week we look towards the Big 12 in a key conference match-up between No. 5 Oklahoma (28-2) and No. 19 Baylor (20-6). This may be the last real test for the Sooner this season, with the exception of a one-off game against No. 2 Oregon on April 19, 2018. Oklahoma comes into the series with the longest current win streak in DI with 19 straight. Baylor has been playing well, but they have lost a few that surprised us. Game one will take place Thursday night at 6:30 PM in Waco, TX. Game two is Friday at the same time with Game three is Saturday night at 6:00 PM. The first two games can be seen on FSSW+ with Saturday's game being live on ESPN.
At the Plate
It is rare that this late in the season we see a series where both teams have batters hitting above .500. Well, we get that here. For Baylor, it is Jessie Scroggins who enters the series batting .545 with 26 runs and 17 RBI's on the year. She also has swiped 11 bases thus far. Sophomore Goose McGlaun has been the main source of power for the Bears with eight home runs on the year good for a team-leading 26 RBI's. Overall the Bears have been swinging it with six of nine starters batting above .300. What they have not shown much of is power with just 17 long balls so far this season. The issue for them in some of their losses is consistency at the plate. They will be facing a pitching staff who leads the nation in ERA so they will have to be at the top of their game.
The Sooners come in batting .341 as a team with 41 homers on the year. Leading the way is a freshman Jocelyn Alo who is batting .488 with a 1.134 slugging percentage. She also has 16 home runs and 40 RBI's. With that said, she does not even have the best average on the team, that would be Sydney Romero who comes into the series hitting .505 with eight home runs and 37 RBI's. The Sooners have seven everyday players batting above .300 which makes them tough on opposing pitchers. Scoring runs have not been an issue as they have outscored their opponents 214-27 this season.
Edge: Oklahoma
In the Circle
Baylor comes into the series carrying a 1.99 ERA which is solid. Leading the way is Gia Rodoni (12-4) who has pitched more than half of the total innings (90.1). Her current ERA sits at 1.78 with 123 strikeouts on the year. The Bears have also looked to McGlaun (3-1) and Regan Green (5-1). McGlaun has started three games and carries a 2.02 ERA. Green has started nine and has a 2.06 ERA over 47.2 innings with 36 strikeouts. It will be interesting to how head coach Glenn Moore uses the three to try and knock the Sooners off balance.
Oklahoma, as stated earlier, has the lowest ERA (0.80) in the country. There is no lack of depth for the Sooners who essentially have what most would consider four aces. Longtime ace Paige Parker has the most starts (15) and a 15-1 record on the season. Over 81.1 innings of work, she has 106 strikeouts. Mariah Lopez (8-0) has nine starts on the year and holds a 1.35 ERA with 51 strikeouts. Coach Gasso has used WCWS hero Paige Lowary (3-1) primarily as a closer, a role she excelled at last season. Lowary has 20 appearances with three saves over 38.1 innings with 31 strikeouts. The Sooners also have the option of turning to Missouri transfer Parker Conrad (1-0). Conrad has a 0.98 ERA with 20 strikeouts over 21.1 innings of work.
Edge: Oklahoma
Opinion
This is an interesting match-up in the sense that they both are coming off great seasons a year ago and may be heading in different directions. Baylor has played a bit of a tougher schedule and Oklahoma seems to be just getting better each week. Matter of fact this seems to be set up just like the past few seasons have. They take a few losses early but just seem to peak as the season goes on. Baylor will be a good test for the Sooners and should help us gauge if they are on the same path they have been on in the past. We know the Sooners have the pitching and by all accounts, they seem to be even more dangerous offensively than the past two seasons. As is the case with any conference rivalry, both teams should leave it all out this weekend. On paper this should be the Sooner's to lose.
Pick: Oklahoma Sweep