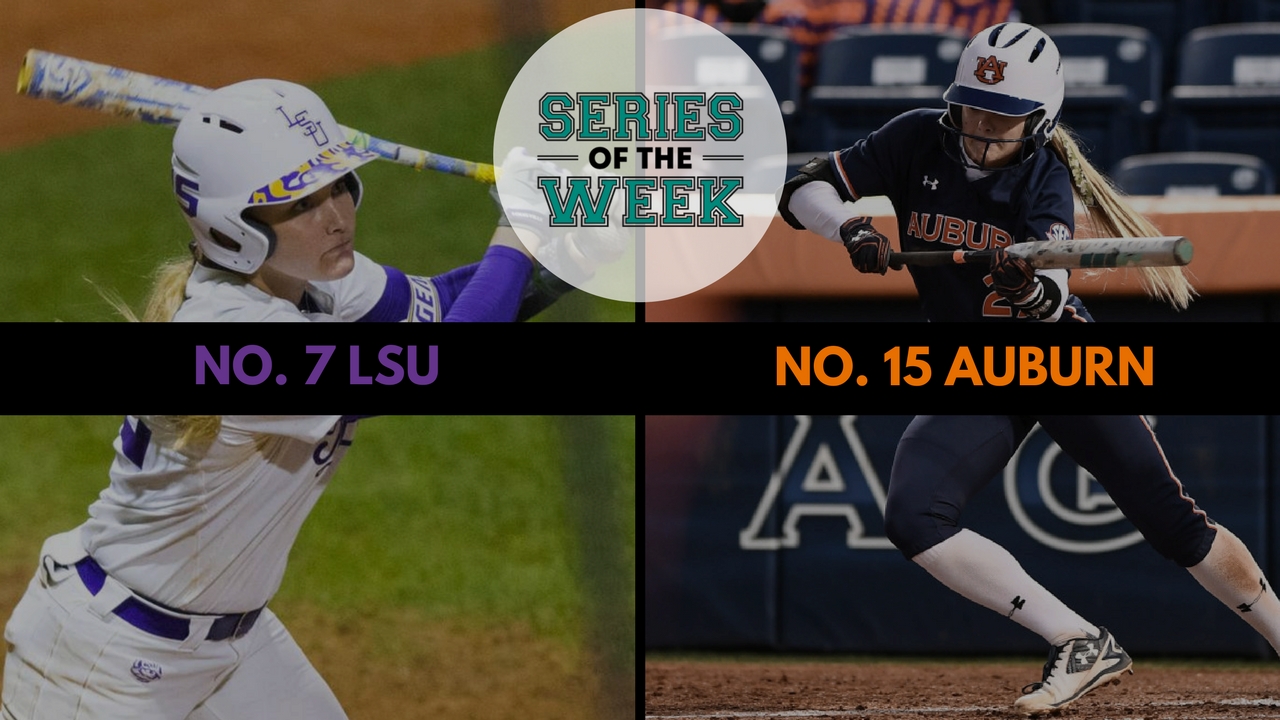 The regular season is kicking into high gear, which means that conference action is also kicking in. Our for "Series of the Week" will look at a top 25 match-up in the SEC when No. 7 LSU welcomes No. 15 Auburn for three games at Tiger Park. They will play Friday (6:00 PM EST), Saturday (7:30 PM EST) and Sunday (4:00 PM EST). The Saturday game will be live on ESPN2.
Both teams come in with similar records, LSU sits at 19-2 while Auburn is 23-2. Coming into the weekend, LSU is 0-2 against current FPN top 25 teams, and Auburn is 0-1. That will change this weekend as one of the has to win. That is one reason we chose this for the series of the week; the results will give us a good idea where these two stand not only in the SEC but nationally as well. Both teams are also riding five-game win streaks.
At the Plate
On paper, there is not a lot of separation between these two teams. LSU as a team is batting .282. They also have not displayed a lot of power hitting just ten home runs thus far with a team slugging percentage of .400. Leading the Tigers is sophomore Amanda Doyle who is batting .448 with three home runs and 25 RBI's. Doyle is ahead of herself compared to last season where she hit .236 with four home runs and 26 RBI's all season. Another sophomore Aliyah Andrews is also off to a good start hitting .359 with a team-leading 18 runs and 19 stolen bases. The other player hitting over .300 is Amber Serrett (.340) who is second on the team in RBI's (17). After that, they are still looking for some of their veterans to get things going at the plate. They will face a tough pitching staff this weekend as well. We will have to wait and see who else will emerge at the plate and help the Tigers cause.
Auburn is slightly ahead at the plate coming into the weekend batting .335 as a team with 19 home runs. The good news for them is that six of their nine everyday players are hitting above .300 and three are at or above .400. Speed is becoming more and more part of the game and Victoria Draper is an excellent example of that. Draper is batting .550 with 30 runs and 29 stolen bases so far this year. She also carries a .680 on-base percentage. Taylon Snow is hitting .431 with three home runs, and 16 RBI's and Courtney Shea (.400) has two home runs and 21 RBI's. Sophomore Justus Perry (.366) leads the team in RBI's (26) and has three home runs on the season. Leading Auburn in home runs is Kendall Veach (.266) with five on the season. Veach swings big but is also prone to strikeouts leading the team with 15.
Advantage: Auburn
In the Circle
Two seasoned veterans anchor the LSU staff in Carly Hoover (7-1) and Allie Walljasper (8-1). Last season Hoover appeared to be battling through an injury all season long, this year she looks healthy and is pitching well. On the year she has a 0.65 ERA with 65 strikeouts over 54 innings of work. Walljasper is right there with Hoover and carries a 0.93 ERA with 51 strikeouts. As a team opponents are hitting just .162 against them. We expect that these will be the two pitchers you see this weekend. Sophomore Maribeth Gorsuch has four starts and is 3-0 on the season with a 2.05 ERA. Pitching is the strength of LSU, and they will rely heavily on that in this series.
It is uncanny how similar these two teams are built this year, much like LSU, Auburn looks to two veterans as well in Kaylee Carlson (11-0) and Makayla Martin (9-1). Carlson has been good posting a 0.60 ERA with 63 strikeouts over 69.2 innings of work. Carlson holds a 1.23 ERA with 54 strikeouts over 57 innings of work. As a unit opponents are hitting just .176. Pitching is also currently the strength of Auburn. Although they have used other pitchers in games, nobody else has started a game this season.
Advantage: LSU
Opinion
Coming into the weekend, we expect to see three pitching duals. Whenever we say something like that, the scoreboard gets lit up like a Christmas tree. Both teams have not been overly impressive at the plate, but both have strong pitching staffs. When this is the case, it comes down to timely hits and errors or walks. Both have had a few issues on the field at times with LSU having committed 16 errors so far and Auburn 17. Again, no clear advantage either way. Auburn holds a slight edge in free bases. Carlson and Martin have allowed just 18 combined walks while Hoover and Walljasper have allowed 24. As it relates to timely hitting, Auburn has been better at the plate so far this season. We do not think a sweep is in the cards; both teams are just too good in the circle.
Pick: Auburn wins two of three