College Softball News
FSW's Rebeca Laudino Shatters All-Time Collegiate Softball Record with 49 Game Hit Streak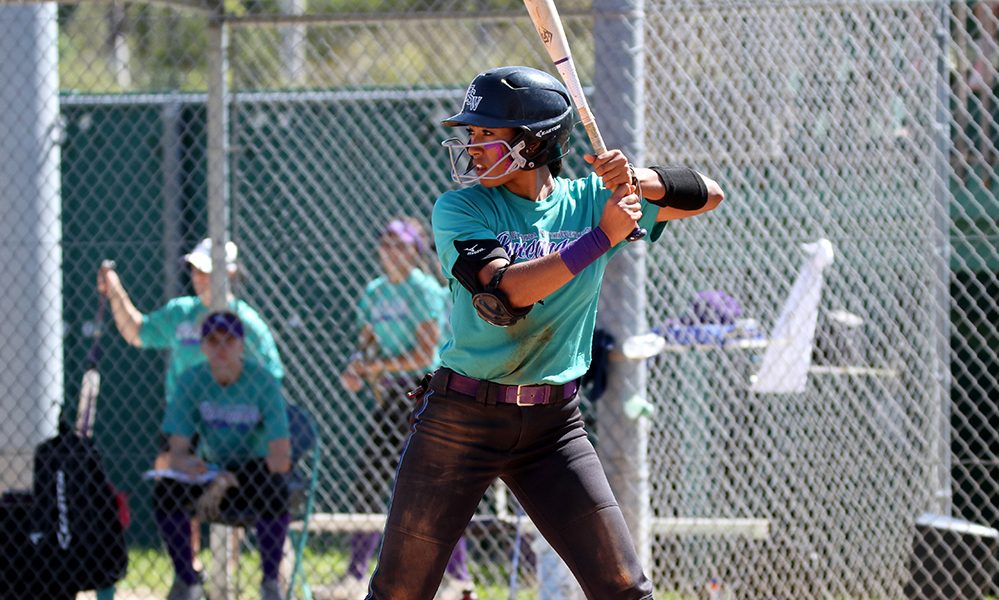 Courtney of Florida SouthWestern Communications Office and Roy Allen
FORT MYERS, FLA.- Before Florida SouthWestern State freshman Rebeca Laudino was old enough to pick up a softball bat for the first time, the collegiate record for consecutive game hit streak was set at 44 games by Moravian's Heather Bortz.  Last week, Laudino shattered that 15 year old record, recording a hit in her 49th straight contest to set a new all-time collegiate softball record. 
Laudino's journey to the nation's top ranked team wasn't a typical one. A native of Sao Paulo, Brazil, she made the long trek from the world's fourth largest city to the beaches of Fort Myers to play for the Buccaneers this season. Uniquely wearing number 89, Laudino has provided FSW Head Coach Robert Iamurri with a unique skill set atop his batting order this season, combining blazing speed and precision bat control with some of the best power on the team.
Her streak began rather inconspicuously as she notched a pair of hits in each of the Bucs first two games of the year, but then didn't record another multi-hit effort until FSW's 10th game of the year when she had three hits in a big win over then #14 Salt Lake. She really caught fire in the middle of February when she put together nine straight games of two or more hits and then after a mere one hit game, started another long multi-hit game streak, earning her both NJCAA and Fastpitch News National Player of the Week awards. Her hitting streak hit 40, in late March against rival State College of Florida, still mostly undenounced to anyone in Bucs land who was more focused on their 39-1 overall record than the personal accolades of one of their stars. A two hit game against Polk State tied the NCAA Division I record of 43 games, held by Coastal Carolina's Sara Graziano since 1994. In the Bucs next contest she was a perfect 3 for 3, matching the all-time collegiate mark across all levels at 44, set by Bortz in 2004. Looking to break the record, Laudino's chances were fading in game two of the Bucs doubleheader with St. Petersburg as she was 0-2 with a walk after five innings of play, but with one out in the sixth inning, in her final at bat of the contest, she crushed an RBI double off the wall in left to keep the streak alive and set the all-time record at 45 straight games with a hit. She didn't stop there, recording hits in each of the Bucs next four games, including a pair of three hit games against SCF to all but seal the Suncoast Conference title for FSW.
Laudino's 49 game hit streak came to an end in about the most unselfish way as possible, as in a tie game in the seventh inning against Hillsborough on Saturday, she didn't try to take a big rip with three balls, in likely her last at bat of the contest, but she left it low for a leadoff walk, and eventually scored the game winning run for the Bucs in a 3-2 walk off victory.
Unaware of the streak until after she had already broken the record, Laudino took the news in stride saying "I am not really going to try to do anything different. I am the leadoff hitter, so it is my job to get on base any way that I can, whether that is bunting, slapping, or hitting."
Laudino has expectedly put together video game like numbers during the streak, ranking second the country in hits with 87 and runs with 74, and is third in the nation in batting average at .534. She has 16 extra base hits including four home runs and has also driven in 34 from her leadoff spot. She has struck out just four times in her 184 plate appearances on the season.
Laudino will look to get another streak going for the 49-1 Buccaneers tonight as they travel to South Florida State looking to wrap up their fourth straight outright Suncoast Conference Championship.
LONGEST DIVISIONAL HIT STREAKS IN COLLEGE SOFTBALL HISTORY
NCAA Division I- 43- Sara Graziano- Coastal Carolina- 1993-94
NCAA Division II- 41- Katelyn Lovato- Adams State- 2010-11
NCAA Division II- 44- Heather Bortz- Moravian- 2003-04
NAIA- 33- Niki Cook- Georgia Gwinnett- 2017
NJCAA- 49- Rebeca Laudino- Florida SouthWestern- 2019