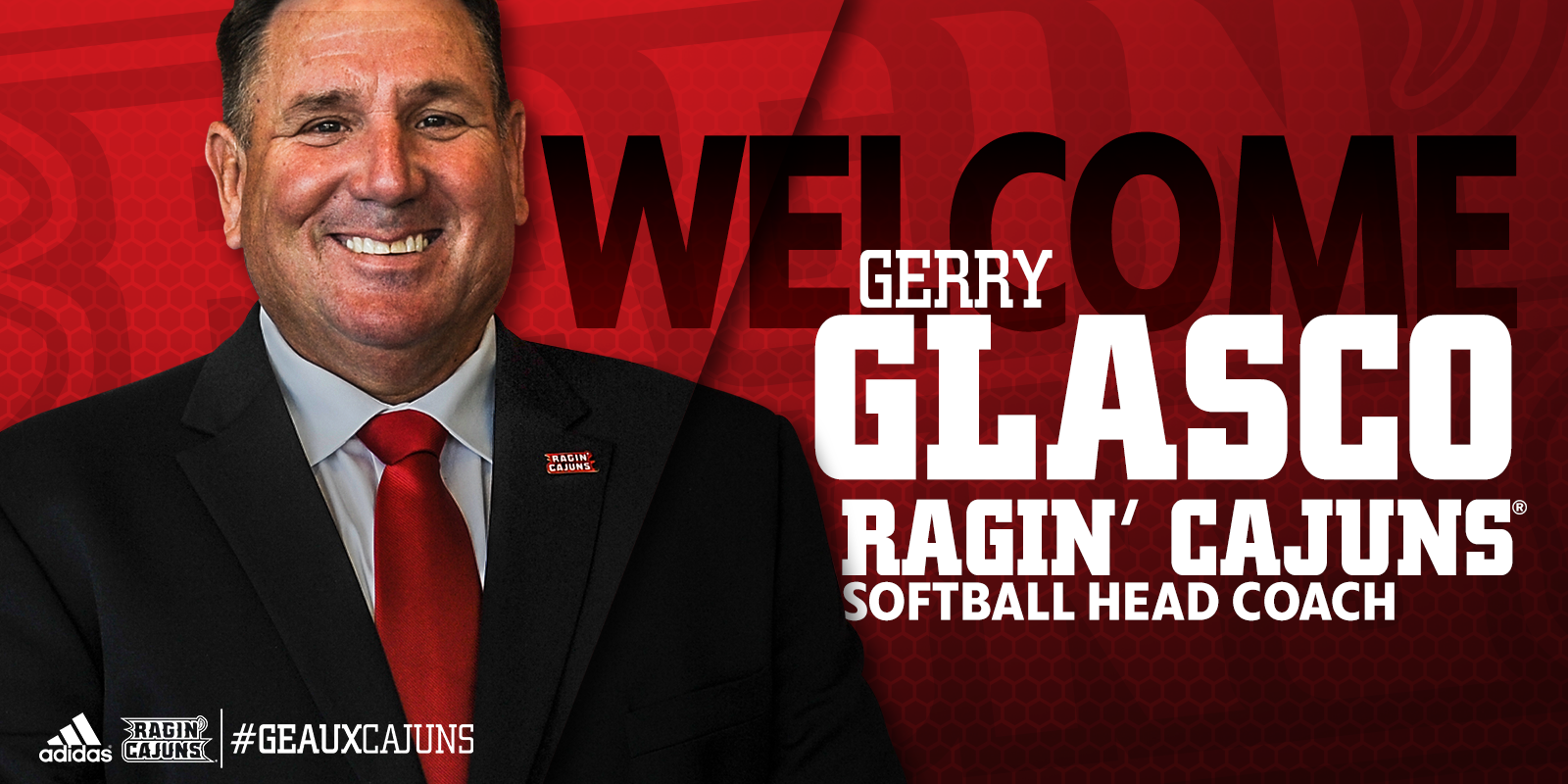 Gerry Glasco is once again on the move this off-season only this time Glasco is headed to place where he will call the shots as Glasco is the new Head Coach at Louisiana-Lafayette.
The news was first broken by Justin McLeod of Justin's World and confirmed by FastpitchNews. Glasco replaces Michael Lotief who was fired on November 1st.
"My family and I are excited to be a part of the Louisiana program," Glasco said at Press Conference Monday when he was introduced as new Head Coach. "It's one of the best programs in the country and is supported by the best fans in the nation.We will practice hard and compete hard in pursuit of a national championship. Our program has a bright future, and I am proud to be a Ragin' Cajun."
It has been a busy off-season for Glasco who was the Associate Head Coach at Texas A&M for three seasons and helped lead the Aggies'  to the Women's College World Series in 2017. Glasco left Texas A&M for the same position at Auburn to join Mickey Dean and the Tigers coaching staff on September 19th.
Glasco spent this past summer as Head Coach of NPF's Scrap Yard Dawgs leading them to franchise first NPF Championship. It was Glasco's second NPF Championship as he led USSSA Pride to NPF Championship in 2014.
Glasco joins a Ragin Cajuns program that has been in the middle of a very volatile last month following the dismissal of Michael Lotief in early November.  Questions remain about the roster for 2018 the season with the majority of the players on the Louisiana Lafayette roster having expressed support for their former coach. Though, recent reports released by the school's administration have detailed conduct including improper interactions with members of the athletic department staff and profane interactions with members of the softball team. The release of the report caused Lotief's attorney to threaten litigation.
Sources close to ULL program have told Fastpitch News that Louisiana-Lafayette offered the job to former ULL's three-time All-American pitcher and former Houston Cougars Head Coach Kyla Holas but was turn down which then turned attention to the next option in Glasco.
Holas played at Louisiana Lafayette (1991-1994)  under Yvette Girouard, has her number eleven retired, and is in the Louisiana Lafayette Hall of Fame. She was the Head Coach at Houston where she built the program from scratch coaching there from 2001-2016 leading the Cougars to two Super Regional appearances (2008,2011). Holas spent this past summer as an assistant coach of the Chicago Bandits.
The news of Holas being offered the job makes sense as many in the industry including myself thought she is at the top of the list. But there are many questions about the program with everything that has gone on and could go on moving forward with questions about players leaving and possible lawsuits between Lotief and the school not to mention the many loyal supporters of Lotief.
Assuming the roster stays intact. Glasco takes over a Ragin Cajuns program that is coming off a 2017 season with a record of 47-8 and ended the year once again winning the  Sun Belt conference championship and got to Regional Final in Baton Rouge before falling to LSU.
One of Glasco's first things he will have to do is convinced a roster that the majority of it according to Justin's World is seeking to transfer to other schools. Another unusual situation will be Glasco filling out his coaching staff here on Thanksgiving week. It will be interesting to see who he can convince to come with him. Also, where does Mickey Dean go to now to run his offense at Auburn?  These are some of the big questions still to be answered which may not get answered until Christmas which tells you how wild and stunning this off-season has been.