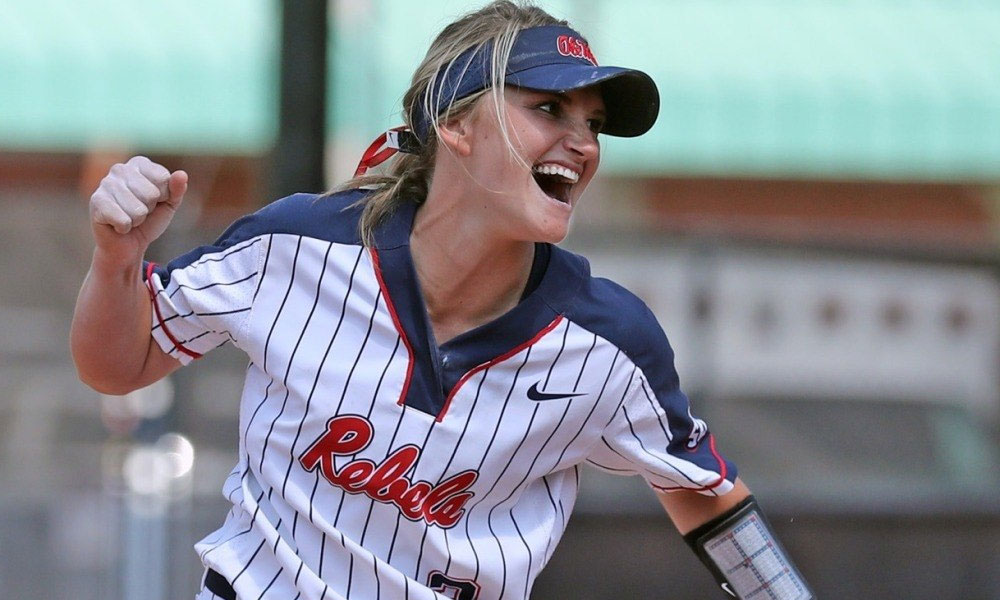 Mark Twain once said, "It's not the size of the dog in the fight, it's the size of the fight in the dog."
Kaitlin Lee describes herself as a Chihuahua with big teeth. The junior college transfer pitched a two-hit shutout against the No. 1-ranked Florida Gators in the Southeastern Conference Tournament and her teeth were showing.
"I went in thinking this going to be a pitcher's battle right here, I'm not going to back down," said Lee. "If they are going to beat, they're going to beat me good. I knew that I was going to give it all that I had and it was going to be a dogfight."
The junior from Gulfport, Mississippi, took an unconventional path to the SEC. She was committed to Delta State out of high school and decided it wasn't for her so she transferred to Mississippi Gulf Coast Community College.
"Her coach called me and said she was too good to pitch at a mid-major," said Ole Miss head coach Mike Smith. "She wants to pitch for the flagship and we needed a pitcher. I didn't think our young kids were ready to get battle tested."
It was after the first game of 2017 when Smith realized he had something special on his hands. The Rebels played in the Easton Invitational and opened against Loyala Marymount. Lee dominated her Division I debut and pitched a complete game one-hit shutout on 68 pitches.
"I had never seen anything like that in softball," said Smith. "That game was like an hour and 16 minutes. It was quick. She struggled a little bit here and there. She struggled her first couple of games in the SEC but she came to me and said, 'Coach, trust me. Don't give up on me.'"
At 18-10 on the year, the trust has grown over the course of the season. She has appeared in 38 games and started 31 of them while having an earned run average of 1.83.
"Of course, I wasn't going to (give up on her). I mean, can you give up on something like that? That kid wants the ball all the time. If she is tense, I know it's going to be a bad day. If she is fun-loving, I just let her do what she wants to do."
This tournament has not only been a coming out party for Lee but it has put Ole Miss softball on a national stage. April 14 was the first of a sweep against LSU and despite getting swept by Florida, the Rebels bounced back to win their series against Alabama.
"This is a defining moment for us. My behind is constantly vibrating right now. I have over 63 text messages and 39 phone calls and I'm sure there's a lot more. People are proud of where we're at and I'm proud of where this program has come in three short years."
The Rebels will face Alabama in the first semifinal game Saturday morning at 11 ET and according to Lee, she will be pitching.
"I guess I don't even have to think about it. If Kaitlin says she's pitching then she's in the lineup tomorrow," said Smith. "My philosophy throughout my career has been if it ain't broke don't fix it. It's not broke right now so we're not going to fix it."