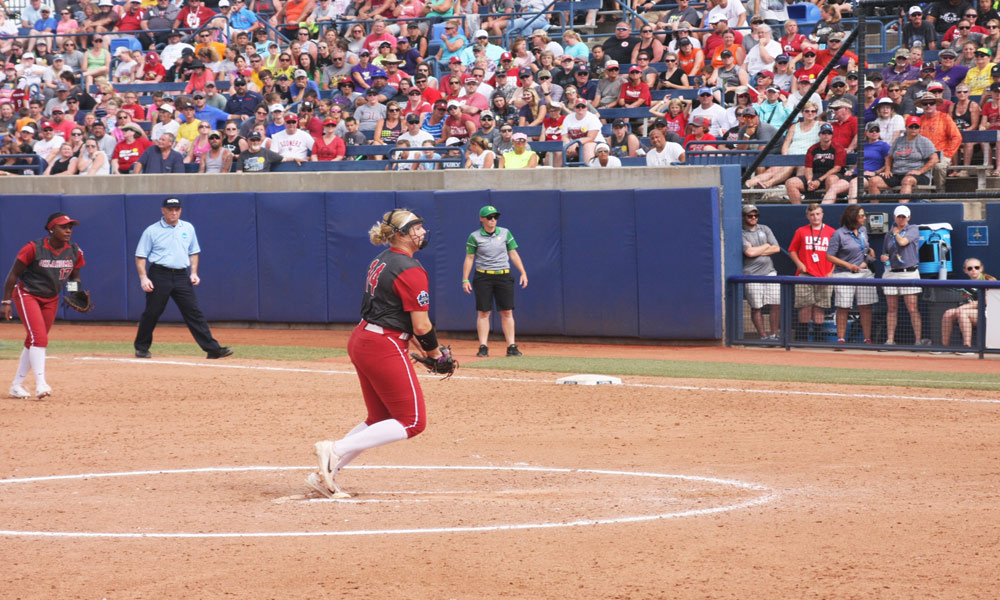 Oklahoma and Florida have won every National Championship since 2013. Funny thing is, they haven't played against each other since 2005.
There is one exception and she might be what Oklahoma needs to get past the Gators. Junior Paige Lowary transferred to Norman from Missouri in the offseason and is the only one on the OU roster who has faced Florida in her career but she isn't the same pitcher that she was at Mizzou.
"I don't know about secret weapon, but I'm not really nervous," said Lowary, who clocked at 75 miles per hour on Sunday. "Like you said, I'm completely different and I'm in a different role. I just really trust everyone around me, so if I get the shot to pitch against them, I know I have confidence. I'm just a different person."
Lowary has made the transition from starter to closer over the course of the season. She's the type of closer who enters the game and "Enter Sandman" should be played as her warm up song. Topping out at 75 mph is comparable to Monica Abbott and she isn't even trying to throw that hard.
"I think I know one other time in Palm Springs this year," said Lowary. "But I think adrenaline just kicks in and just trying to hit my spot. I wasn't really concerned with speed, but happened to be that fast, I guess."
The flamethrower enters the Championship Series without the experience her teammates have. Oklahoma was in the same position last year and Lowary was still in Columbia.
I'm just very grateful for the opportunity," said Lowary. "In the past I've come up short with the team I was on, so I'm just very grateful to be in this position. I'm really excited."
In the other dugout is the overall No. 1 seed, Florida. They have the USA Softball Collegiate Player of the Year in Kelly Barnhill but the pitcher who stood out the most is senior Delanie Gourley. The lefty made her first start in Oklahoma City on Sunday afternoon against Washington.
"I felt like I kind of did it backwards," said Gourley. "My first few appearances were in tight situations in Championship Series, and to come out and just start a game with my team on my back, I was really excited."
Just as Oklahoma has its confident closer, the Gators have a confident starter and it wouldn't be surprising if Tim Walton decided to start Gourley over Barnhill.
"Delanie Gourley is a championship-level pitcher, and we're lucky to have her. We're happy to have her. But I think she definitely does bring a different level of confidence," head coach Walton. "Even if she doesn't have her best stuff you'll never know it because her confidence is there and her presence is still there, and Team USA has seen that just in a short period of time against Japan that she's been able to go out and do some special things against some special left-handed hitters."
Gourley will need that confidence more than ever to lead an inexperience Gators team against a young but defending champion Sooners squad.
"Just to have done it before and to have that experience under my belt, I can share it with my team and just say, hey, you know, we're not going to lie, this is a big deal, but we have to play our game, we have to pitch our pitches, just do what we do, and so just to know that and believe it and trust in it and buy in, I think that's why we're here right now."
Game One of the best-of-three series is set to begin at 6 p.m. on ESPN.