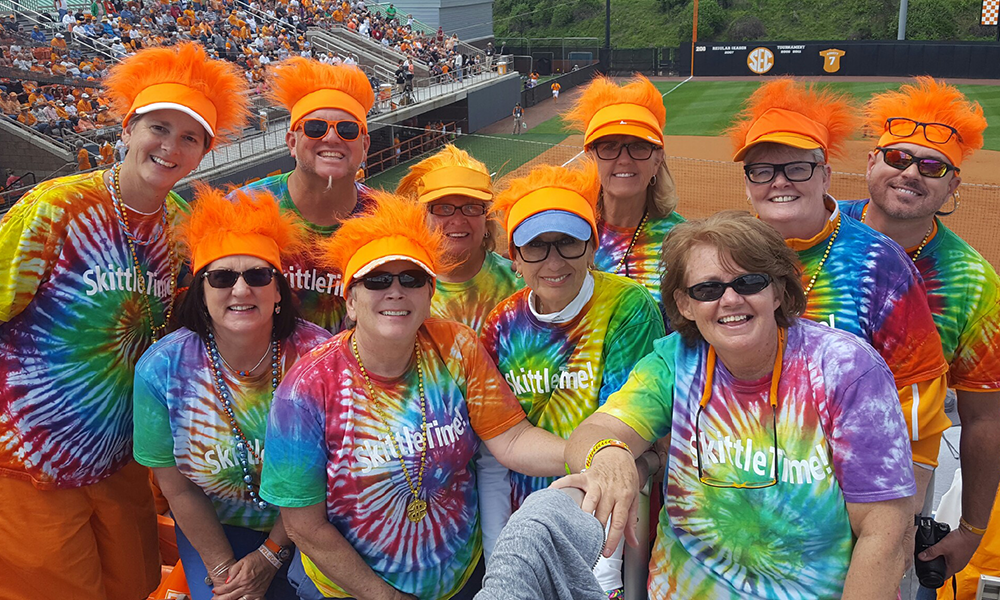 While watching the Southeastern Conference Tournament this week, one may notice a rowdy group of fans dressed in matching outfits, especially, if the Tennessee Vols are on the field.
Terry Blevins, Lora Fowler, Michael Beeler, Patty Cawrse, Debbie Barker, Sharon Taylor, Kelly Litton and Debi Hyatt make up the group known as the Lady Vols Locos. The rowdy bunch originated at the old Tyson Park.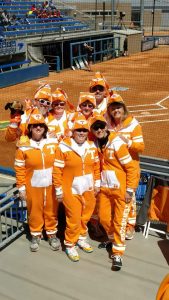 The current facility, Sherri Parker Lee Stadium, opened in 2008 and as fans, they have been at almost every home Tennessee softball game but according to Belvins, they didn't start dressing up until five or six years ago.
The outfits range from orange wigs to minions to checkerboard overalls. Michael Beeler used to dress up at games and after he did it for a little while, it started to catch on. They Locos decided the week before on which outfit will be worn on each day and go from there.
They sit at the top of section C and lead the crowd and sometimes the team in cheers. They have made up their own cheers and have learned some of the good dugouts cheers that have been around for many years.
"They have really embraced us," said Blevins. "We try to travel some during the year. We went to Kentucky this season and the girls said it was like a home environment there. They got us a Hallmark card and all the girls wrote messages thanking us."
Lee Stadium is full of memories for the Locos. The game, in particular, was Florida State when Tennessee beat the Seminoles in the Super Regionals to earn a spot in Oklahoma City.
"We are so nice in our cheering. We pretty much keep it clean but there was a mom who lost her cool," said Blevins while laughing. " Michael was down in front and she ended up throwing a liter bottle of water at him. The police got involved and to restrain her."
The majority of the group met at the ballpark with a few having known each other from some other life experience but the University of Tennessee united them and softball brought them even closer together.
Litton, happens to run one Litton's Market and Restaurant. The restaurant has become home for many post game meals.
"They are known for their homemade burgers and homemade bread," said Terry. "It's about eight miles down Broadway across from the duck pond. Make sure to have some of their famous dessert while you're there."
While the term "Lady Vols" is no longer used at the university. This group is dedicated to carrying on the tradition. As long as they are here, the name will never change to the Vols Locos.
As Beeler puts it, "Once a Lady Vol always a Lady Vol."