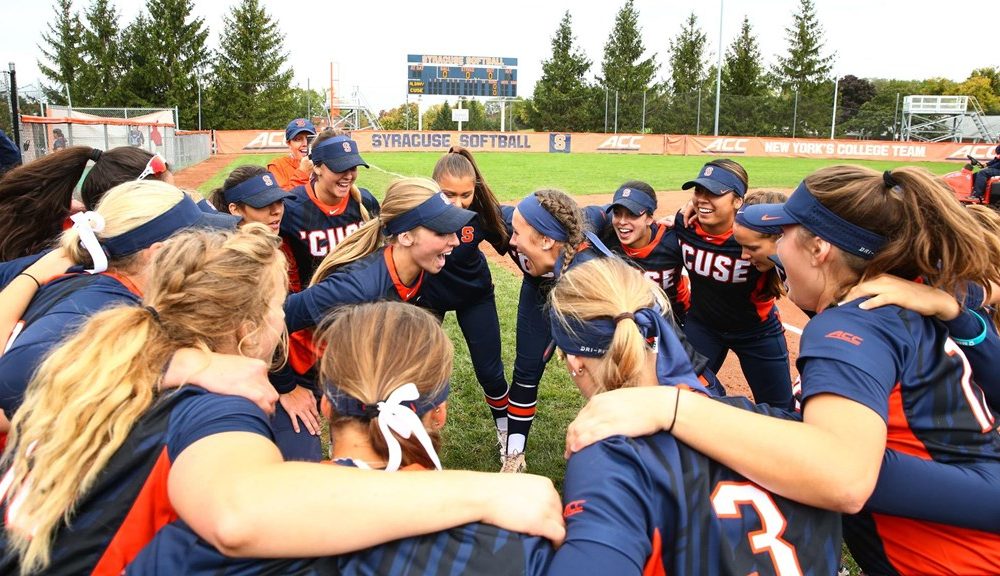 Photo credit: Syracuse 
Believe it or not the NCAA college softball season is just two months away! Schedules are being released and we are excited about what we are seeing. Let's look at a few of the most intriguing schedules so far (alphabetical order):
JMU (2018 RPI: 24, Record: 43-14)
Find the schedule here!
Head Coach Loren LaPorte enters into her second season at the helm of the Dukes and with full control over this season's schedule. JMU has experienced a lot of success the last few years and we are hopeful the Dukes can continue that.
WHY WE LIKE IT: The Dukes jump right into the fire the first weekend out playing Cal, Oregon, FAU, Tennessee, and Kentucky. That is no cake walk for anyone. But behind a staff of seven (yes seven) listed arms including the return of red shirt senior All-American, Megan Good, JMU has the best odds of anyone to stand up to that test.
Moving into the third weekend of play JMU will face Drake, Kent State, Minnesota, and Arizona. This presents another tough challenge with three of those teams having played in the 2018 NCAA tournament. Loren's squad also faces the Gophers and Wildcats in back-to-back games so we'll be watching how they handle pitching assignments on that day.
Weekend four is an interesting tilt. The Dukes face Michigan, Arizona State, South Dakota, New Mexico State, and Lehigh. Michigan is always  a tough test but with a younger team and some key graduations this could be a great toss up contest. Arizona State could also be a nice "steal" win for JMU with the current unknowns surrounding the Sun Devils following the departure of Giselle Juarez, Danielle Gibson, and Terra McGowan. Lastly, NMSU is another top mid-major program that no on can take lightly.
From there the Dukes enter conference play in the Colonial Athletics Association. If JMU can hit the ground running to start the year, "steal" some wins, and take care of business in conference it will be exciting to see where they find themselves come mid-May.
MINNESOTA (2018 RPI: 23, Record: 41-17)
Find the schedule here! 
Head Coach Jamie Trachsel released her first fully managed schedule for 2019 and it is arguably one of the toughest (pre-conference) schedules thus far.
WHY WE LIKE IT: It's pretty bold. Maybe even …too bold given graduations and now the added wrench of a big name transfer? Time will tell that but this schedule is compiled of 24 games against teams that competed in the 2018 NCAA tournament and mostly all on the road. In its first two weekends the Gophers will face Ole Miss, Tennessee, and Florida State. What works well for Minnesota is that it will only face Ole Miss and Tennessee on those days of competition meaning it can throw ace (likely Amber Fiser) at those programs. The Gophers face Notre Dame before Florida State so it will be interesting to follow what the staff does with pitching assignments. Worth noting, Amber Fiser pitched a great game versus FSU in 2018 during the ACC/Big Ten Challenge but lacked run support in that contest.
In the third weekend, Minnesota will face Alabama twice. What makes this most interesting is the Gophers' return to the Rhoads House after the regional diabolical in 2017. That's a lot of baggage. Is it too early for them to return with a large portion of that 2017 roster still playing? Who knows but it will be a fascinating weekend to follow.
Weeks four and five Minnesota will see Arizona, JMU, and Texas …three times. The Gophers took down Arizona in a great extra inning match up in 2018 so expect another fun game there. JMU is another interesting team for 2019 with the return of Megan Good. Then there are three match ups with the "new look Texas" team which is fascinating. Was that intentional? Did that Texas tournament start losing teams when Texas started pulling all its transfers? Did this just happen and it was too late in the year to reschedule/find new teams? If it was intentional did it now backfire per say with all the powerful new faces on the Longhorn roster? Again, who knows, but it is definitely an interesting tilt and could be a really fun "series".
Before starting conference play, the Gophers make a stop in Gainesville to face the Gators. If this wasn't an exciting enough match up to start, former Gopher two-time All-American catcher Kendyl Lindaman has just transferred to Florida making this game extra interesting.
MIZZUO (2018 RPI: 36, Record: 30-29)
Find the schedule here! 
What will be one of the most followed story lines in 2019, Larissa Anderson's squad enters an exciting and pivot year for Mizzuo softball.
WHY WE LIKE IT: The Tigers' first weekend of competition has come more and more intriguing. Anderson's program will face Utah, Arizona State, Oregon, Oregon State, and Kansas. With the develops out of ASU and Oregon playing those teams during the first weekend bodes well for the Tigers. These programs could very likely still be working to gain footing and cohesion leaving a door open for Mizzuo to sneak a victory. Utah, Oregon State, and Kansas also present good challenges for Anderson's team that are winnable match ups.
Mary Nutter, held during the third weekend of season, will be another phenomenal test for the Tigers. Opponents include BYU, Arizona, UCLA, Washington, and New Mexico State. After three weeks of play, this weekend will be a great measurement for Anderson's program of where it is and where it needs to go. We will learn a lot about Mizzuo during this weekend.
Mizzuo hosts some great teams for mid-week match ups as well as over its SEC bye weekend that include Wichita State, Pitt, Oregon, and Illinois. A rematch with Oregon could be thrilling to follow as well as games versus  Wichita State and Pitt teams that surely have a chip on its shoulder for various reasons.
This schedule sets Mizzuo up for a ton of growth through challenge especially in preparation for an SEC conference schedule. It could be a roller coaster of a season for the Tigers but we like all the potential within this schedule and how it could be crucial in the development of the program.
SYRACUSE (2018 RPI: 94, Record: 30-20)
Find the schedule here! 
Shannon Doepking took over the Orange this summer and most likely inherited most of the 2019 schedule complete with some big time challenges this season!
WHY WE LIKE IT: The schedule for weekend one is not for the weary! Syracuse faces San Diego State, Oklahoma twice, and Grand Canyon twice. There will be no better measurement for Doepking and her program of where it sits following those five games and will be worth keeping a close eye on.
The second weekend the Orange face Penn State and Indiana twice in the ACC/BIG TEN Challenge. While this is a bit easier of a weekend from its first, Indiana had a much improved season in 2018 under new head coach, Shonda Stantion, and should only continue to improve into 2019. Penn State brings in two freshmen pitchers for 2019 who will hopefully add some depth in the circle and improve them this year.
During weekends three and four, Syracuse faces off against Florida (and its previous head coach Mike Bosch), Oklahoma State, and Tulsa. All 2018 NCAA tournament teams and all tough challenges again in 2019.
Before conference begins, Doepking's squad squares off against Kentucky before heading to Louisville.
If Syracuse can remain mentally tough, continue to improve over the course of the season, win the games they are supposed to, and steal some along the way you could see them as a potential 2019 NCAA tournament team. The pre-conference schedule challenges the Orange nicely to develop the tools and gain the experience it needs to compete for a top spot in the ACC.