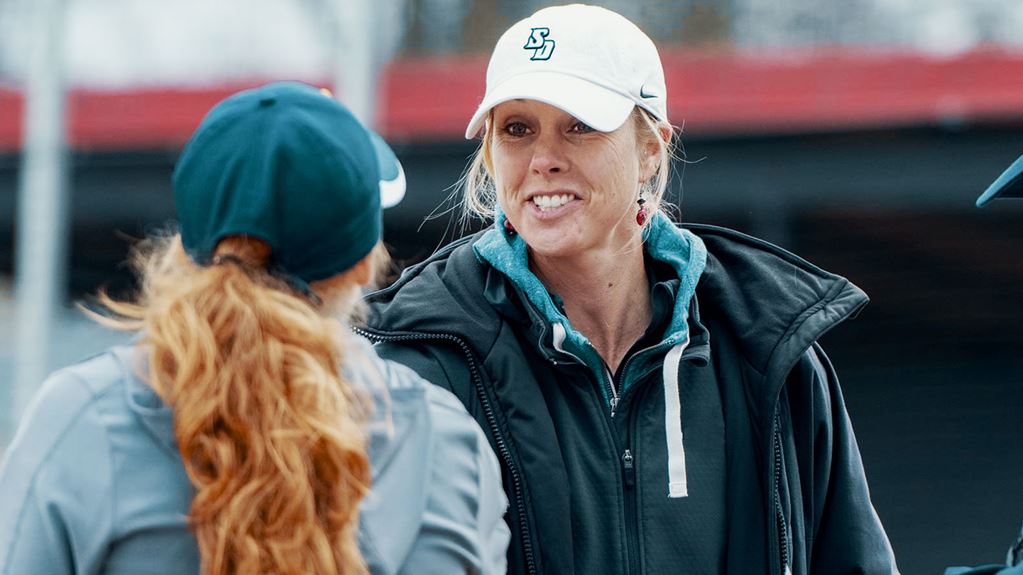 Release from San Diego Athletic Communications
SAN DIEGO – Jessica Pistole has been named Head Softball Coach at the University of San Diego, as announced Tuesday by Associate Vice President/Executive Director of Athletics Bill McGillis.

Pistole, the fifth head coach in program history, joins the Toreros after spending the past five seasons as the head coach of NAIA national champion Southern Oregon. Pistole is the winningest coach in Southern Oregon history and led the Raiders to the NAIA World Series in 2017, 2018, and 2019. Southern Oregon's national championship in 2019 was the first in program history.

"I'm grateful for this opportunity to lead the University of San Diego softball program and to become a part of the USD family," said Pistole. "I am honored to represent a University that is committed to academic excellence, compassionate service, and competing for championships. I want to thank Associate Vice President/Executive Director of Athletics, Bill McGillis, and his leadership team, for entrusting me with the responsibility to advance their vision."

"I am especially excited about the opportunity to work with the talented young women already in our program and those joining the team this fall. I know there is a solid foundation of really good softball players and excellent students in place, and I can't wait to get started."

The reigning NAIA National Coach of the Year and two-time Cascade Conference Coach of the Year transformed the program at Southern Oregon into one of the country's best during her tenure. She led the team to a program record 33 wins in her first season, a conference title in her second year, and three straight NAIA World Series appearances in the following seasons. Pistole has produced a postseason record of 33-13.
Pistole was recently selected as the Cascade Collegiate Conference Coach of Character and is the conference's nominee for the national honor.

"I could not be more excited about the hiring of Jessica Pistole and the future of our women's softball program," said McGillis. "Coach Pistole will embrace our commitment to Winning in the Classroom, Winning on the Playing Field and Winning in the Community, and she will deliver on our promise of providing an extraordinary scholar-athlete experience. She is a dynamic, inspiring and positive leader; a ferocious competitor; and an outstanding teacher of the game.

Pistole led Southern Oregon to its first NAIA national championship in 2019 with a school-record 52 wins. During the postseason run, Pistole's team took down the No. 5 and No. 1 ranked teams before beating 10-time national champion Oklahoma City in the finals.

Pistole's teams have captured three CCC regular-season championships (2016, 2018, 2019) and three CCC Tournament championships (2017-19).

"There is absolutely no reason we can't develop a nationally prominent softball program at USD," said McGillis. "We have, arguably, the most beautiful campus in America, we provide an exceptional private education, and we're blessed to have the most fertile recruiting ground and talent base in the country right in our backyard."

"Young women in San Diego, Southern California, Northern California, the Pacific Northwest and throughout the country are going to be drawn to Coach Pistole, the amazing culture she is going to build with them and our vision for championship success. I am thrilled for the young women in our program today, and all of those who follow in the years to come."

Pistole's teams have excelled in the classroom and earned NAIA Scholar Team honors every year of her tenure.

Offense has been a strength of Pistole's squads with the team batting average increasing in five straight seasons (.307, .319, .323, .338, .359). Southern Oregon has ranked among the top-10 in the nation in stolen bases in three of the past five years.

Pistole has developed championship teams at all levels of her coaching career. Prior to leading Southern Oregon, she coached at Twin Falls High School for two seasons and won an Idaho 4A state title. Pistole also successfully served as the head coach at Biola University and William Jessup University, where she launched the softball program. She also spent one season as an assistant coach at Utah State.

Pistole prepped at Del Oro High School in Loomis, California, and was recruited to Biola University, where she was a dual-sport athlete.  She played volleyball and softball for four years and was named a NAIA All-American in softball with a career 0.88 ERA and a .340 batting average. Pistole won the GSAC Pitcher of the Year award in 2001 and earned three All-GSAC honors during her career. She graduated from Biola in 2002 with a degree in health psychology.

Pistole and her husband, Bryan, have four children.
–