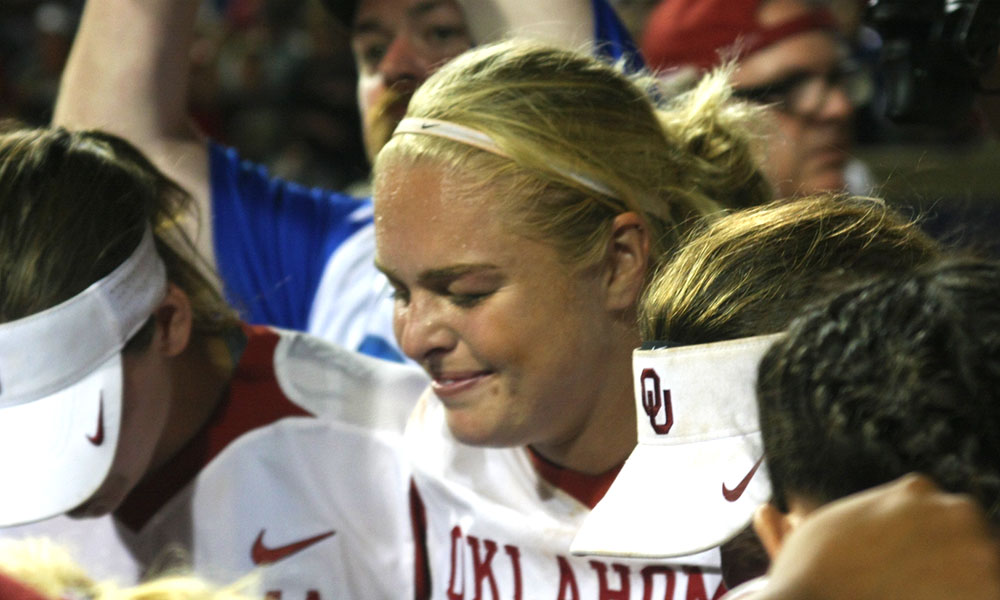 A year ago, Paige Lowary was watching Oklahoma win a national championship as a member of the Missouri Tigers. She was broken, didn't love pitching and knew she wanted out of Columbia.
She needed a change and it began with an Uber ride to Norman while working with USA Softball over the summer in Oklahoma City.
"Well, it's the first time I heard about Uber; I remember that. I didn't know what Uber was," said Oklahoma head coach Patty Gasso. "She was working at the Hall of Fame Stadium with the U.S. team, and we had set up a visit, and she took an Uber. She was broken And hearing her story, I'm going to tell you guys, you want to listen to this story because it is unbelievable that this kid right here is on the bottom of this dog pile."
Lowary was the ace of the Mizzou pitching staff for two years. In 2016, her season was altered in late February after getting struck in the face with a line drive off the bat of Oregon's Nikki Udria. She finished the game and the season but wasn't the same. She never had time to mentally recover but physically didn't miss a beat. She finished the season 25-8 with a 3.25 earned run average, an improvement from her 18-7, 3.40 freshman campaign.
She saw both seasons end in the postseason without a Women's College World Series bid and needed help. She wanted to change. Her visit to Norman made everything real and was what she was searching for.
"What I saw was what I got," said Lowary. "I trusted what they were saying, and I believed that they could change me, and I saw before my eyes. I just really can't believe it. I'm just so happy that they gave me a shot."
She started and won Game One in the best-of-three championship series and then got her 11th save of the season Tuesday. She finished 2017 with a career-best 1.53 ERA.
"To see her growth as a pitcher and as a person has been so rewarding, and I'm telling you, to see her on the bottom of that dog pile and then – this," said a smiling Gasso. "I'm glad we got her, and I'm glad she's loving pitching again. I don't know how much sweeter it could be than it is right now."
The emotional rollercoaster that has been the past year ended on the highest note possible for Lowary. From the moment the final out was made through the post-game media press conference and well into the night, she had the biggest smile of anyone.
"I can't believe it," said Lowary. "I'm still very speechless, and it hasn't really set in yet, but I'm just forever grateful that I got the opportunity to come here, and I can't believe how close and tight this team is. I'm just so blessed and humbled and thankful and grateful. I don't have enough words to describe how I feel."
The change meant Oklahoma and a chance to win a National Championship. She not only won but also made the game-ending play and was on the bottom of the dog pile. Congratulations Paige Lowary, you are now a National Champion.