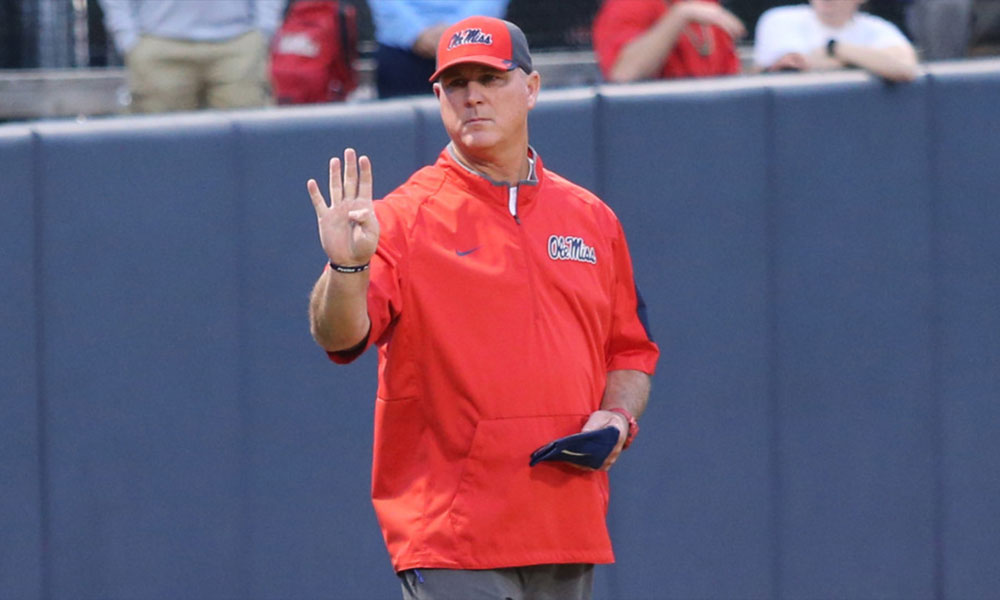 Last Tuesday Ole Miss lost pitching coach Taryne Mowatt as Mowatt took a job to go back home to Arizona for the same position. Mowatt made a significant impact on Rebels program help turn around the pitching staff.
In the two seasons, Mowatt was at Oxford, Mowatt helped improve the pitching staff that had a 4.30 ERA in 2015, the season before Mowatt's arrival. In her two seasons as the pitching coach, the pitchers improved the team ERA to 3.26 in 2016, and even lower in 2017 at 2.10, knocking off more than two runs (2.20) in just two seasons.
There is no question that Mowatt helped make the Ole Miss pitching coach job a better job then it was when Mowatt first took over. Whoever is the next pitching coach will have the benefit of working with senior ace Kaitlin Lee. Lee had a breakout season in 2017, being Named an NFCA All-South Region Third Team selection, Earned Second Team All-SEC honors, Named a Second Team All-American by Fastpitch News, Tied the school record for wins (23) and posted 1.82 ERA.
But what options could be out there this late in the fall? Let's take a look.
Madi Osias – Mike Smith may decide to keep it in the Rebel family and give former Rebel pitcher Osias the opportunity. Osias finished her career at Ole Miss (2013-2016) ranked among the top-10 in eight major pitching categories. They included wins (40), strikeouts (299), shutouts (6), innings pitched (425.0), appearances (115), starts (65), opponent batting average (.253) and saves (7). The Big question is would Osias want to be a full-time coach?
Katie Rietkovich- Rietkovich has been with the Rebels program since September 2015 as the Rebels' volunteer coach and camp coordinator. Rietkovich was a player at Georgia and assisted the Rebels offense in 2017 working with slappers like Elantra Cox, Kylan Becker, Paige McKinney and Kaylee Horton. The Rebels could promote Rietkovich who already knows the program and either add the responsibility of working with pitchers or bring in a volunteer coach to work with pitchers.
If Mike Smith decided to go outside to find the next pitching coach, here are a couple of options.
Brynne Dordel- Dordel recently was an assistant coach at Iowa State during the 2017 season, working primarily with the Cyclones' pitching staff working under Jamie Trachsel. Before her time in Ames, Iowa, Dordel spent three seasons as a pitching coach at North Dakota State guiding the Bison to three Summit League regular season and tournament titles and qualified for the NCAA Tournament all three seasons. Dordel worked with Krista Menke who was two-time Summit League Pitcher of the Year and was NFCA All-Midwest Region first team in 2016. Once Trachsel left Iowa State for the Minnesota Head coaching job, Dordel Took a volunteer coaching job at Alabama.

Kelsi Dunne– If Coach Smith is looking for a big name like he did in getting Mowatt then perhaps Smith can look at Kelsei Dunne who is currently the Head Coach at Division II Embry Riddle where Dunne been Head Coach since June 2014.
Before Embry Riddle, Dunne was the pitching coach at Oklahoma State from 2013-2014 working with pitchers and catchers, developing workouts, overseeing practice sessions, developing and implementing pitching game plans with pitch calling during games.
Dunne has experience coaching in SEC as Dunne performed similar duties as a volunteer assistant coach at Mississippi State throughout the 2012 season. Dunne was a standout collegiate player in the SEC at Alabama where she led the Crimson Tide to three Women's College World Series appearances – including a semifinal finish in 2011 as well as SEC regular-season titles in 2010 and 2011, and the SEC tournament crown in 2010.
Dunne is a Port Orange, FL native which is not too far away from Embry-Riddle, which as a program is entering the first season as Sunshine State Conference member. The big question here is Dunne wanting to go back to DI coaching or is she happy being a DII Head Coach?
I along with Victor Anderson broke down Mowatt leaving Ole Miss to Arizona and where Ole Miss may go to replace Mowatt on last week's edition of In The Circle on FastpitchNews.