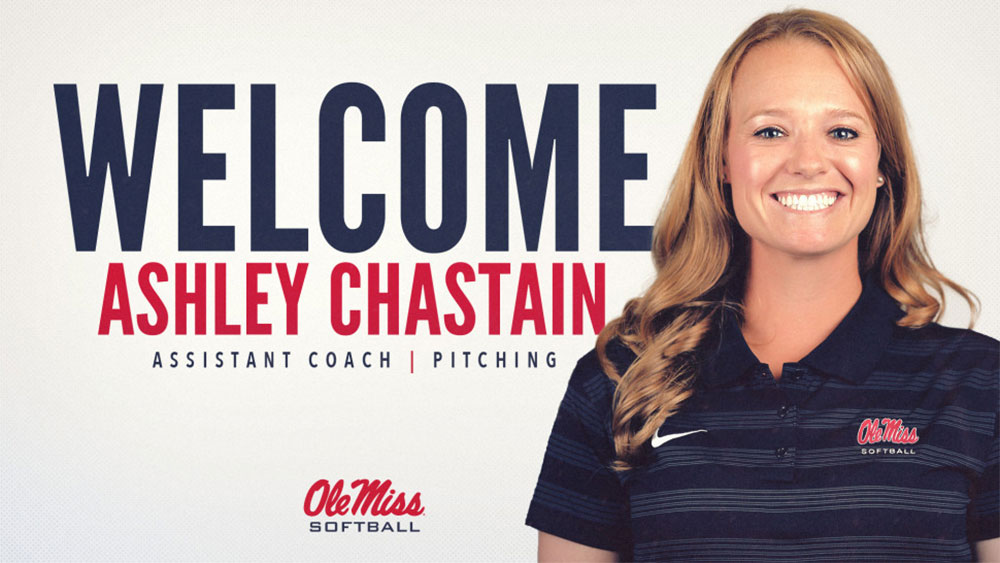 Ole Miss Head Coach Mike Smith announced on Wednesday the hiring of Ashley Chastain to be the Rebels new assistant coach replacing Taryne Mowatt who went to Arizona in the middle of October.
Chastain comes over from Michigan State where she joined the staff before the start of the 2017 season, helping the Spartans to a 34-24 overall record and a run to the Big Ten Tournament semifinals. Upon her arrival in East Lansing, Chastain made an immediate impact on the Michigan State pitching staff as the Spartans lowered their team ERA by nearly a run and a half from the previous season.
Before Michigan State, Chastain was the pitching coach for three seasons on Linda Kalafatis' staff at the College of Charleston, helping lead the Cougars to a 99-68 record over those three years.
"I'm grateful to Coach Smith and the Ole Miss administration for the opportunity," said Chastain in Ole Miss press release. "I played in the SEC and it's always been a dream of mine to return to the conference as a coach."
Chastain played in the SEC at South Carolina finishing 11th in career relief appearances for the Gamecocks. Following her playing career, she joined the South Carolina coaching staff as a graduate assistant coach.
"Ashley has Power 5 pitching coach experience and has developed herself as one of the young, great pitching coaches among the ranks," Smith said in press release. "We are fortunate to be able to add her to our program at this time of year and look forward to Ashley continuing the development of our pitching staff. She has a great group of pitchers to work with and help us in our quest to win a national championship."
Chastain joins the Ole Miss coaching staff that finished the 2017 regular season 36-18 and made a run to the SEC Tournament Championship as the No. 8 seed, the lowest seeded champion in conference history.
The Rebels hosted first-ever NCAA Tournament regional in program history and won regional over North Carolina to reach the first NCAA Super Regional in program history.
Chastain will have an experienced staff to work with as all five pitchers from last season's Rebel squad return, including Second Team All-SEC honoree Kaitlin Lee as well as SEC All-Freshman selection Morgan Bruce which has Chastain excited about who she will get to work with this year.
"The SEC is one of the premier conferences in the game and it goes without saying that Ole Miss and the conference as a whole competes at the national level," said Chastain. "I'm excited to work with a pitching staff that accomplished so many great things last year and has such a bright future."