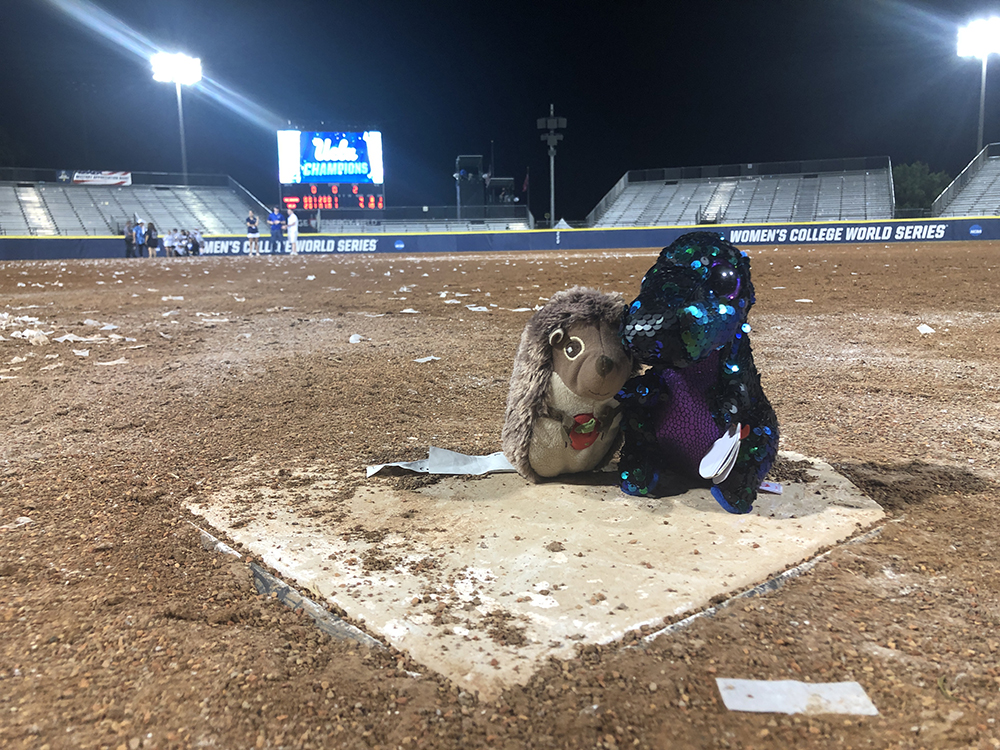 Background on the photo: in my family whenever we go on trips we always have a "trip mascot" (small stuffed animals) to take photos with and of in different places. This is something my late father started and we've continued it on. Those two pictured above were my "trip mascots" for the 2019 WCWS, pictured at home plate following the celebration of 2019 National Champion, UCLA.
——-
To say it's been a wild few weeks would be an understatement. Starting with a trip to Gainesville, FL for NCAA Regional play; to my first experience at the Women's College World Series; and topped off with a great weekend on the ground at the Tulsa Elite things have been non-stop.

But it's all been amazing, prolific, and almost poetic.

You see, especially around this time last year, I never expected to have just finished covering the WCWS let alone involved in softball in any capacity.

Let's take a step back to help paint the picture.

As a student at the University of Minnesota I worked with the softball program as a manager for three years. Following graduation, I was hired full-time as the program's first Director of Operations. It was a dream and I wouldn't trade for anything; all the good and the bad; the tears of all varieties; the utter elation; the heartbreak and at times anger; the exhaustion and hardships; the experiences and memories I'll never forget; the friendships; and the immeasurable personal growth.

This also means I was part of the 2017 Gopher Softball program: the "snubbed" team. We all know the events that followed, and if you don't, well, it's easy enough to look up.

It was a moment in time I'll never forget and it's an experience I don't think I'll ever quite get over. Yes, you move on with your life, you celebrate all the wonderful memories made and experiences had, but I'm not sure if you ever fully "get over it".

That year was one of those extremely rare and remarkable seasons where everything was "right". It was special, it was something I'm not sure words can ever fully describe, and I truly don't know if I'll ever be apart of something like that ever again. As a mentor of mine says, "you will never work this hard with this many people for one common goal again in your life." That couldn't be more spot on, especially in regards to this particular and special year of my life.

So fast forward to Selection Sunday, everyone was electric and so excited. And then the bubble popped and while I didn't realize it at the time, that moment was the nail in the coffin.

Over the years I've struggled with my thoughts about the NCAA and the big business that is collegiate athletics; the brilliance and good that comes from this all and the fundamental issues and utter hypocrisy that exist as the counterbalance.

But in that moment, that was it, I was done, I was ready to move onto my next adventure …out of the NCAA realm. Watching the physical and emotional pain (literal pain) affect everyone in that room, especially on the faces of our student-athletes and the coaching staff who had busted their backsides and earned their due, is something I'll be okay never reliving again.

Fast forward to following season, I stayed on due to how everything unfolded following the end of the 2017 season, and I would eventually make the painstaking decision to walk away from my position in April following a two week medical leave after what will forever rank as one of the most challenging and damaging experiences in my life.

I shut everything down for two months, and yet again, I was done. I was out of the game and I later began the job search for anything and everything outside of softball.
Then former FPN editor and Minnesota All-American, Sara Moulton, contacted me about this opening, her position she was moving on from, and the rest is history.

Fast forward again to present day – after everything, all the recent heart ache, pain, and complete loss of myself – here I was standing in the outfield, moving in and out of the crowd, snapping photographs of 2019 NCAA DI Champion UCLA's on field celebration. Wow.

Wow. Wow. Wow.

How did this all happen?

I never, not in a million years, would have ever thought I'd be here. I still can't fully wrap my head around how it all happened but I couldn't be more excited and grateful for Fastpitch News, these opportunities, and all the people who have helped get me here.

For me, time and time again it seems that even when the "bad" rears its head, the good overpowers and the game as well as the people who make it so beautiful, are too important to step away from.

As much as I still contemplate and try to balance the dueling thoughts and feelings I wrestle with I hold so much of hope for this game – for those who dedicate their lives to this game and operate in this space the "right" way; for the importance of its place in today's world; and everything it brings to the table.

But there are a number of threats to it as well.

As good as we are, we can be better! This sport, and sports in general, can be so, so good! And they are important especially in the youth ranks. There's so much good that comes from all of this.
This is what we need to elevate, this is what we need to push forward.

Transfer portals, message boards, rankings, individuals who may have questionable motives or methods, recruiting issues, gossip, the "salacious", etc. are some of what threatens us and are things we can collectively control. Together we an work against the negative to elevate our amazing game to even higher heights!

We've seen how amazing our community is and can be. Most recently following the passing of Alex Wilcox and Gerry Ann Glassco as well as the devastation to Louisiana Tech. That is the energy and togetherness we need because at the end of the day all of this should be about the memories, friendships, and relationships made; personal growth and successes that serve athletes their entire life; the real world skills developed that help make this society better for everyone.
I'm sure I will get some laughs or backlash for the above but it's the truth. At some point, softball ends. Even if you're Jennie Finch, softball ends and the rest of your life awaits. What you take with you from your time as part of this sport and how you apply it in the world is ultimately the most important thing.

And I know it's hard to always see it that way, especially when you're in the thick of it and a variety of opportunities are in front of you, but there is so much more to all of this than just playing for the biggest names especially for the sake of perception. Don't get me wrong, every athlete should strive to reach their top potential but often we see so many falling into a "grass is greener" type of thinking and this is dangerous and damaging to the entire sport. Not only that, it also doesn't set people up well for life outside of their playing days. So please, balance everything, do what is best for you as a complete, whole, and intrinsic being. And for coaches, parents, etc. this goes for you too! You have to be the example and guide.

This is a strong personal goal of mine, to be apart of the elevation of the game and all it's "good" and I don't think there is a better day to reaffirm that than "World Softball Day". While I am only one person and it can be tough, I hope I can cast a wide net in the coverage of softball because there is so much good and so many important things happening within our game from top to bottom; does not matter the "level" of play.

We need to continue pushing and embodying everything that make us great while still working to be better on the issues that threaten this beautiful, beautiful game.

I believe in us, wonderful softball community.
————————————————-