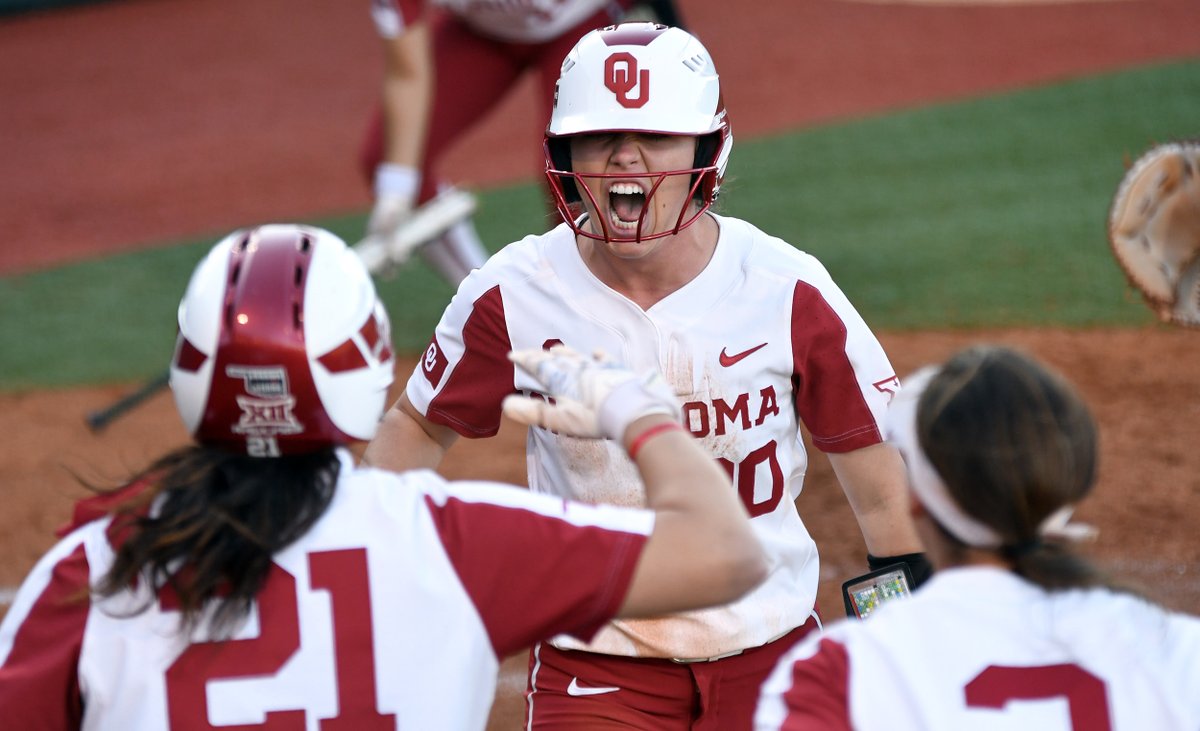 Nearing the end of the 2019 NCAA softball regular season, one thing has come into focus: there appears to only be (maybe) three truly "top tier", "elite" programs this season.
Those teams are Oklahoma, UCLA, and a back-and-fourth tossup between Arizona and Washington (who play each other this coming weekend).
Don't misinterpret the above point; there are several talented, elite teams across the country and arguably a larger number than in seasons past. Within this group, many of those teams are capable of going head-to-head with any of these three. But as far as those who are truly the "top tier", the one percent, the ones who are far and away favorites to claim the WCWS title, and the ones who have consistently through the season sat atop the country – there are maybe three; this is the first time in recent memory there have been so few.
In today's offensively charged game of hotter bats; smaller strike zones; and smarter, better trained, more skilled hitters the need for teams to carry a pitching staff instead of relying solely on one ace is imperative.
While it's not yet impossible for teams to ride one arm through the entire regular and postseason, it's increasingly more difficult to be successful with that model. Eliminate the above-mentioned offensive growth across the entire sport and consider the shear burnout single ace pitchers face after 13 or 14 weeks of regular season play. One of my favorite quotes about college softball I've ever heard said, "softball is one of the only sports where you progressively get in worse shape as the season moves along." By and large, it's true. As collegiate teams move through season their workouts consist of more lifts and strength maintenance than cardio. Couple that with the grueling demand of pitching 200+ innings over a four month span and, yeah, that's a lot on one pitcher's body.
Once the staff is developed, now comes the offense. If we look across the country only a couple of teams have proven they have both the depth in the circle and at the plate to be considered for that "top tier", one percent grouping. Take a look at the numbers:
 
Pitching Staffs
UCLA, 1.21 ERA:
Rachel Garcia (0.68 113.1 innings), Megan Faraimo (1.27 88.1), and Holly Azevedo (1.99 70.1)
Oklahoma, 1.24 ERA:
Mariah Lopez (1.06 85.2), Shannon Salie (1.14 61.1), Giselle Juarez (1.49 103)
Arizona, 1.45 ERA:
Taylor McQuillin (1.23 136.1), Alyssa Denham (1.86 67.2), four other arms under 27 innings
Washington, 1.63 ERA:
Gabbie Plain (1.27 132.1), Taran Alvelo (1.72 150.1), Pat Moore (2.39 29.1)
Offensive Numbers
Oklahoma: .367 (1st)
UCLA: .349 (3rd)
Arizona: .344 (5th)
Washington: .299 (48th)
So what does this all mean? Does this season represent a changing of the tides? More parity across the sport? Is it just simply an "off" year? A season of development and rebuilding for the perennially dominate one percent programs? I'd love to think it's parity but, who knows, and that's something only time can answer.
What I do know is the coming postseason has the makings to be even more exciting than normal. While regional seeding and home field advantage has time again been proven to really matter (there is something extra special about playing at home during postseason) this could be the year for more upsets and I would love to see it!
And, depending where you stand, hopefully this season is indeed a representation of increased parity across more teams and conferences for years to come. Because ultimately seeing the same six to eight programs in the WCWS every year can get a little dull.
But for now it's still UCLA, Oklahoma, and maybe Arizona/Washington's world, and we're just living in it.