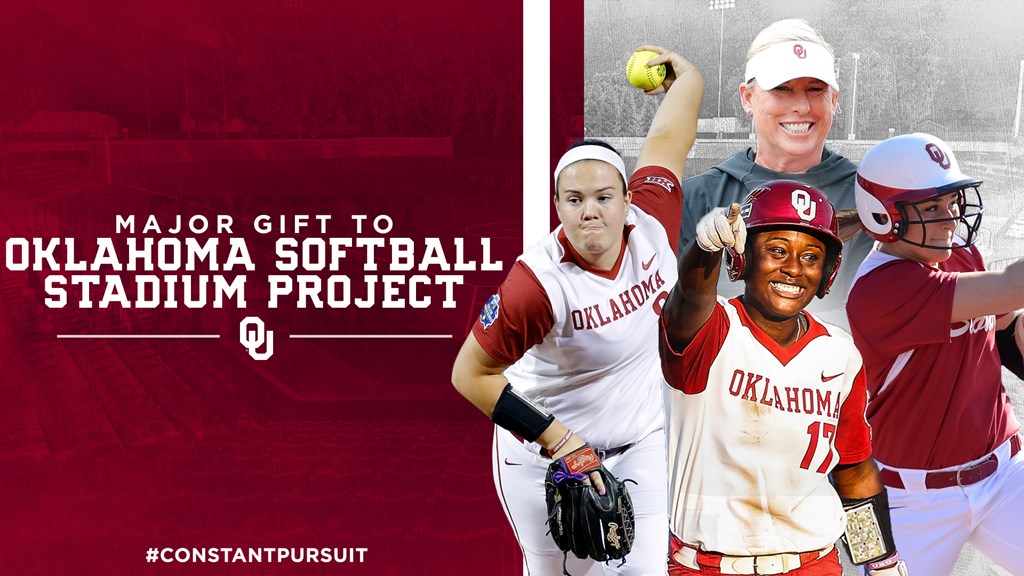 Photo and release from Oklahoma Athletics Communication
NORMAN — An anonymous donor has pledged $1.25 million toward the construction of a new softball stadium at the University of Oklahoma. The gift was made by a long-time Sooner Club member, who resides in the Oklahoma City metropolitan area.
The donation is part of the Softball Foundational Donor Program, which associates donors with one of the nine on-field positions. It is hoped that those nine positions will fund roughly half of the cost of the $25 million project.
"We are so grateful for this gift, not only because of the sacrifice it represents, but because of its foundational nature that helps us move closer to our goal," said OU Vice President and Athletics Director Joe Castiglione. "A gift of this kind is paramount to our momentum and we are very appreciative."
Sooner Softball Head Coach Patty Gasso said the gift is a great encouragement.
"For everyone associated with this program, a gift of this kind demonstrates a belief in what we're doing and a desire to help us maintain and exceed this level of achievement," she said. "As someone who has invested 25 years in this program, my gratitude is on a very personal level. This means a lot to me and to everyone associated with our program."
Thus far, some 100 donors have pledged $4.1 million to the project.
This latest gift is the 33rd gift of $1 million or more to the OU Athletics Department. All of those have been contributed during Castiglione's tenure.
The construction schedule is yet to be determined, but when completed the new facility will be located on the northeast corner of Jenkins Ave. and Imhoff Rd. It will house all team facilities, including a 3,000-seat stadium.
OU's softball program has won four national championships, made 13 appearances in the Women's College World Series and captured the last eight Big 12 championships.
Donors interested in supporting the softball project can contact the Sooner Club at (405) 325-8000.