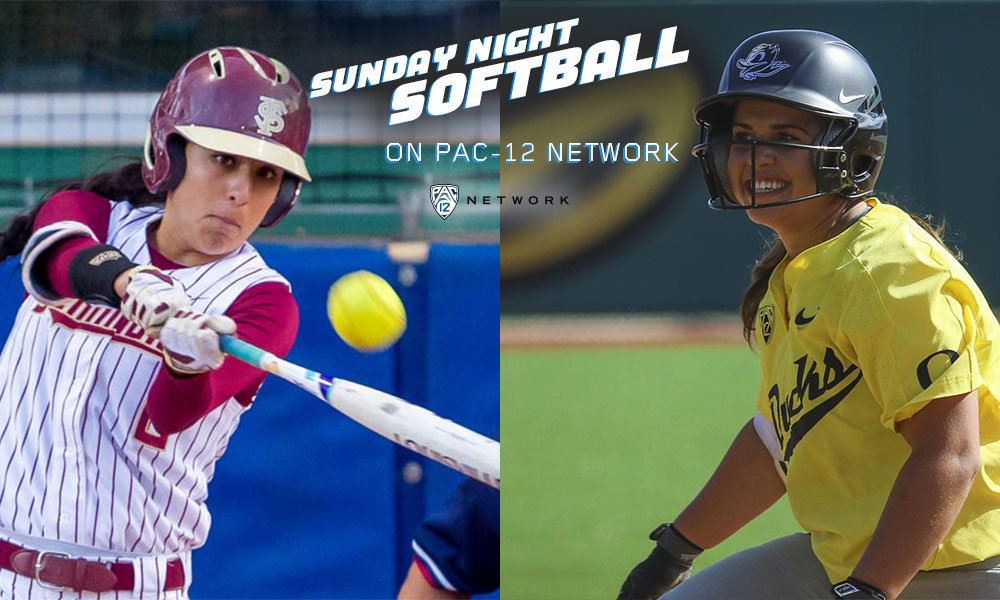 The Pac-12 Game of the Week is determined by the spotlight game on the Pac-12 Network. This week's game is a non-conference matchup set for Sunday at 5 p.m. PT start time and features No.3 Florida State vs. No. 6 Oregon. The Pac-12 spotlight game will be game three of the series with game one on Saturday and game two on Saturday night. (All stats are through 5/3/2017)
At the Plate
Not a lot separates the two teams this weekend when it comes to their offenses. The Seminoles do hold a slight edge in average (.341) and have displayed a bit more power hitting 55 long balls than the Ducks who come in batting .325 with 42 home runs. Leading Florida State is Jessica Warren who comes into the weekend with a .448/.566/1.007 slash line (BA, OBP, SLG). Her 20 home runs on the season are more than double that of the next highest on the team. Morgan Klaevemann comes in batting .442 with a .522 on-base percentage and 33 stolen bases. Nikki Udria has been solid all season for the Ducks with a .417/.515/.691 slash. She leads the team in home runs (10) and RBI (44). Alexis Mack is having a strong season as well batting .421 and 18 stolen bases. The two teams are built differently. Florida State has speed and power and can change the game with one swing, as we saw against Florida Wednesday night. The Ducks are good hitters with speed that puts a lot of pressure on the defense. Their plate discipline also causes problems for pitchers who like to nibble the corners.
In the Circle
Fans she be excited for this one as both teams have strong pitching staffs. The Seminoles have two good ones in Jessica Burroughs (23-2) and Megan King (24-1). Burroughs, who was the No. 1 Pick in the recent NPF Draft, has been great this season posting an ERA of 1.00 with 221 strikeouts. King has been nearly as impressive with a 1.38 ERA and only losing the one game.  They will use both and pretty equally based on inning pitched. Burroughs have thrown 154 to King's 147. The Ducks have a young but strong staff. They have used three pitchers most the year with Maggie Balint (17-3) and Megan Kleist (16-3) eating up most innings. Miranda Elish (8-0) has also seen a fair amount of time as well. Balint holds a 1.16 ERA with 124 strikeouts this season and Kleist checks in with a 1.31 ERA. Not a lot of separation between these two staff's, defensive play may be a major factor.
Analysis
Both seem to be playing well coming into the weekend. Oregon stumbled a little a few weeks back, but came back and look sharp last weekend. Florida State is coming off a huge win against No. 1 Florida. Both have strong pitching staffs that should make things tough on the hitters. FSU will get some big hits and the Oregon hitters may frustrate pitchers with their patience. It is hard to think that the games will be high scoring though. The edge goes to the Seminoles, but will the bounce after the big Florida game and having to fly across the country? Tune in and find out.
Pick: Florida State wins two of three.