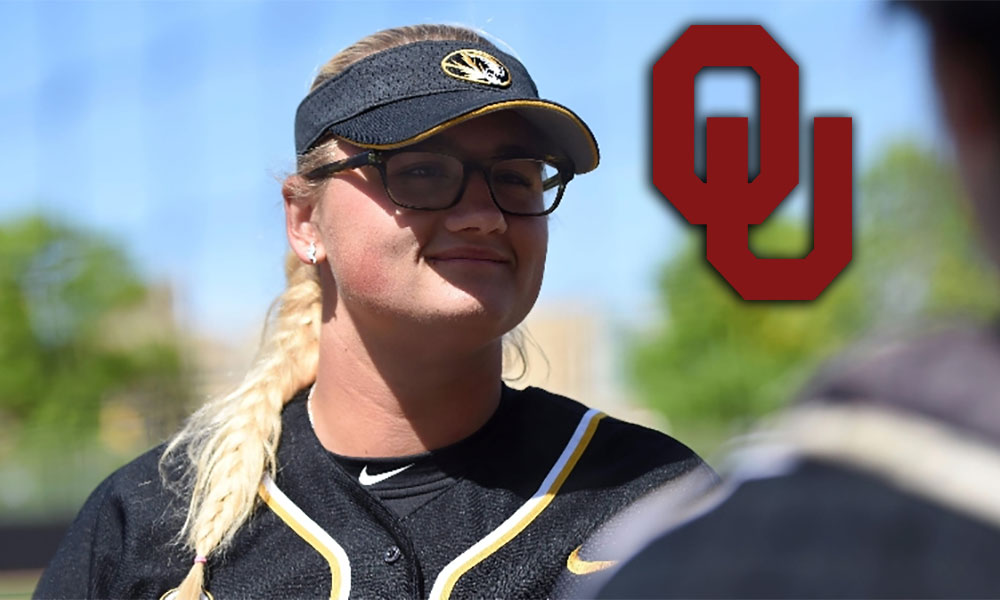 For the second consecutive year, the Oklahoma Sooners get a pitcher to transfer out of Missouri. Former Missouri softball pitcher Parker Conrad is following Paige Lowary's footsteps and is now a Sooner as Oklahoma announced it officially last week.
"We are all excited to add Parker to this championship program," Sooners Head Coach Patty Gasso said in Oklahoma press release. "She has a great upside and will be instrumental in taking the reins from both Paige Parker and Paige Lowary in the future. It's a great addition for us, and we believe she'll play a significant role in the future of our program."
Last year, Paige Lowary transferred from Missouri to Oklahoma and helped the Sooners win a second consecutive national championship as the Sooners swept their best-of-three championship series against Florida. Lowary earned the win in Game one and the save in Game two.  Lowary went 16-3 with a 1.53 era in 2017 season in Norman. The Sooners hope Conrad will have a similar impact than Lowary had in 2017. Parker comes to Oklahoma after spending the first season of her career at Missouri. With the Tigers, Conrad appeared in 19 games with three starts and posted a 1-3 record with a 3.98 earned run average and 17 strikeouts in 31.2 innings pitched in her freshman season.
Missouri's Head Coach  Ehren Earleywine told the Columbia Tribune on June 8 that Conrad was transferring, but her destination was not known at that time. Parker tweeted a few weeks later her intentions to go to Oklahoma.
Conrad will join a deep Sooners staff in 2018 and learn from seniors Paige Parker, and Paige Lowary.  The Sooners also have Mariah Lopez who will be entering her sophomore season. Conrad is eligible to play right away in 2018 under the NCAA's one-time transfer exception because Missouri granted her release.  Conrad will hope to help the Sooners become the first team since UCLA from 1988-1990 to win three straight national championships.